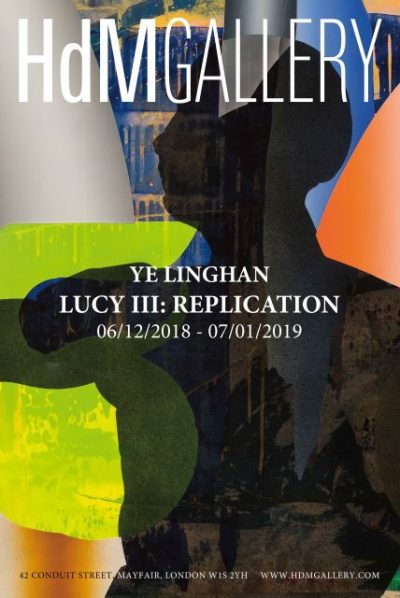 HdM Gallery, London is proud to present 'LUCY III: Replication' – the forthcoming exhibition of the works of Chinese Contemporary artist Ye Linghan. The third collection within his on going 'LUCY' series, this will be the artist's first collaboration with HdM Gallery, and also his first solo exhibition in London.
Taking the title of the series from the name given to the first bipedal African Hominid, known colloquially as 'Lucy' and considered the Missing Link between man and ape, Ye Linghan's 'LUCY' represents an evolution. Psychedelic and vibrantly colourful, his works explore the effects of technology upon human identity, anonymity and considers the relentless inundation of new information and data – recurrent and endlessly replicated – that comes as a result of the age of technology.
Inspired by the collage work of Henri Matisse, and the artist's own experience of graffiti art, Ye Linghan's works capture a state of perpetual layering and transformation; reflecting the repetitive flux of information that engulfs us in an age where the internet and technology are all consuming and omnipresent. His works are chaotic – against hallucinogenic, disjointed backgrounds the silhouettes of anonymous figures are repeatedly copied and layered upon themselves, just as virtual information, in particular personal information-made universally public in an age of social media, is constantly altered, copied, enhanced and removed from digital platforms. In exploring this mirroring relationship between reality and the virtual world, Ye Linghan seeks to address themes of identity, originality, replication, and consciousness.
Born in Lishui, Zhejiang in 1985, Ye Linghan graduated from China Academy of Art in 2009 and currently lives and works in Beijing. His works have been widely collected and exhibited at notable institutions, among which are listed; Shanghai K11 Art Museum (Shanghai, CHINA), Beijing China National Convention Centre (Shenzhen, CHINA), Ben Browns Fine Art (Hong Kong, CHINA), Boers-Li Gallery (Beijing, CHINA) and Beijing Today Art Museum (Beijing, CHINA).
About the exhibition
Dates: Dec 6, 2018 – Jan 7, 2019
Venue: HdM Gallery
Courtesy of the artist and HdM Gallery, for further information please visit www.hdmgallery.com.
Related posts: