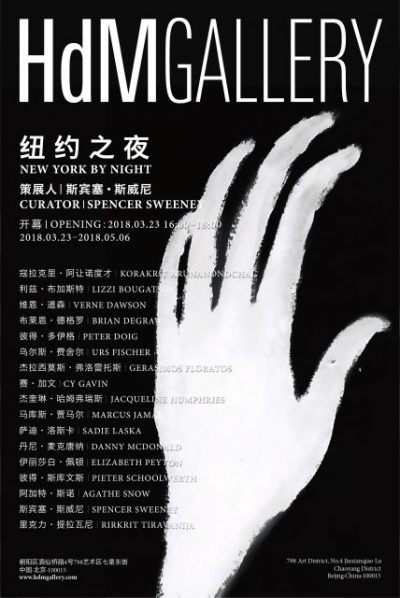 HdM Gallery Beijing is pleased to present "New York by Night", Spencer Sweeney's personal artistic journey through the streets of the New York from the late 90's until today. Bringing works selected and assembled by Spencer Sweeney himself, the exhibition brings together 17 of the most celebrated artists from New York's creative community.
About the exhibition
Dates: 23/03/2018 – 06/05/2018
Opening: 23 March, 2018
Artists: Korakrit Arunanondchai, Lizzi Bougatsos, Verne Dawson, Brian Degraw, Peter Doig, Urs Fischer, Gerasimos Floratos, Cy Gavin, Jacqueline Humphries, Marcus Jahmal, Sadie Laska, Danny McDonald, Elizabeth Peyton, Pieter Schoolwerth, Agathe Snow, Spencer Sweeney, Rirkrit Tiravanija
Courtesy of the artists and HdM Gallery, for further information please visit www.hdmgallery.com.
Related posts: