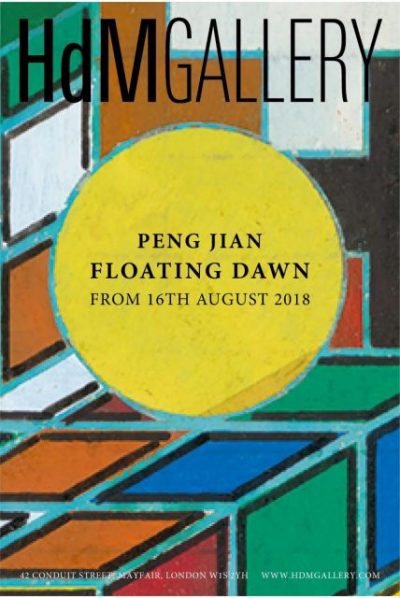 HdM GALLERY presents 'Floating Dawn', a solo exhibition of the work of Chinese Contemporary Artist Peng Jian in London. This will be the artist's inaugural exhibition in London and his second solo exhibition with HdM Gallery. The exhibition will open on Thursday 16th August, and will showcase both works on paper and an installation.
Regarded as a key representative artist of the New Ink Painting Movement, Peng Jian's works amalgamate the traditional and the contemporary. Employing and developing the ancient method known as 'boundary painting' in form, his works are both detailed and rigorously precise. Captivated by the Japanese ukiyo-e printmaking tradition, his bold and vibrant use of colour takes its influence from traditional Chinese heavy-colour painting and Japanese woodblock print. Utilising a saturated palette of primary colours, the artist's illustrations are a rich labyrinth of stacked books, boxes and Rubix cubes. Using representational figures to express abstract consciousness, Peng Jian's works create their own unique visual aesthetic – a complexity of emotion underlying simplified imagery. With the gradual disappearance of traditional Chinese painting techniques, Peng Jian's works represent a contemporary interpretation of traditional methods.
Born in Yueyang, Hunan Province in 1982, Peng Jian graduated with a bachelor's and master's degree from the China Academy of Art (Hangzhou). His works have been exhibited in domestic and international museums, including Hongik Museum of Art, Museum of Art at Colorado State University, Sydney City Hall, Hong Kong Maritime Museum, The National Art Museum of China, Shanghai Art Museum, Poly Art Museum, Today Art Museum, Liu Haisu Art Museum and so on. Moreover, his work was included in the public collection of Today Art Museum, Liu Haisu Art Museum.
About the exhibition
Dates: Aug 16, 2018 – Sep 16, 2018
Venue: HdM GALLERY
Courtesy of the artist and HdM GALLERY, for further information please visit www.hdmgallery.com/en/.
Related posts: