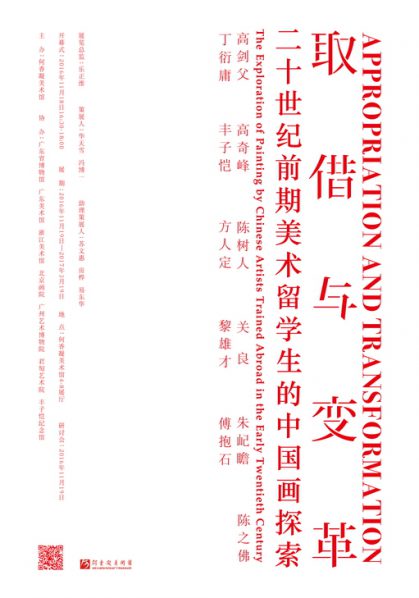 The referencing and fusion that took place in Sino-foreign artistic exchange, and the influence it had in the transformation of Chinese painting, can be seen as a key phenomenon in Chinese art history since the 20th century, as well as a persistent issue in the Chinese art world. Thus, for their first exhibition since renovations, He Xiangning Art Museum has invited Dr. Hua Tianxue to follow the thread of "Appropriation and Transformation: the Exploration of Painting by Chinese Artists Trained Abroad in the Early Twentieth Century," and to examine, research, analyze, curate and present the works of the leading artists as both overseas students and explorers of Chinese painting in the history of modern Chinese art, including Gao Jianfu, Gao Qifeng, Chen Shuren, Guan Liang, Zhu Qizhan, Chen Zhifo, Ding Yanyong, Feng Zikai, Fang Rending, Li Xiongcai and Fu Baoshi. Their experiences of studying abroad, and their later decision to explore Chinese painting, were both conditioned by the unique historical circumstances of 20th century China, as well as a natural outcome of their individual backgrounds, characters, awareness and time. In the context of their time, this is a cultural phenomenon worthy of examination, one which is also highly relevant in light of the shifts in the cultural environment of contemporary China. Through this thematic art exhibition, we will attempt to establish the direct connections and influences that this generation's open ideas and overseas studies have had on the exploration of Chinese painting, and present their achievements in this field. In conjunction with the exhibition, the symposium will focus on and sift through questions relating to the appropriation from foreign cultures in the practice of Chinese painting and the changes that have taken place since the 20th century. Though the work of these artists represents the numerous shifts in their individual creative careers or reflects the cultural clashes that emerged from social changes, together, they form a collective cultural experience and practice in history.
This exhibition received generous public and private artwork loans from the Guangdong Museum, the Guangdong Museum of Art, the Zhejiang Art Museum, the Beijing Fine Art Academy, the Guangzhou Museum of Art, Juntao Art Gallery, and the Feng Zikai Memorial Art Museum. The exhibition also received support from the China Art Museum, the Nanjing Museum, the Kyoto National Museum, the Kyoto City University of Arts, the National Museum of Modern Art, Tokyo, and the University Art Museum at Tokyo University of the Arts. This exhibition was made possible by the trust and goodwill of these domestic and international institutions, private collectors, experts and scholars.
About the exhibition
Dates: November 19, 2016 — March 19, 2017
Venue: He Xiangning Art Museum
Courtesy of He Xiangning Art Museum, for further information please visit www.hxnart.com.
Related posts: