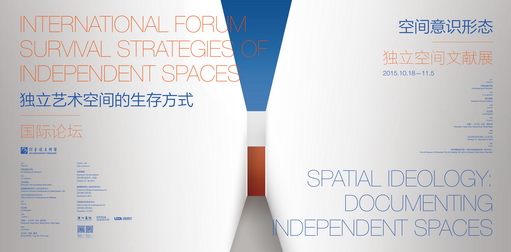 Independent art spaces are an important force balancing against market, official and mainstream tendencies in the contemporary art ecosystem. The basic attributes that define them are that they are non-profit or not-for-profit, and that they provide opportunities for artistic practice to free, independent, experimental and creative artists. They are alternative, folk-based, wild art spaces independent of museums, galleries, art districts and other art institutions.
As China undergoes its "great leap forward" in the construction of art museums, and is mired in a chaotic mix of art zones, this forum explores the survival strategies and modes of existence of independent art spaces of all forms constructed in China, around the world, and by overseas Chinese, probing their conditions and challenges while emphasizing and promoting the free and independent attitudes and viewpoints of these spaces. Such spaces play a unique and dynamic role in the overall contemporary art system, and their practices are clearly rooted in reality.
The concept of the "non-profit art institution" is still quite ambiguous in China today. Such organizations face shared challenges to their survival and obstacles to their practice. Hopefully that the dialogues, discussions and exhibitions in this international forum can promote effective exchange and exploration of representative practices and experiences of independent art spaces and foster positive feedback and healthy development for independent art spaces in China and by overseas Chinese that can eventually establish survival mechanisms for Chinese independent art spaces.
About the forum
Organizer: He Xiangning Art Museum
Co-organizers: Shenzhen Fine Art Institute (Shenzhen), Centre for Chinese Contemporary Art (UK), Ullens Center for Contemporary Art (Beijing)
Director: Le Zhengwei
Curators: Feng Boyi, Fang Lihua, Wang Dong, Phillip Ngan
Dates and Venues:
October 19 – 20, 2015
Shenzhen Fine Art Institute
December 2, 2015
Centre for Chinese Contemporary Art
December 19, 2015
Ullens Center for Contemporary Art
Courtesy of He Xiangning Art Museum, for further information please visit www.hxnart.com.
Related posts: