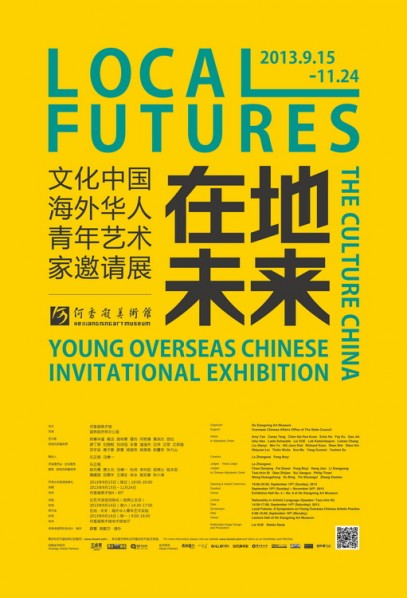 As one of the events in the Culture China series organized by the Overseas Chinese Affairs Office of the State Council, this exhibition showcases 22 young overseas Chinese artists from 13 countries at the He Xiangning Art Museum.
"Local Futures" focuses on the lived and emotional experiences of young overseas Chinese artists from different places. Their works do not simply reflect local life and creation, or unique imaginations; they also rely on local geographical spaces. This common identity means that their artworks are different from those created on mainland China and those created by locals in the places where they live. These artists exist in different cultures and constantly changing qualities and states; the mixed result of this experience is simultaneously appropriate, conflicting, and comfortable.
Through recommendation, selection, judging, exhibition, lectures, and symposium, we hope to engage in dialogue with domestic and overseas art communities and audiences. We support, encourage, and study their artworks, which represent the value of artistic diversity in a globalizing world.
About the exhibition
Opening & Award Ceremony: 19:00-20:00 PM, September 15th (Sunday), 2013
Duration: September 15th (Sunday) – November 24th, 2013
Symposium: Local Futures: A Symposium on Young Overseas Chinese Artistic Practice
Date: September 16th (Monday)
Venue: He Xiangning Art Museum
Organizer: He Xiangning Art Museum
Support: Overseas Chinese Affairs Office Of The State Council
Curators: Le Zhengwei, Feng Boyi
Artists (In Alphabetic Order):
Amy Yao, Casey Tang, Chen Sai Hua Kuan, Echo Ho, Fay Ku, Gao Jié, Ishu Han, Leela Schauble, Lei XUE, Lek Kiatsirikajorn, Lishan Chang,Liu Qianyi, Mm Yu, NG Joon Kiat, Richard Kuan, Shen Wei, Shen Xin, Shiyuan Liu, Tintin Wulia, Xue Mu, Yang Guowei, Yushen Su
Judges
Head Judge: Le Zhengwei
Judges (In Chinese Alphabetic Order):
Chen Danqing, Fei Dawei, Feng Boyi, Hang Jian, Li Xiangyang, Tsai-chin Ni, Qian Zhijian, Sui Jianguo, Philip Tinari, Wang Huangsheng, Xu Bing, Yin Shuangxi, Zhang Xiaotao
Multimedia Image Design and Production: Lei XUE, Stefan Daub
Courtesy of the artists and He Xiangning Art Museum, for further information please visit www.hxnart.com.
Related posts: