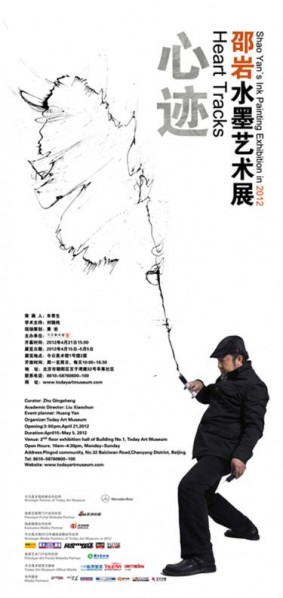 The Realm of YI, a term developed in traditional Chinese culture, has two aspects. One lies in one's peaceful and leisurely state of mind; the other lies in the unrestrained, free and natural style.
Many people scratch the surface of modern Chinese calligraphy while only a few have a deep understanding and make a real achievement. Among the latter, Shao Yan is one. He distinguishes himself with his unique style and technique.
Traditional calligraphy, modern calligraphy, Shuxiang in paper, Shuxiang installations and Shuxiang actions, he delves into them one by one, and then out the other side. So uninhibited, open and versatile is his art in terms of form and concept that it saves him any possibility of being hindered in art expression and adds indefinite versatility to his work. He plays well with different forms and concepts, in his own way. This demonstrates a peaceful and leisurely state of mind.
From writing brush to medical injectori, whatever tool Shao Yan uses, the consistent aesthetic style of his art is YI.
Western aesthetic categories like grace, lofty, tragedy, comedy, beauty in ugliness, the flower of evil, etc. could well explain most aesthetic phenomena in China, except YI. One cannot find YI in Western aesthetics; YI is specially generated and developed in the calligraphy and painting of the Chinese literati of the past. As an aesthetic category, YI does not wither when the literati paintings and calligraphy have become history; instead, its contemporary energy has been recognized and diffused by insightful Chinese artists. For Shao Yan, what remains unchanged following his twenty years' trials in different art expressions are his LINES—lines that are like lighting, lines that break out in a flash, and lines with coherence and with the beginning and end corresponding with each other, extending freely and done by a wielding of the brush. Wielding brushes is like throwing punches and injecting inks brandishing swords. It reminds us of the old story of Zhang Xu, the famous Chinese calligrapher who made great progress in cursive script after watching Madame Gongsun brandishing her sword. We cannot recognize every word of the Shuxiang works, thus their meanings cannot be obtained, but we can still feel the artistic conception of calligraphy flowing through these works.
YI, and what YI means to Shao Yan, need further and more detailed illustrations. The emptiness, spirit, void, tranquility, oblivious of self, simplicity, trance, detachment, nature and all other features in Shao Yan's art are all components of YI, and the sum total of them, is what I call the unrestrained, free and natural style.
About the Exhibition
Curator: Zhu Qingsheng
Academic Director: Liu Xiaochun
Organizer: Today Art Museum
Opening: 3.00pm, April 21, 2012
Duration: April 15—May 15, 2012
Open Hours: 10am-4:30pm, Monday-Sunday
Venue: 2nd floor exhibition hall of Building No.1, Today Art Museum
Address: Pingod community, No.32 Baiziwan Road, Chaoyang District, Beijing
Tel: 8610-58760600-100
Courtesy of the artist and Today Art Museum, for further information please visit www.todayartmuseum.com.
Related posts: