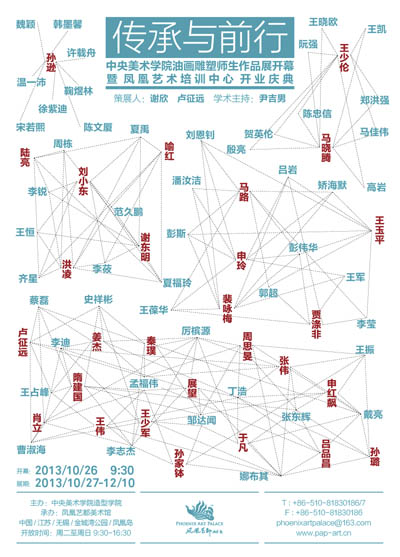 Hosted by the School of Plastic Arts at CAFA, organized by Phoenix Art Palace Museum, the "Heritage and Development" – Exhibition of the Teachers and Students from the Departments of Oil Painting and Sculpture, CAFA & Opening Ceremony of Phoenix Art Training Center were held at Phoenix Art Palace Museum on October 26, and presented 150 classic artworks of oil paintings and sculptures by 76 teachers and students from CAFA. Wang Guozhong, Wuxi Municipal Committee and Minister of Propaganda Department, Hua Boya, Deputy Mayor of Wuxi Municipal Government presented at the opening ceremony. Sui Jianguo, Doctoral Tutor of CAFA, Lv Pinchang, Director of the School of Sculpture, CAFA, Zhan Wang, Professor of CAFA, Yu Fan, Director of the Department of Modern Art, CAFA, Xie Dongming, Director of the Department of Oil Painting, CAFA, famous artist Wang Shaolun, Yin Jinan, Dean of the School of Humanities, CAFA, etc., gathered together at the exhibition, to witness the grand opening. In addition, the participating artists included Liu Xiaodong, Yu Hong, Wang Yuping, Shen Ling, Sun Xun, etc. Meanwhile the academic discussion of the exhibition was held at the Phoenix Art Palace Museum on the afternoon. The exhibition continues to December 10, 2013.
In the "Heritage and Development" – Exhibition of the Teachers and Students from the Departments of Oil Painting and Sculpture, CAFA, as the academic director, Professor Yin Jinan from the School of Humanities, CAFA, said in the preface: "As the mutual references, the production of sculpture and description of painting will demonstrate an important historical trace in the exhibition – how they use their own personal description and production of dialogue with the special "modernity" and "contemporary" in China. At the same time, we would note that such a clue – how some active artists go beyond the existing paradigm of the academy and activate the field of the academy."
Although the artists are from different professional fields, featured in various styles, applying different materials, all of them have contributed to the development of Chinese contemporary oil painting and sculpture more or less. Renowned artist Xie Dongming introduces his works in oil painting "Wildfire" and "Happiness", describing the understanding and knowledge of the real world, with a heavy trace of the era, of a high academic value. Internationally acclaimed artist Liu Xiaodong's works "Three Gorges Migrants" has a higher historian value than the work itself when it is viewed closely. Liu Xiaodong's works have changed from the past realism oil painting of a red theme "who are we" to "the ego", which was a historical breakthrough in an expressive way, and it's also a key contribution to the art history in China. In addition, "Earth Child", another representative works by Liu Xiaodong is the highlight in this exhibition. Sui Jianguo brought his latest series of important works entitled "Blind Portrait Series", which has reached a highly experimental and historical depth, profoundly promoting the development of contemporary Chinese sculptural art. Lu Zhengyuan who was born in the 1980s features his sculptural works "Garbage Bag", where some people are partly hidden and partly visible, garbage and human, valuable and worthless, which is a profound reflection on the value system in the real world for the artist in a specific period and state. "Withered Flower" is a sculpture made of gold by Dai Liang, a student from CAFA, gold refers to the judgment of secular value, while withered flower refers to the blooming memory, by which the artist tells the viewers: That the meaning of living in the moment is not only as a retrospective of tradition but also to combine the tradition to our current lives. Li Zhijie's sculptural works "Regeneration Buddha" which is made of extremely common disposable bamboo chopsticks, toothpicks, spoons is also worth a visit.
The exhibition features works of oil painting and sculpture by the faculty members and students from CAFA, which is an epitome of centurial artistic development of CAFA, reflecting numerous and shining spiritual illusions in time and space, showing the significant proposition and the clue of development of the teachers and students. Through the selection, application, organization and reconstruction of the works and images, these artists reveal the intrinsic links of art forms and social culture, to convey the topics which are encountered by contemporary art, which is self-shaping for CAFA in contemporary culture and art.
About the exhibition
Duration: October 26 – December 10, 2013
Venue: Phoenix Art Palace Museum in Wuxi
Artists: Sun Xun, Wei Ying, Wen Yipei, Xu Zaizhou, Ju Yulin, Xu Zidi, Chen Wenxia, Song Ruoxi, Han Moxin, Wang Shaolun, Ma Xiaoteng, He Yinglun, Ruan Qiang, Zheng Hongqiang, Yin Liang, Ma Jiawei, Chen Zhongxin, Gao Yan, Wang Kai, Wang Xiaoou, Xie Dongming, Liu Xiaodong, Yu Hong, Lu Liang, Hong Ling, Fan Jiupeng, Xia Yu, Li Rui, Wang Heng, Zhou Dong, Liu You, Xia Fuling, Qi Xing, Ma Lu, Pei Yongmei, Wang Yuping, Shen Ling, Jia Difei, Lv Yan, Guo Chao, Wang Baohua, Peng Weihua, Li Ying, Jiao Haimo, Liu Enzhao, Wang Jun, Pan Rujie, Peng Si, Sui Jianguo, Lv Pinchang, Zhan Wang, Jiang Jie, Sun Jiabo, Yu Fan, Wang Wei, Xiao Li, Qin Pu, Zhang Wei, Wang Shaojun, Shen Hongbiao, Zhou Simin, Lu Zhengyuan, Sun Lu, Dai Liang, Meng Fuwei, Cai Lei, Li Binyuan, Na Buqi, Shi Xiangbin, Li Di, Wang Zhanfeng, Ding Hao, Wang Zhen, Li Zhijie, Zhang Donghui, Zou Dawen, Cao Shuhai
Courtesy of the artists and Phoenix Art Palace Museum, translated by Chen Peihua and edited by Sue/CAFA ART INFO.
Related posts: