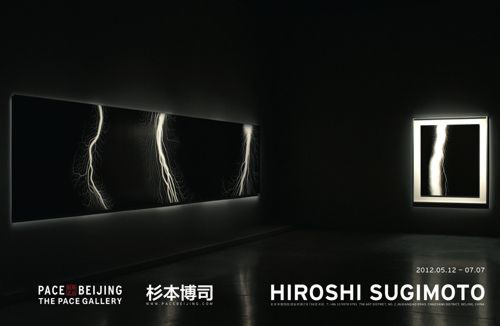 Pace Beijing is pleased to present a solo exhibition by multi-media artist HIROSHI SUGIMOTO. This will be Sugimoto's third exhibit with The Pace and his first solo exhibition in China.
Gelatin silver prints will constitute the entirety of the exhibition, elegantly demonstrating the value Sugimoto places on the technical aspects of photography. Through a keen understanding of the nuances of silver-print making, Sugimoto captures the medium's full potential for tonal richness in his seemingly infinite palette of blacks, whites, and grays. His iconic photographs have bridged Eastern and Western ideologies, tracing the origins of time and societal progress along the way.
Sugimoto's practice is fundamentally grounded in conceptions of time. Beginning in 1975, Sugimoto launched what David Elliott called "the artist's fundamental trinity of genres out of which all of his other work has grown." The force of time activates and connects the subject matter for these three iconic and ongoing series, Dioramas, Theaters, and Seascapes. The completed series Henry VIII and His Six Wives from 1999 will also be on display, capturing the art historic moment of the Renaissance portraiture tradition.
Lightning Fields, Sugimoto's most recent series, features structures resembling organic, primordial forms. There is an unrestrained sense of movement and energy in these images suggesting the origin of life at its first spark of inception. The largest of his photographs, these works demonstrate Sugimoto's commitment to the study of science and his experimentation with photographic methods. He created the photographs in a darkroom without the use of a camera, subjecting unexposed film to different voltages of electrical currents with devices he designed.
The series Conceptual Forms will also be on view, showcasing Sugimoto's interest in photographing mathematical models, a practice inspired by Marcel Duchamp and Man Ray. Sugimoto has said that he is drawn to the purity of form and fragility of these vintage nineteenth-century plaster objects. These works contextualize Sugimoto's grounding concept of time in mathematical space, charting cultural development.
Hiroshi Sugimoto was born in Tokyo, Japan in 1948 and has lived and worked in New York City since 1974. He has had solo exhibitions at the Metropolitan Museum of Art, New York, NY; MOCA, Los Angeles, CA; Contemporary Arts Museum, Houston, TX; MCA Chicago, IL; and Hara Museum of Contemporary Art, Tokyo, Japan, among others. His work is in numerous public collections including The Metropolitan Museum of Art, New York; Museum of Contemporary Art, Tokyo; The National Gallery, London; The National Museum of Modern Art, Tokyo; Smithsonian Institute of Art, Washington, D.C., and Tate, London.
Pace Beijing promotes a program of international contemporary art entrenched in an Asian context. Showcasing the work of esteemed Japanese artist Sugimoto demonstrates its efforts to expand the presence of greater Asian art to the world. We will continue these efforts with the first solo exhibition of Yoshitomo Nara in China, further illustrating our dedication to utilizing the established Pace platform to broaden international understanding of Asian art.
Duration: May 12 – July 7, 2012
Opening reception: Saturday, May 12, 16:30 – 18:30
Tel/Fax: +86 10 59789781
Courtesy of Hiroshi Sugimoto and Pace Beijing, for further information, please visit www.pacebeijing.com or contact pr@pacebeijing.com.
Related posts: