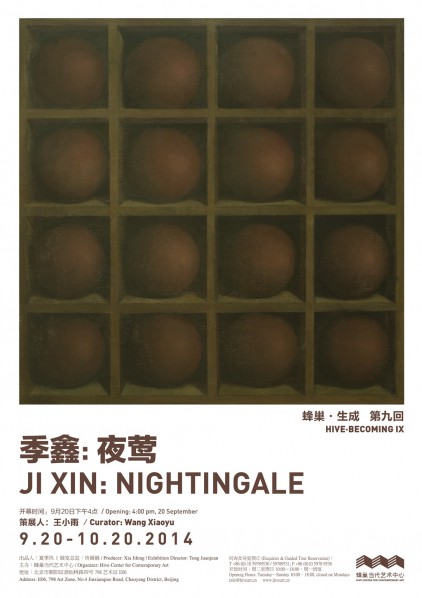 The Hive Centre for Contemporary Art launched the exhibition "Hive • Becoming IX Ji Xin: Nightingale" on the afternoon of September 20, 2014, presenting the young artist Ji Xin from the China Academy of Art. The exhibition will continue to October 20, 2014.
Ji Xin would like to extract elements from classical painting, and plant them into his own work. Whether in the scenery, tone, figures or details, it seems that their prototypes can be found in the history of art. Ji Xin appropriates some classical elements, at the same time, rewriting them according to his own interest, so these "references" are eventually integrated in a fairy-tale and mysterious painting.
A little red ball frequently appears in Ji Xin's paintings. The prototype of the ball is diverted from the well-known etchings "Melancholy" by Durer. Melancholy plays an important role in Western culture, and is always associated with cold body fluids and Saturn's movement, until the Baroque period, melancholy was considered to be the typical personality of intellectuals. Durer's unknown sphere seems to be the symbol of the intellectual puzzle, while Ji Xin gives it the toy-like texture, seeming to be made up of dark red rubber. Due to the emergence of a small ball, the original simple, quiet painting that is full of classical emotional appeal is interrupted, it is like adding a drop of hydrochloric acid to clear water, also like an unidentified intruder that appears in a fairy tale, so the original atmosphere changes at once.
Ji Xin likes to "make up" to his characters. Whether female stars, Einstein, and even self-portrait, all are given a very classical "makeup" by the artist, sometimes we can faintly make out the faces of Angles or Rembrandt paintings, and the faces of the beauties in the old calendars, Ji Xin integrates these classical "faces" into the faces under his brush, so that when gazing at the faces we can feel a singular time difference, in which history and personal interest overlap with each other.
Ji Xin's work entitled "Storage Box" is full of mysterious breath, and it perhaps serves as a metaphor of Ji Xin's creation – his paintings are like a storage of his classical interest in various forms, seeming to create many small bonsai of classical painting, in which we can often read the new writing for lost things.
About the exhibition
Artist: Ji Xin
Curator: Wang Xiaoyu
Opening: Sept. 20, 2014, 16:00
Exhibition Dates: Sept. 20 to Oct. 20, 2014
Courtesy of the artist and the Hive Center for Contemporary Art, translated by Chen Peihua and edited by Sue/CAFA ART INFO.
Related posts: