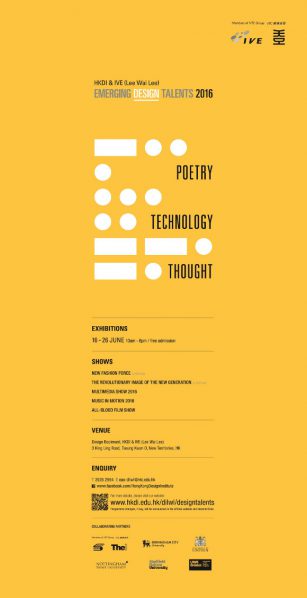 Emerging Design Talents 2016: POETRY offers a platform for creative students to showcase the best of their work. It is an inspiration to both students and the audience to reflect on the relationship between Poetry, Technology and Thoughts. Supported by the advancement of technology, students' imaginations can come true in a poetic way. Efforts poured into the works shone through expressing the young designers' talents and thoughts. A fine selection of student works from various design disciplines will be presented at the exhibition, which include Visual Arts and Culture, Advertising Design, Creative Media, Digital Music and Media, Film and Television, Publication Design and Print Media, Transmedia, Visual Communication, Fashion Branding and Buying, Fashion Design, Fashion Image Design, Architectural Design, Furniture and Lifestyle Product Design, Jewellery and Image Product Design, Jewellery Design and Technology, Landscape Architecture, Product Design, Interior Design, Exhibition Design, Stage and Set Design, Information Technology and etc. A variety of design shows will also be held and are open for RSVP.
About the exhibition
Date: 16-26 June, 2016
Time: 10am – 8pm
Venue: HKDI & IVE (Lee Wai Lee), 3 King Ling Road, Tseung Kwan O, New Territories, Hong Kong
Courtesy of HKDI & IVE, for further information please visit http://www.hkdi.edu.hk/dilwl/designtalents/2016/index.html.
Related posts: