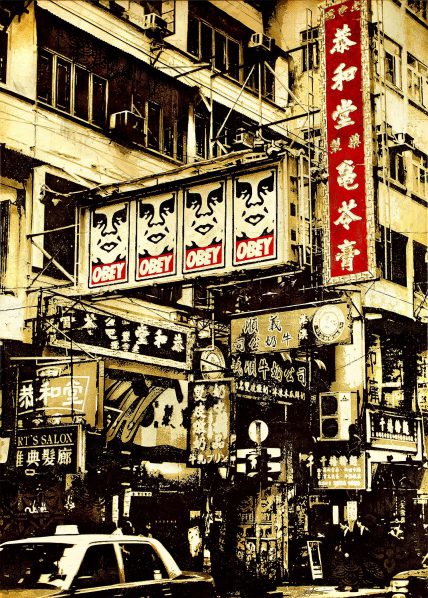 Hong Kong Contemporary Art (HOCA) Foundation is proud to present "Visual Disobedience," a large-scale survey exhibition of American artist Shepard Fairey for the first time in Hong Kong. The show explores the trajectory of Fairey's career focusing on the theme of power and responsibility, contemplating the wide-spread abuse by positions of authority, and the response this exploitation solicits. The show runs from 27 October to 27 November 2016 at Shop B104 – Shot 305, The Pulse (No. 28 Beach Road, Repulse Bay, Hong Kong), and will also feature two new large-scale public murals, inspired by Hong Kong and China.
Shepard Fairey's vision and mantra, "Question Everything" seeks to redefine the complex relationship between humanity and the environment. From his first sticker campaign featuring images of Andre the Giant, appropriated from the comedic supermarket tabloid Weekly World News to his most recent works. Fairey seeks to effect change from the embedded and conventionally accepted systems of contemporary society.
Fairey's works achieved mainstream recognition following his design for Obama's 2008 U.S. Residential election campaign. Concurrently, as an artist Fairey's practice and philosophy too has evolved. His fundamental belief, still evidenced today, is that art should inspire the world to feel interconnected, and that it should instigate powerful dialogues between diverse groups of people, infiltrating dominant power structures to engage with the wider public. Unlike many contemporaries who have moved away from doing incognito street works after converting to "contemporary artists," Fairey continues to embrace this practice, recognizing it as an "immediate freedom of speech" and that "you can succeed without being completely absorbed and corrupted by the system." Never one to shy away from controversy, Fairey's works continue to stir critical debate, an element of important value to the artist, and "Visual Disobedience" exemplifies this spirited vision of propaganding change politically, socio-economically and environmentally.
The exhibition presented by HOCA Foundation will consequently present a diverse and complex body of work, encompassing original stencils, rubyliths, canvases, and prints. The survey showcases Fairey's evolving approach to the subject, from the celebrated Obey Giant campaign, the "Hope" poster, his collaborative work with artists and musicians to his latest Earth Crisis series-an extension of his groundbreaking Earth Crisis Globe installation at the Eiffel Tower in 2015.
The new public murals will enrich Fairey's slogan of "The Medium is the Message" across Asia, as borrowed from Marshall McLuhan, prominent Canadian professor, philosopher and public intellectual, considered a cornerstone of the study of media theory.
Together, the exhibition encourages the audience to contemplate one's relationship with the environment both physically and philosophically, and attempts to stimulate curiosity and reevaluate one's perception of visual obedience, simultaneously embodying HOCA's commitment to promoting awareness and access to contemporary art.
About Shepard Fairey
Shepard Fairey was born in Charleston, S.C. He received his Bachelor of Fine Arts in Illustration at the Rhode Island School of Design in Providence, R. I. While there he created the "Andre the Giant has a Posse" sticker that transformed into the OBEY GIANT art campaign, with imagery that has changed the way people see art and the urban landscape. His work has evolved into an acclaimed body of art, which includes the 2008 "Hope" portrait of Barack Obama, found at the Smithsonian's National Portrait Gallery. In addition to his guerrilla street art presence, the artist has executed more than 50 large-scale painted public murals around the world as of 2015. His works are in the permanent collections of the Museum of Modern Art (MoMA), the Victoria and Albert Museum, the Smithsonian's National Portrait Gallery, the Boston Institute of Contemporary Art, the San Francisco Museum of Modern Art, and many others.
About the exhibition
Dates: 27 October – 27 November 2016
Venue: Shop B104-Shop 305, The Pulse, No. 28 Beach Road, Repulse Bay
Courtesy of the artist and HOCA Foundation, for further information please visit http://hoca.org.
Related posts: