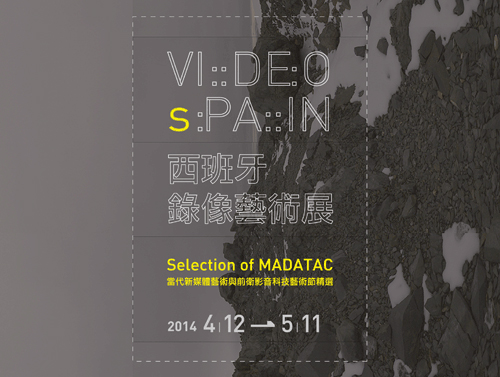 Hong-gah Museum is pleased to present VIDEOsPAIN – selection from MADATAC (Contemporary Festival of New Media Arts and Advanced Audiovisual Technologies), aims to take the pulse on what is new in the international ever-changing environment and on each edition put forward an attention-grabbing and inspirational subject.
This special selection for Hong-gah MUSEUM presents a caustic, peculiar, critical and enticing view to video art projects produced by Spanish audio visual artists, video art works that had participated or either have been awarded at MADATAC Festival, where oneiric and verity visions. On the other hand, the video pieces open as well the Pandora's box of cybernetic culture, that enables radical new processes to storm the audiovisual creation, with the ambition to conquer and subdue the screen with ground breaking pixels and a re-assimilation of the relationship between art, matter and technology.
In some way, this collaboration between MADATAC and Hong-gah Museum is an opportunity to establish a dialogue between both Spanish and Taiwanese cultures and societies. Spain and Taiwan: a peninsula and a island who wish to circumvent the distance that separates them by the seas, by connecting their "Qi" life energy, an active principle forming part of any living thing. The video art installation you will attend, allude to this flow of transformation from the real to the virtual and vice versa, a way of catching the past so that the present has the complex variety of an Orchid, a polyhedral, mutant and exotic flower, valued and cultivated by the Taiwanese, as well as by the Spaniards, whose imperceptible metamorphosis to the human perception is comparable to the selected works for this exhibition, in which nothing ever remains invariable, everything changes and varies, to reset, readjust and renew the awareness and imagination of the spectator-observer. Because what is video art if not the art of seeing…
About the exhibition
Duration: 12 Apr – 11 May 2014
Venue: Hong-gah Museum
Opening Reception: 12 Apr Sat 15:00
Opening Reception: 2014/04/12 15:00
Venue: Hong-gah Museum (11F, No166, Da-ye Road, Beitou District, Taipei 112, Taiwan)
Courtesy of the artists and Hong-gah Museum, for further information please visit www.hong-gah.org.tw.
Related posts: