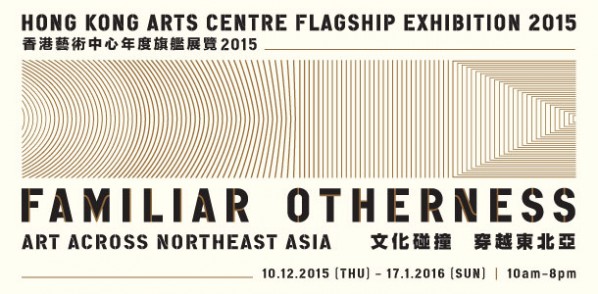 The 7th annual flagship exhibition of Hong Kong Arts Centre entitled "Familiar Otherness: Art Across Northeast Asia" explores the art of Northeast Asia (China, Taiwan, Hong Kong, Japan, South Korea and North Korea) with works that result from the artists' cross-cultural experiences or thinking. The art pieces will transcend the current socio-political differences of the region, and trace back the similar histories and traditions of these countries. This exhibition is guest-curated by Chinese independent curator Huang Du, exhibiting works by fourteen artists / units.
Northeast Asia is a geographical as well as geopolitical concept. The countries and regions therein have their traditional cultures intertwined, and yet ideological competitions still exist after the end of the Cold War, leading to the very different artistic development in each country. Familiar Otherness: Art Across Northeast Asia attempts to overcome the political differences, crossing national and cultural boundaries, and bringing creative and artistic exchanges from interesting areas of the world. The exhibition investigates into Northeast Asian art from four perspectives: "Dream and Reality" to interpret the struggle between subjective ideals and objective environment; "Daily Life and Transcendence" to explore how the artists sublime daily objects to an aesthetic level; "Context and Involvement" to unfold artists' concern for social conditions; and "Filtering and Amplification" to highlight artists' unlimited creativity.
About the exhibition
Date & Time: 10/12/2015 – 17/01/2016
Venue: Pao Galleries, Hong Kong Arts Centre
Guest Curator: Huang Du
Featured Artists: Cha Min Young (Korea), Choi Jeong Hwa (Korea), Hsu Che-Yu (Taiwan), Hu Qingyan (China), Hu Weiyi (China), Meiro Koizumi (Japan), Kwan Shung-chi & Wong Wai-yin (Hong Kong), Lee Seung Hee (Korea), Lu Lei (China), Ryuji Miyamoto (Japan), Eason Tsang Ka-wai (Hong Kong), Tsui Kuang-Yu (Taiwan), UJINO (Japan), Wang Guofeng (China)
Courtesy of the artists and Hong Kong Arts Centre, for further information please visit www.hkac.org.hk.
Related posts: