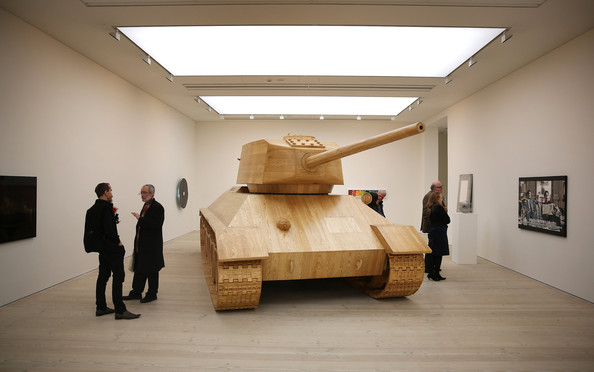 Hong Kong Eye presented by Prudential features key works by 18 emerging artists from Hong Kong, in the largest touring international showcase to date of Hong Kong's contemporary art. The majority of works in the exhibition have never been shown outside Asia, giving crucial recognition to Hong Kong's contemporary art scene on the international stage. The exhibition will run 5 December 2012 to 12 January 2013.
Artists exhibiting are; Amy CHEUNG, CHOW Chun Fai, Silas FONG, HO Sin Tung, KONG Chun Hei, KUM Chi Keung, LAM Tung Pang, LEUNG Kui Ting, Otto LI, LUI Chun Kwong, Florian MA, Joao Vasco PAIVA, Hector RODRIGUEZ, Angela SU, Annie WAN, Adrian WONG, Justin WONG Chiu Tat and Fiona WONG Lai Ching.
The exhibition offers insight into the contemporary art scene in Hong Kong through a diverse range of artworks. A number of artworks engage with and reinterpret traditional media and techniques, such as Fiona Wong's hand made terracotta clothing and Leung Kui Ting's large-scale hanging ink scrolls.
Visitors can experience a sense of city life in Hong Kong through Silas Fong's immersive video installations featuring Hong Kong's iconic outdoor escalators, and Joao Vasco Paiva's installation which brings five Mass Transit Railway turnstiles to London. Hong Kong's ever-changing landscape and rapid urbanisation is explored in one of Ho Sin Tung's mixed media works, with others mapping real and imaginary journeys. When placed alongside Chow Chun Fai's paintings of famous Chinese movie scenes, they ask questions about cultural identity and film histories iconic to the city. Other spectacular works display the imagination of Hong Kong artists, such as Amy Cheung's full-size wooden toy tank, which visitors can climb into and operate, and Adrian Wong's large-scale animatronic soft sculptures.
Photo Courtesy Peter Macdiarmid/Getty Images Europe
About the exhibition
Venue: The Saatchi Gallery
Address: Duke of Yorks, HQ Kings Road – London, 10:00am to 6:00pm, 7 days a week, last entry 5:30pm
Admission: Free
Courtesy of the artists and Saatchi Gallery, for further information please visit www.saatchi-gallery.co.uk.
Related posts: