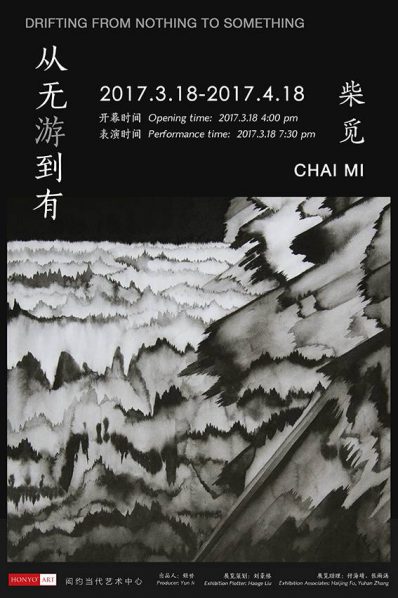 The artist, Chai Mi, launched the experimental performance about "water" in 2015, and created a multimedia theater together with two sound artists. Using the self-created water devices, they perform sound production, framing and image making on the scene. The water, as the media and topic of the entire performance, is combined with the devices, behaviors, live music, impromptu singing and live images. The performance mines various images caused by the water, creates an abstract and poetic experience of images and sound, and explore the multi-relationship between man and environment. According to different forms and sizes of the water, the performance is divided into three movements: Drip, Flow and Surge, working together to present a special conversation created by the water. Chai Mi and her team will present this fabulous conversation with water on the opening day.
These two pieces of videos are based on the recording of a performance project 'Captured Creatures', which is pushed and directed by the artist Chai Mi. The show mixed contemporary dance, live images and sound to create an improvisation occurrence. The images are coming from a large number of video clips that are about animals and living spaces of human-beings, captured in Europe, America and Asian. By using VJing technique, those clips were mixed and showed on real-time by Chai Mi during the performance, at the same time, dance artist were required to follow certain rules interacted with the projection and presented a series of emotional expressions. Following the step of imitation, symbiosis, control and sidelines, sorts of intension had been presented and related to a variety of potential relationships between people and animals, creatures and the surrounding.
Artist Statement
My creations always start from some accidental points, when they gathered to a certain amount, I would go to find a way that could string them together as lines or shapes, like a game playing process of scrutiny. The final artwork is always just a window for peeping that process. Painting and moving images are the creative way I have been unable to let go. Continuous walking, reading and creating become important components of my life exploration. Recently, I have involved more in live art and digital art, however, I was obsessed with handcrafting and it occupied most of my creation time. It is seen as an inward practice for me, and let me touch more reality in such a virtual world. My work may be related to the following words: alienation, restrictions, circulation, conflict, shape, and spacetime, at least these are the words that has not been crossed off from my portable notebook.
To play is in the nature of man, and so is to create. This work takes the form of stop-motion animation and documents the process of the game of creation. Multiple woodblocks in the basic geometric shapes that includes circles, equilateral triangles and squares are constantly combined, transformed and moved in a jigsaw game, so that they bring in figures, living creatures, artificial objects, spectacles as well as events. The inspiration behind the work stems from the game of building blocks and jigsaws, in the process of which the artist experiences flashes of ideas and continuous association or creation of images. The setup of this video installation is trying to present the actual creation process of this work. Loop is designed for viewers to enter and watch at any time.
I started to draw this group of paintings from 2014 onwards, the relevant painting is not over. I will water as a medium of communication, through the water to guide and find out the shape of shallow consciousness. The control of water, water pigments and limbs has becomes a constraint on loose consciousness. During the painting process, I always try to maintain an equal relationship with the material. While working for these paintings, I desiened a multimedia live performance 'RESONANCE OF WATER' at the same time, I invitied musicians audience to attend and co-create the field of random thoughts that build and guided by water.
About the artist
Chai Mi's fine art practice involves a range of media, including painting, installation, video and live performance. Her works have been shown at many art museums, cultural organizations, film festival and music festival nationally and internationally. In recent years, her animated shorts and theater artwork have received much attention. She performed these projects at the Chinese and Swedish Music Festival, Shanghai International Arts Festival, Quebec Animation Film Summit, Zagreb International Animation Festival and the W-STAGE project organized by WCO in Seoul.
Recent honor: Be invited in 2016 by Centre Intermondes Art Center to held her first exhibition in France, showing her latest audio-visual theater project'Captured Creatrues'at the opening ceremony of LaRochelle Chinese Film Festival. In 2017, she got the Civitella Ranieri foundation visual artist fellowship, the foundation which based on New York city started to support visual artists,writers and musicians from different countries, in 1995. Famous Chinese artists and writers got the same honor in past include: Xi chuan, Bei Dao, Duo Duo, Xu Bing, Sun Xun etc.
About the exhibition
Exhibition Time: March 18 –April 18
Venue: Honyo Contemporary Art Center
Courtesy of the artist and Honyo Contemporary Art Center.
Related posts: