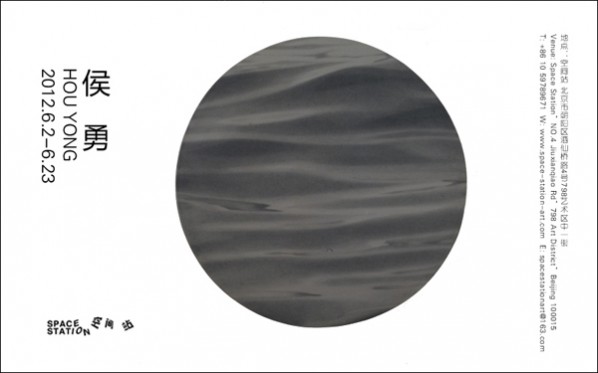 Space Station is pleased to announce the opening of a solo exhibition "Hou Yong" on 2nd June 2012. The exhibition groups paintings created by Hou Yong in the last two years through the medium of propylene and pencil. Pencil plays a crucially important role in Hou Yong's creations. He utilizes pencils of various shades, lines become inconspicuous by reiterative portraying of the transparent and smooth texture of pencil being singled out. These "lead susceptibilities" behave purely and independently in a cement board series, and they can be regarded as both "realistic abstract works" and "abstract realistic paintings" because details of appearance are inside as well as representation and connotation.
Paintings about water are a series which Hou Yong continues to draw on. Different from the previous ones, figures and perspectives are gone and signified literariness (narrative) is missing; some colours appear and the signifier used to present objects becomes abundant. Although a full view of objects was never shielded, the artist insulates a pure layer using a base colour and perspectives can only be centralized in this limited surface. In this case, the audience's viewpoint is stretched out of the picture, we might consider that the exploration on the limitation of an objects' surface attracts Hou Yong's interest most in recent years.
As critic Bao Dong wrote in his article: "Hou depicts water as a substance, which exists only for the purpose of surface fluctuation. It bears density, and also lacks liquidity, just like solids. Actually, Hou does enlarge the surface of water, which is a longtake sluggish enough to be finally congealed in one moment. The existence of every water particle in the waves can be well-cognized. In other words, Hou renders certain experiences about 'atomic facts' by depicting the water surface, which is an attitude towards realism. The water you glimpse is only the water; the painting is only the painting. That is the whole story."
Staying in this "material world", a discussion of such works by Hou Yong is put forward whether the audience will suffer from the crisis in spirit and the collapse in one's own value. This feeling seems to verify the documentary by a situational representative Guy Debord—"We Spin Around the Night Consumed by the Fire" (1978).
The exhibition will last until 23rd June 2012.
Space Station was founded in 2009, which also known as "Space laboratory", it aims to serve as a platform for receiving, processing and spreading of information, and tries to explore much more contemporary art possibilities, promotes the contemporary art practice and words proceeding in a wider scope . It is a contemporary art institution with independent judgment, experimental, professional and intellectual productivity, which supports to the exploration in a variety of ways, such as the literature publication, project execution, exhibition planning, etc.
About the Exhibition
Opening: 2012/06/02   16: 00
Duration: 2012/06/02—2012/06/23
Add: Space Station, 4 Jiuxianqiao Rd, 798 Art Zone, Chaoyang District,Beijing 100015
Tel: +86 10 59789671
Courtesy of Hou Yong and Space Station, for further information please contact info@spacestationart.com or visit www.space-station-art.com
Related posts: