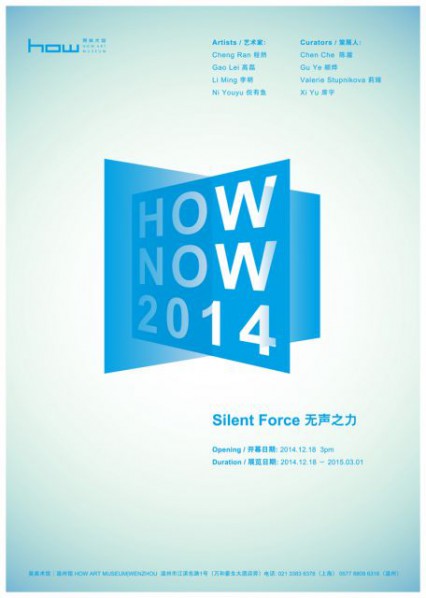 HOW NOW is a series of annual exhibition of the HOW Art Museum that seeks to enable a new concept of collaboration between curators and artists and stimulate a range of cross-disciplinary research on Chinese contemporary art. Silent Force is the second edition to the annual exhibition series.
Silent Force will show the most representative works of the leading young artists such as CHENG Ran, GAO Lei, LI Ming and NI Youyu. The title represents the young artists investigation and rumination on "serenity and violence" or "cold violence" through their various works. Most are installation or video works, where the works initially present "serenity" to the viewer. However, after much contemplation, these works finally reveal their disguised message with force and vigor. The exhibition seeks to describe how artists at the forefront of their generation are responding to the continuous social transformation in the event of globalization, and how they explore the tensionbetween "truth and lie", "control and freedom", "tradition and innovation", "calmness and violence" within the society.
About the exhibition
Duration: Dec 18, 2014 – Mar 1, 2015
Opening: Dec 18, 2014, 15:00, Thursday
Venue: HOW Art Museum (Wenzhou)
Address: No. East Jiangbin Road, Onehome Howard Johnson Hotel, 325000
Phone: +86 (0)577 88272288
Fax: +86 (0)577 89995151
Courtesy of the artist and HOW Art Museum.
Related posts: