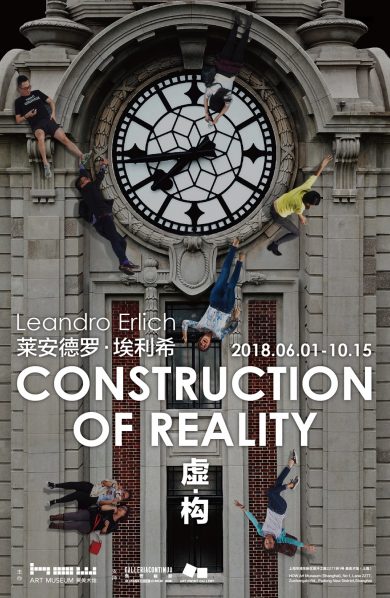 HOW Art Museum is pleased to present Construction of Reality, a major solo exhibition by Argentine artist Leandro Erlich. This show brings together over thirty artworks by Erlich, covering his large-scale interactive installations, video installations, and photography, including thirteen monumental interactive installations that offer the audience uncanny experiences via optical illusions. By transforming the architectural spaces through jarring reflections and fascinating labyrinths that disrupt the viewers' sense of balance and orientation, the artist invites us to question our normal perception of everyday experience. Leandro Erlich: Construction of Reality will be on view from June 1, 2018 through October 15, 2018.
Titled Construction of Reality (in Chinese "虚(xū).构(gòu)" – a combination of 虚(xū), meaning illusion, and 构(gòu), meaning construction) this exhibition unfolds the complex duality that characterizes Leandro Erlich's artistic approach: by way of investigating the ephemeral, illusive aspect of the visual world, he recreates or even reverses the given logic of architectural space. For this solo show at HOW Art Museum, Erlich will present the most recent version of his series Reflective Optical Illusion Building, a new interactive installation in resonance with the historical and cultural landscape of Shanghai. Named Building – Shanghai Bell Tower (Hanging on Time), this piece appropriates the style of the main building of the former Shanghai Art Museum, now known as the Shanghai History Museum. While being "relocated" within the HOW Art Museum's exhibition space and reflected in large mirrors, this "bell tower", with its distinctive architectural style of 20th-century Shanghai, will be reactivated through its surreal interactions with the spectators. Within this delightful interruption of normal life, strangers can go beyond its constraints. Other showcased works include Staircase, The Classroom, Lost Garden…, which as a group make up the magical world constructed by the artist.
Trained as an architect, Leandro Erlich is known for his extravagant imagination and unique manipulations of mirrors, projections, and architectural spaces with which he recreates and represents reality in surreal ways. Spectators entering his works immediately encounter the artist's contemplation of the relationships between bodies and spaces, the individual and society. His works tend to be site-specific in terms of both conception and production, taking into consideration the specifics of his venues and materials, and they are open to interaction with the local architectural and lived spaces. For instance, elevators, stairs, peepholes, changing rooms, and outdoor swimming pools, are recurring elements in his practice.
Leandro Erlich was born in Buenos Aires, Argentina, in 1973. He now lives and works in Buenos Aires and Montevideo. His works have been exhibited internationally, including in: the Whitney Biennale (2002); the 49th Venice Biennale (2001); the 4th Shanghai Biennale (2002); the 26th Sao Paulo Biennale (2004); Liverpool Biennial (2008); Centre Georges Pompidou, Paris (2011); the Echigo-Tsumari Art Triennial, Japan (2006); Setouchi Triennale, Japan (2016), among others. His solo exhibitions have been hosted by MACRO Museum of Contemporary Art of Rome (2006); P.S.1 MoMA, NY (2008); Espacio Fundación Telefónica, Madrid (2017); Neuberger Museum of Art, New York (2017); Mori Art Museum, Tokyo (2017–2018), among others.
This exhibition is organized by the curatorial team at How Art Museum, and co-presented by How Art Museum and the studio of Leandro Erlich. Our special thanks go to Galleria Continua and Art Front Gallery without whose generous support this exhibition would not have been possible. We are also thankful to Ms. Luna PENG for her coordination and assistance in the process of realizing this exhibition.
About the exhibition
Opening: May 31, 2018 Thursday
Duration: June 1, 2018 – October 15, 2018
Venue: HOW Art Museum (Shanghai), No 1, Lane 2277, Zuchongzhi Rd., Pudong New District, Shanghai
Organized by HOW Art Museum and Supported by Galleria Continua, Art Front Gallery
Courtesy of the artist and HOW Art Museum, for further information please visit www.howartmuseum.org.
Related posts: