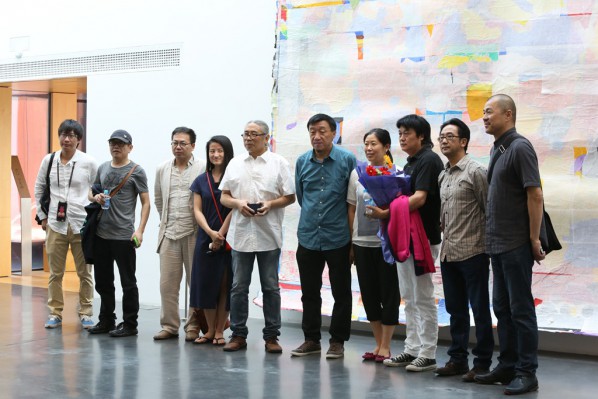 On the afternoon of September 20, 2015, "How to Make a Sexy Painting: Ma Shuqing 2015" opened at Inside-Out Art Museum. The exhibition presents more than 50 oil paintings on canvas and paper works which were created by the artist in the last 3 years, as well as recently created installation about "a seminar of painting". The exhibition will continue to November 1.
In the discussion before the opening ceremony of the exhibition, it brought together Curator of Inside-Out Art Museum Yuan Zuo, critic Xia Kejun, artists Feng Lianghong, Ma Kelu, Ma Ke, Qi Zhilong, Li Di, Meng Luding, Liu Shangying, Wang Huanqing, Li Mu, Lv De'an, Yin Qi, as well as some art lovers. First of all, artist Ma Shuqing introduced the preparations for the exhibition, and then the guests who were present at the conference had a discussion and interpretation on Ma Shuqing's art. Ma Shuqing said abstract painting was hypercritical of space, he demanded consideration of the collocation of works and space, and the spatial levels, so that most of the exhibited works were selected according to the space. Artist Wang Huanqing said that Ma Shuqing was "a philosopher in the workshop", his knowledge reserve created his own "things" in the personal space, his paintings particularly impressed people, but his ability was limited in titling his works. Critic Xia Kejun also put forward his unique idea that, Ma Shuqing opened the two-dimensional screen of painting in his own way, revealing the air permeability of painting, at the same time, Xia gave a philosophical explanation to the "lacework" of the painting, he believed that Ma Shuqing's lacework was perfect, which made the viewer feel unbounded. Artist Meng Luding was also engaged in the creation of abstract art, he believed that abstract art was about the art of time and space, specially focusing on the handling of color, while the creation was accidental, the arrangement of the exhibition was impromptu. Liu Shangying said that he saw a few different clues in this exhibition, and there were connections and contradictions between them, which created more possibilities.
When Ma Shuqing was asked why he was so obsessed with abstract art, he answered that after studying in Germany, he had wandered during his exploration of abstract painting. For him, abstract painting is the logical thinking process between concept and the application of concrete materials, while painting is the trace of his thinking. In the process of each layer of color as it is overlaid, an artist reflects on color, time and space when he faces a canvas, and the work is just the form and the end. What is a painting, how to paint, the intuitive watching of a painting … So a painting is born in the process of the painter continuously daubing and watching.
Artist Ma Shuqing pointed out that the artistic life was boring, while artistic adaptation was difficult to come true, he learned that painting could not lie when he studied in Germany. He believed that the most valuable thing in art was to give up the most familiar part, and he had given up twice in his painting career: firstly he gave up representational painting 20 years ago; secondly he gave up screen printing, which gave him more possibilities. Ma Shuqing also said he didn't care what others thought about his paintings if they were similar to the ones of other artists, because each person had his own track, which sometimes was overlapped by the others, but they would also be far away from each other after a period of time.
Text by Ye Yuanfeng, translated by Chen Peihua and edited by Sue/CAFA ART INFO
Photo by Inside-Out Art Museum
Related posts: