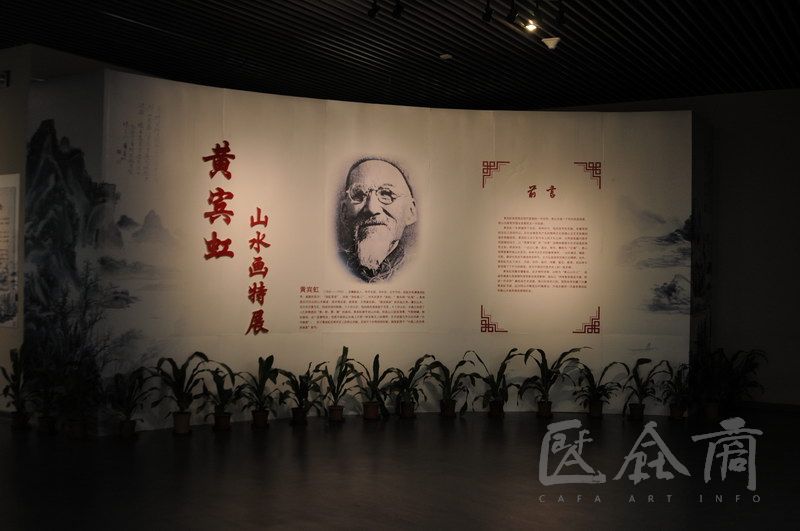 The special exhibition of Huang Binhong's landscape paintings is held on the 5th floor of the new museum of Anhui Museum from January 30, 2013 to April 30, 2013. It features 40 items of his work, selected from the rich collections of Huang Binhong's works from Anhui Museum, which is rare selection for the public to appreciate the artist's early landscape paintings.
Huang Binhong is a great master of modern Chinese painting, who sums up his times in landscape painting, a pioneer who develops the aesthetic theory of landscape. Huang's work spans two centuries, so that the change of the two centuries has a profound imprint on his thinking and practice. In the face of spiritual and cultural difficulties, produced by drastic social changes, as well as various problems with the development of art, Huang Binhong was determined to adhere to the local cultural position, seeking beyond the power of the internal vigorous traditional heritage, remodeling the aesthetics keynote artistic creation according to the spirit of "Hunhouhuaji, that is a strong visual effect for the painting with a broad structure, sophisticated strokes, simple and bold colors, constructing "a realm of magnificence and mist", and "inner beauty". Throughout his life, he practiced his Day Lessons including sourcing from the heart, plastic, features of the brush, with a rhyme of ink, to carefully explore the highest state of the traditional landscape paintings with flowers and birds, as well as different calligraphiy, on the other hand, he tirelessly and vigorously promoted and advocated the national cultural essence through writings, inscriptions, letters, and speeches. In addition, Huang Binhong left immortal traces in poetry, Chinese painting and calligraphy, creations, seals, a research of collections, identification, education, and gloss, which leads him to be a monument of modern Chinese art history. He had a strong feeling for his ancestral home, Shexian County of Anhui Province, claiming to be the "Person living in Huangshan Mountain", and his painting origins and ideological feelings were impacted by Xin'an Painting School, it is said that "He rose the Banner of Xin-an Painting School again, and eventually became the great master", summarizing his artistic achievements.
Huang Binhong's Art Chronology
1865 Born in Tietouling in the west of Jinhua city, Zhejiang Province on January 27
1869 Moved to Jinhua Mountain with his father avoiding the war, living in Luodian, took Li Shaoxian and Li Yongtang as his teachers, especially liked seals, Chinese painting, and calligraphy in his leisure time
1976 Saw lots of ancient painting and calligraphy artworks in his hometown in 1876, he especially loved Dong Qichang and Cha Shibiao's paintings.
1880 Imitated Jing Hao's "Record of Strokes", created a roll of "Sidelight of Strokes"
1883 Traveled around Huangshan Mountain and Baiyue Mountain, recording Chinese painting and calligraphy
1886 Studied with Wang Zhongqian, practicing Guqin, an ancient Chinese musical instrument and sword training, edited the "Essays of Seal", "Talk about Painting"
1887 Resident of Yangzhou, seeing Chen Chongguang's paintings of Landscape, and Flowers, however, Chen became very ill
1889 Studied with Wang Zhongqian, learning Chinese painting and calligraphy with Jixiu and Jiuyou
1894 Studied Chinese Painting, collecting the old news of the villages, exchanging seals, and Chinese painting and calligraphy by famous potters, and he was famous as far as in Xizhong for his addiction in collecting seals.
1900 Edited "Record of a trip to Huangshan Mountain and Qianhai", gaining all the seals of Wang Qishu, enjoying engraving seals himself
1901 Edited "Collection of Seals by Binhong"
1908 Settled in Shanghai, co-editing some publications with Huang and Deng, such as "Guocuixuebao/ Quintessence News", "Guoxuecongshu/ Collections of National Literary and Academy", "Shenzhouguoguangji', etc. and publishing "Binhong Talks about Painting" in "Guocuixuebao/ Quintessence News".
1909 Taught Chinese language in the preparatory school for overseas study to America. He was a member of the founders of "nanshen". Deng Shi edited "Instances of Binhong's Paintings of Landscape" for him. He published the "Preface of Hong-qiu-tan-lian-ou-tu", "Preface of Bin-hong-cao-tang-ji-yin-pu", and "Four Clever Crafts", etc. in "Guocuixuebao/ Quintessence News", signed by "Yu Xiang". Imitating 28 pieces of landscape paintings of Dong Qichang, Cha Shibiao, and Jian Jiang, publishing the "National Famous Artists' Paintings of Landscape Volume I"
1911 Co-edited, published and issued "The Series of Books on Fine Art" with Deng Shi
1912 Served as the editor of "China Daily", and Editor in Chief of the monthly "Shenzhoudaguan/ Grand View of China". Wrote and illustrated for "Zhenxianghuabao/ Pictorial of Truth", such as "On the Painting Methods, Originated from Tang Dynasty"
1913 In cooperation with Su Manshu, Cai Zhefu, Wang Yiting, he created "Fenhudiaomeng Figure", and continued to edit "On Xu Xi and Huang Quan's Paintings of Flower and Bird" and etc., published in the "Zhenxianghuabao/ Pictorial of Truth", in the same year, which was forced to suspend publication for its tendency to counter-Yuan Shikai
1916 Self edited "Bing-hong-cao-tang-shan-shui-hua-ge"
1918 Copy editor of "Chinese Famous Paintings"
1919 Publication of "Binhong's Works", signed "Binhong" in his paintings
1920 Sketched pieces according to various landscape methods, signed "Binhongsheng", "Binhong", "Honglu", "Binghong", etc.
1923 Re-edited the examples of landscape, organizing Yiguanxuehui in Shanghai. Wrote the "Fragrant Record of Chinese History of Paintings" (published in "Guoxuezhoukan" of "Republic Daily"), "Binghong's Words on Painting" (serialized in the "Novel World").
1924 Edited the "Huangshan Painters' Origins" ("Huangshan History of Chinese Painting and calligraphy")
1929 Served as a founder and professor in Shanghai Literary Institute, also taught in Shanghai New China Art School, and Changming Art School. Wrote some essays, such as "Honglu's Words on Painting", publication of "Bin-hong-cao-tang-gu-yin-pu"
1930 His works featured in the Belgian International Exposition, winning the Special Prize for Treasures. "Tao-shu-wen-zi-he-zheng" was published, "Artists' Reviews in the Recent Decades", "Introduction to the Ancient Seal" published in the "Oriental Magazine"
1933 Founded Baichuanshuhuashe, participating in the revision of "Xixian County Gazetteer".
1934 Publication of woodcut printing of the "Binhong's Records of Sightseeing", "Main Ideas of Painting Methods" was published in the "Chinese Painting Monthly"
1935 Gave lectures to the staff of Nanning middle school, re-visited Guilin, and travelled to Hong Kong on the way back. In October, he served as the interim director of the Shanghai Museum. In December, he was hired as the member of the identification committee of the Palace Museum. "Changes of Chinese Paintings of Landscape" was published in the "Chinese Painting Monthly", publication of "Huang Binhong's Album" (Ke Luo edition), featuring 12 paintings
1936 Edited "Gu-gong-shen-hua-lu/ Records of the Painting of the Place Museum", currently collected by Zhejiang Provincial Museum
1945 Hired as the Lecturer of Department of Crafts, Beiping National Normal College, teaching the art appreciation class in August
1949 Member of the China National Art Workers Association, a member of the Review Committee of the 1st National Fine Arts Exhibition
1951 Presented at the National Committee of the Chinese People's Political Consultative Conference, edition of "Shuanxishuhuajia", etc.
1953 Awarded the Certificate of Merit for "Outstanding Painter of the Chinese People", finishing "Miscellaneous Writings in His Nineties"
1954 "Huang Binhong' Landscapes" were published and issued by the Shanghai People's Fine Arts Publishing House, writing of the "Interpretation of Painting's Articles"
1955 Elected to the 2nd CPPCC National Committee. Passed away in the early morning of March 25, and buried in the Nanshan Cemetery, Hangzhou
Translated by Chen Peihua and edited by Sue/CAFA ART INFO
Related posts: