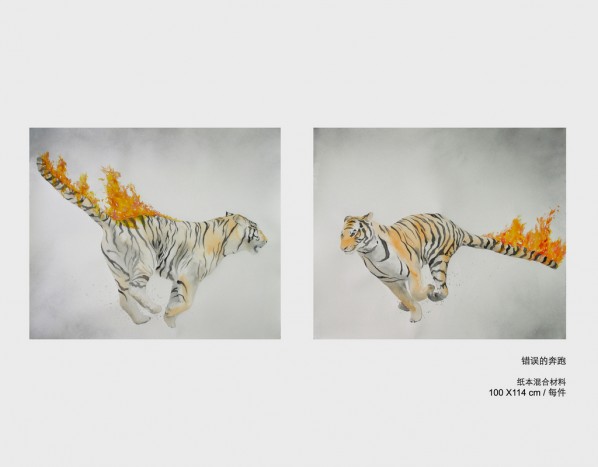 There's a delicacy of handing in Chinese artist Hankang Huang's watercolors that is clearly derived from his traditional training at the Art college of Suzhou University. In A problem of self, 2005, for example, the black strokes that form the stripes of tigers, the faint outlines that mark the limits of their bodies, and the way that they stand on the open expanse of white paper are all consistent with pictorial conventions that date back many centuries. But the image is witty as well as formally refined, the title suggesting the conceptual character of the work: The tigers move in opposite directions, but their tails are tied together in a tug-of-war that suggests a conflict between the two halves of divided self, for the tigers are mirror images of one another.
–Donald Kuspit
ARTFORUM, September, 2006
Hankang HUANG doffs his hat to traditions Chinese imagery, setting refined linear forms within a pale mass of paper. His gently ironic take on the clash between old and new, however, firmly situates the work in China's present: exotic animals and casually hip women wander through the paraphernalia of modern life, melding into one beast. In The Balance, 2008, a black clad female figure tips back into a yoga stretch, her head that of a leopard baring its teeth and snaring in the opposite direction to her twisting torso. Unlike much of the Chinese art seen in the west, Huang's cultural commentary never feels heavy-handed. He eschews sloganistic statement and instead plumps for open-ended image rendered with a lightness of touch.
–Skye Sherwin
ARTREVIEW, December, 2009
Huang Hankang
Born in Suzhou, China
Lives and works between Suzhou, China and Paris, France
Education
2006, Graduated from Ecole Nationale Supérieure d' ARTS, France
Obtained Diplôme National d'Arts Plastiques from Paris-Cergy
Solo exhibitions
2012 Anne De Villepoix Gallery, Paris, France
2012Contemporary Art Fair of Works on Paper, Anne De Villepoix Gallery, Paris, France
2012 Galerie Bertrand & Gruner, Geneva, Switzerland
2009 Fragment of Numerous Impacts, Galerie Bertrand & Gruner, Geneva, Switzerland
2006 Huang Hankang, Danese Gallery, New York, USA
Group exhibitions
2011 Museum of Curious Portraits, Galerie Bertrand & Gruner, Geneva, Switzerland
2011 Resonance Dissonance, Galerie Anne De Villepoix, Paris, France
2011 Volta7, Galerie Bertrand & Gruner, Basel, Basel Switzerland
2010 Works on Paper, Danese gallery,New York, USA
2009 Summer Group Show, Galerie Bertrand & Gruner, Geneva, Switzerland
2009 Volta5 Art Fair, Galerie Bertrand & Gruner, Basel, Basel Switzerland
2008 Works on Paper, Galerie Bertrand & Gruner, Geneva, Switzerland
2007 Scope Miami Art Expo, Houldsworth gallery, Miami, USA
2007 Art Miami, Danese Gallery, Miami, USA
2007 The ADAA Art Show, Danese Gallery, New York, USA
2006 From Gray to Black, Danese Gallery, New York, USA
Bibliography
2009 Skye Sherwin "Fragment of Numerous Impacts" ArtReview, February 2009
2006 Donald Kuspit, Hankang Huang, ArtForum, December 2006
Related posts: