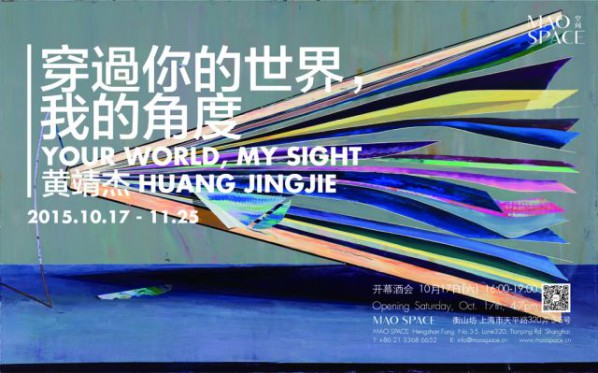 On October 17th, Huang Jingjie's first solo exhibition, ―Your World, My Sight II will open at MAO SPACE Hengshan Fang.
This exhibition centers on Huang's Book series, which embodies his―verstehen II of linear vestige, from a rope that binds the book to the book itself. Huang prefers to avoid narratives by setting a performing line on stage of the dramatics. Therefore, not every style bears implications, as his goal is to explore the poetry in shapes and forms. While the hand-sketched lines are plain and gentle, they possess an elastic quality that bounces the vividness of colors, incorporating a hint of mystery to the picture.
For the variety of vestiges, wood is undoubtedly a precious gift from Mother Nature. Huang is especially keen on the characteristics of wood, which may not be as strong as iron, but its texture can endure and deliver the passage of time that steel can't. He deliberately adds the texture of wood to the main contours in his paintings to integrate the material into a 2 dimensional painting via a thickened pictorial effect, to exhibit his ―verstehen II of wood.
About the exhibition
Dates: Oct 17, 2015 – Nov 25, 2015
Opening: Oct 18, 2015, 16:00, Sunday
Venue: Mao Space
Courtesy of the artist and Mao Space.
Related posts: