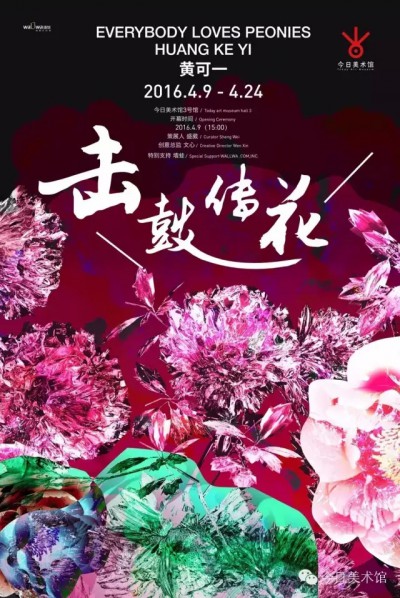 In "Everybody loves peonies", Huang Keyi presents works of art emerging from a traditional Chinese theme, the peony flower, as it is influenced by modern aesthetics and commercialization. Starting from the behavior of purchasing samples of the peony flowers painted in the traditional Chinese style from Tao Bao, China's biggest online marketplace, Huang does not only examine the phenomenon of the "Peony Village" in Luoyang, but also "performs" through multi-dimensional simulation and composite media as well as through "crowd-sourcing" and the sales of his work online to further develop the exhibition. As the symbol of traditional Chinese culture and paintings, peonies have been artificially cultivated in history. The peony's aesthetics emerged from the wish for good fortune in the long-held Chinese custom. Today, with deepening commercialization and rapid growth in China, appreciation for peonies has also become a social phenomenon. With these works of art, Huang explores the complex interplay between history and reality, art and society, as well as individuals and the collective.
—Sheng Wei
About the exhibition
Huang Keyi: Everybody loves peonies
Organizer: Today Art Museum
Curator: Sheng Wei
Creative Director: Wen Xin
Opening Ceremony: 3p.m. April 9, 2016
Druation: April 9, 2016 – April 24, 2016
Venue: 1/F & 2/F Exhibition Hall of Building 3, Today Art Museum
Courtesy of the artist and Today Art Museum, for further information please visit www.todayartmuseum.com.
Related posts: