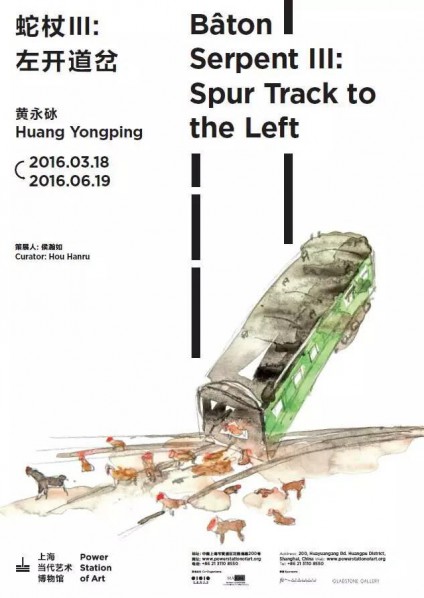 This version of Huang Yongping's solo exhibition at Power Station of Art will present about 30 pieces according to the space. Besides the large scale installations such as Baton Serpent (2014), PSA will also include many early works from him, showing the artist's consistent energy, exploration, and reflection.
His philosophical-aesthetic thinking, always singularly independent, and sometimes even nihilistic, strongly highlights the crucial role of skepticism, with which the artist defies the rationalist and anthropocentric hegemony. His artistic language, strong and constantly renewed, is a trans-cultural crossing point between the contemporary expressions and the most traditional influences. With this exhibition, we aim to represent the meeting point for the West and the Non-West, and to put forward debates on cultural identity as well as to challenge ideological and institutional presumptions. The project will eventually be offering a critical analysis of the contemporary geopolitical reality.
About the artist
Huang Yongping was born in Xiamen, Fujian Province in China (1954). He graduated from Zhejiang Art Academy (now China Art Academy) in 1982, and moved to France since 1989. He was one of the founders and key members of the important artist collective "Xiamen Dada", and has exhibited at some of the most prestigious exhibitions worldwide, including Venice Biennale (2005), Shanghai Biennale (2000,2012), Monumenta (2016, Paris),and has held solo exhibitions in various institutions including Walker Art Center (2007, Minneapolis), Ullens Center for Contemporary Art (2007, Beijing) etc.
About the exhibition
Date: March 18 – June 19, 2016
Venue: Power Station of Art, 1F/2F
Organizer: Red Brick Art Museum, Power Station of Art, MAXXI
Sponsor: Tang Contemporary Art, Gladstone Gallery
Courtesy of the artist and Power Station of Art, for further information please visit www.powerstationofart.com.
Related posts: