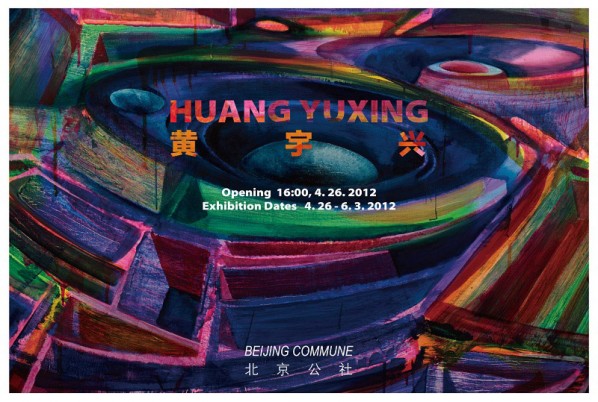 Huang Yuxing's paintings are idiosyncratic and based on premeditated different scenes. He applies multiple pure oil paint and acrylic upon canvases, rendering a colorful yet transparent picture. The scenes are fantastical, but simultaneously with quite a few elements of everyday structures or items in his paintings. These elements are dissected and rearranged by Huang to form a new pattern. Showing a series of his latest paintings, "Huang Yuxing" is the artist's fi¬rst solo exhibition at Beijing Commune. It will last until June 3rd, 2012.
Trap, Colosseum, Podium and Club of Law Enforcers…many details within these dramatic but concrete scenes explicitly explain the relations between the paintings and their titles, behind which lies a lucid narrative approach. Huang mainly uses geometric forms, rendering multiple proportions which are painted mainly red, yellow and blue, so as to create the style for this new series. The works are mainly based on bright yellow, and then partially covered with red, blue and other mixed colors. Huang intentionally leaves some rooms or outlines the subjects, so as to intensify the colors in the paintings. Ostensible brushworks leave paint streaming down the canvases. Huang's works ends up with obvious characteristics of expressionism. With this method, Huang Yuxing represents individuals' reactions, imagination and mental fabrications about the surroundings and social milieu.
The development of paintings is sluggish nowadays. Compared with other artists of the same generation, Huang Yuxing's style reveals singularity, which is seemingly detached from current contexts. Yet, there are practically apparent relations with his educational background in the academy, exposing a "fallacious" aesthetic value and "paradoxical" comprehension, which are especially apparent in his latest undertaking. Strong visible impact intertwined with thin paint attached to the canvases, endowing the whole picture with an eerie aura. Despite the surrealism prevailing in his paintings, sarcasm about politics, even the non explicit or pertinent, serves as a quintessence feature. Huang's detachment mirrors a collective consciousness of a group of people of the same generation. Renouncing conceptualism when starting a painting, Huang typically ful¬fils his artistic practice along with modernism, imbuing the new surroundings with new signif¬icances and values.
Huang Yuxing was born in Beijing in 1975. He graduated from The Central Academy of Fine Arts (CAFA) in 2000, now lives and works in Beijing.
About the Exhibition
Duration: April 26th–June 3rd, 2012
Gallery Hour: 10:00-18:00 Tuesday-Saturday
Address:Beijing Commune,P.O.Box 8503,798 Art Factory, 4 Jiuxianqiao Road, Chaoyang District, Beijing100015,China
Tel: +86 10 8456 2862
Courtesy of Huang Xingyu and Beijing Commune, for further information please visit www.beijingcommune.com or contact info@beijingcommune.com.
Related posts: