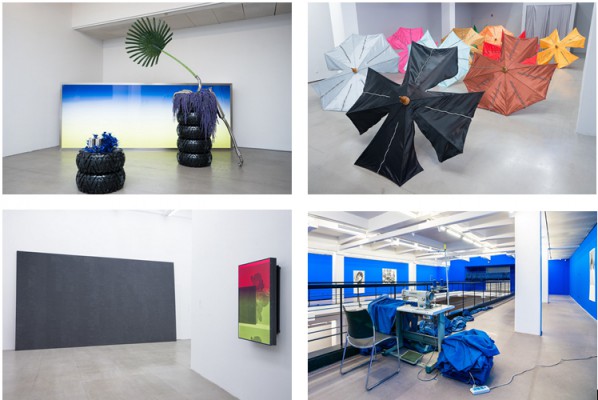 HUGO BOSS ASIA ART: Award for Emerging Asian Artists opened October 30th at Rockbund Art Museum (RAM) in Shanghai, presenting artworks by six nominated artists; Guan Xiao (Mainland China), Huang Po-Chih (Taiwan), Moe Satt (Myanmar), Maria Taniguchi (Philippines), Vandy Rattana (Cambodia), and Yang Xinguang (Mainland China). Building on the success of the first edition in 2013, the second edition of the award in 2015 continues to honour emerging contemporary artists who are in the early stages of their artistic creation and exhibition practices. The exhibition is open to the public from October 30, 2015 to January 3, 2016.
Curated by RAM and developed closely together with the participating artists, the exhibition demonstrates the rich diversity of practices these artists are developing in Asia. The selection of artworks ranges from painting to video art; from sculpture to installation and performance; from anthropological research to more conceptual and poetic representations; from observation of the localities to their formulation into a universal artistic statement. Larys Frogier, RAM Director and Chair of the HUGO BOSS ASIA ART jury, elaborates on the concept of the exhibition, "HUGO BOSS ASIA ART supports each of the nominated artists in conceiving and achieving a powerful artistic statement related to their individual practice and research. The exhibition presents completely new productions and art projects of the utmost quality."
"Following the success of its inaugural edition, the Award has become an important element in our arts program. We are also excited that it is returning with an extended focus, encompassing artists from Southeast Asia in addition to Greater China. As such, it highlights the rich possibilities for cultural exchange and dialogue across these regions," says Dr. Hjrdis Kettenbach, Head of Cultural Affairs, HUGO BOSS AG.
The winner announcement of HUGO BOSS ASIA ART 2015 will be made on 26 November 2015, and the winner will receive a stipend of 300,000 to further develop their artistic practice. In parallel, a catalogue will be published on the 2015 HUGO BOSS ASIA ART exhibition in November 2015 to coincide with the winner announcement.
HUGO BOSS ASIA ART 2015
Maria Taniguchi
Born 1981 in Dumaguete, Philippines
Lives and works in Manila, Philippines
Throughout her paintings, sculptures, and videos, Maria Taniguchi's work involves a fetishism of form. Her voluminous brick paintings employ rigorous composition and monochromic techniques, with a dense investment of time and labour which is transformed into a visual spectacle. Her sculptures establish a tangible system in space, as well as an order and logic of viewing and participation. The manipulation of the camera and the status and movement of the objects in her video works also bring about consistent rhythms and patterns.
With such logics and patterns, Maria Taniguchi unpacks knowledge and experience—connecting material culture, technology, and natural evolution—and investigates space and time, along with social and historical contexts. The artist finds herself in the exhausted socio-political situation and economic structure amid the reality of the Philippines, and projects this constant experience onto her works.
Whether with the brick paintings or with the moving images of plain and common objects, Maria Taniguchi enforces the action of viewing upon our senses. During this process, the objects are reassembled conceptually, following the logic that is either established visually by the artist, or spontaneously formulated in the mind of the spectators. The consequence is the reinterpretation of the objects, and the attainment of sensorial and cognitive experiences.
Yang Xinguang
Born in 1980 in Changsha, Hunan Prov., China
Lives and works in Beijing
Yang Xinguang's creative oeuvre is focused primarily on sculpture though he certainly does use mediums such as video and performance, among others. In his works, the material itself is a particularly salient component. Earlier on, he often used cheap and easily obtainable natural materials such as stone, wood, bamboo, earth, and others; in recent years, he has also taken to more lustrous materials such as stainless steel and aluminium. At any rate, the artist emphasizes the connections as well as conflicts in the textures of various materials.
His "selection" of materials is in and of itself social. The personal sentiments and social identities cast on these materials, along with the value of the materials, all grant them that attribute of experience—and therefore they have no way of reverting to their origins. The artist's application of such materials on the one hand goes along with and indeed highlights the characteristics of the materials itself, while on the other hand the artist also invests his own subjective emotions in them—or even imagines them further on the basis of the material forms themselves. Such emotions originate in Yang Xinguang's daily experiences and are a response to collective sentiments. At the same time, he forges geometric and lineal forms in the works, in order to undertake an act of "frigidity" towards the conveyed emotions by means of a rational visual language, rendering them into objects that can be observed an d pondered.
Guan Xiao
Born 1983 in Chongqing, China
Lives and works in Beijing
Guan Xiao's practice extends across various media, notably sculpture, installation, and video. In her works, "cognition" serves as a key concept, referring to the process of generating or acquiring knowledge via perception, judgment, imagination, reasoning, and concept formation. This process can be conscious or unconscious, concrete or abstract, as well as intuitive or conceptual.
The materials Guan Xiao chooses to work with are consequences of personal experience and contingency, including ready-mades and artefacts which she encounters in daily life and in her cognitive processes, as well as images obtained via the internet and other media. These materials signify various issues related to culture, technology, materiality, and power in contemporary reality. In her sculptures and installations, the artist magnifies the idiosyncrasies of the materials with her unique visual language, and transforms them into experimental objects of observation. At the same time, she fuses and contextualizes these objects and establishes among them abstract relations, even jumps in relations. Through this cognitive experiment, her thoughts and logics gain physical forms and embody a rich visual aesthetics.
Guan Xiao's video works open up to more specific discussions on issues related to cognition. Her references and attitude are conveyed through streams of images, and reveal themselves as the processual logics of the cognitive self.
Vandy Rattana
1980 in Phnom Penh, Cambodia
Lives and works in Phnom Penh, Paris, and Taipei
The photographic and film series of Vandy Rattana attest to a documentary impulse found in the work of photojournalism, but his eye for certain compositional frames and the capture of particular moments speaks to a vision shaped by the aesthetics of cinema. Vandy Rattana has trained his lens on the challenging conditions in his home country, Cambodia, documenting natural and manmade disasters, and the chapters that have been glossed over in historical narratives specific to Cambodia. Significant historical archives and documentation were lost during the violent campaign of cultural purges implemented by the Khmer Rouge regime. Vandy Rattana's endeavour of retrieving and preserving the memories and witness of the past operates in a context in which the act of remembrance is a form of subversion.
Vandy Rattana's heuristic and poetic photographs do not merely communicate a state of victimhood; rather, they acknowledge the processes of survival, resilience, and healing. The landscape in his photographs and videos bears silent witness to some of the worst forms of inhumanity, and triumphs the frame as a continuous statement of time.
Vandy Rattana's films echo with the voice of narratives, monologues, and conversations. In a poetic composition, he confesses, ruminates, poses questions, and at times erupts with emotions. His topics involve his family, the deceased, the land, and memories.
Moe Satt
Born 1983 in Yangon, Myanmar
Lives and works in Yangon, Myanmar
Si Thu Tan Naing of Yangon carried on the tradition of Burmese artists and adopted for himself a unique artist name, Moe Satt. Born to a country which suffered from the dictatorship of the military junta and is now undergoing a rapid democratic reform, Moe Satt became a leading figure in his generation of artists after the millennium for his persistent concern for and criticism of the socio-political conditions that his people are subjected to, as well as his unprecedented artistic ideas and practice.
The body is Moe Satt's foremost medium. He places actions and performances in the intersection of public spaces and the wider public, thereby eliciting both the acts of witnessing and participation necessary for a sense of co-immunity and alterity. It becomes evident that Moe Satt's pursuit is in de-hierarchizing order via choreographic structures that propose a disruption of normative public spheres and engagement in order to allow the spectators to perceive time, movement, and exchange in a renewed sense.
Hand gestures and symbols are essential to Moe Satt's practice. He uses the patterns derived from religion, social history, and even popular culture as a citational tool to communicate, express attitudes and information, raise questions, and provoke. He entails the hands as means of productivity, and the embodiment of multitudinous strength and mentality, which generates a sense of mission and revolution.
Huang Po-Chih
Born 1980 in Taoyuan, Taiwan
Lives and works in Hsinchu, Taiwan
In his multi-disciplinary practice, Huang Po-Chih focuses on exploring issues related to production, agriculture, manufacturing, and consumption. His works envision a macroscopic backdrop of trade and exchange, cross-sectioning complex industrial structures all the way down to the individuals who partake in this structure.
Huang Po-Chih adopts various roles in his projects. As a member of the family, he perused and compiled his family heritage, the stories about his mother's ancestry and family members; as a producer, he reclaimed barren farmland in order to grow lemon trees; as an entrepreneur, he drafted and executed proposals; as an artist, he manipulated the system and resources of the art world. His projects are not only presented as objects of our observation but they also inherently take on potential and enduring social significance.
The symbolic objects—denim, lemon trees, turtledoves, and celery—relate intimate stories derived from the artist's personal experiences, memories, and perceptions, and are offered up for us to partake. They also signal the key plots and stages in the projects and constantly extend the scope and boundaries of the issues being discussed.
With symbolic colors and spatial logic, Huang Po-Chih renders the space with an aesthetic pleasure and a presence of ceremony like that in monochromatic paintings. Such visual experiences also establish a proper distance between the projects on display and their social backdrops, allowing viewers to engage in objective contemplation and reflection.
About RAM
For five years RAM has been at the forefront of the growing contemporary art scene in China, presenting world-class programmes in a unique museum setting. A boutique Museum of the upmost quality, RAM holds a unique position within Shanghai's continually expanding cultural scene. The Museum is located within the Bund district and housed in an exquisite heritage Art Deco building which was renovated by architect David Chipperfield before opening in 2010.
The Museum's exemplary curatorial, education and research programmes showcase acclaimed and emerging Chinese and international artists, responding to and reflecting on present and urgent challenges of society locally and internationally. RAM presents a bold and pioneering programme of three exhibitions per year; exploring and realising artists' most ambitious projects and working with them to tailor exhibitions to the Museum and to the Shanghai context, often with a large proportion of works being new commissions. RAM devises, produces and curates its programme in-house, in conjunction with carefully selected international collaborations of the highest quality. For more information, please refer to www.rockbundartmuseum.org.
About the HUGO BOSS Arts Program
Art and fashion are intertwined disciplines, in their nature guided by innovation and creativity. Both seek to forge something new, driven by the will to capture the spirit of their time. With the aim of encouraging an exchange between the two fields, HUGO BOSS initiated its Arts Sponsorship program in 1995 as an integral part of the Company's corporate culture. Focusing on contemporary art, HUGO BOSS has supported numerous high-profile exhibitions with the intention to inspire people and to give leading artists a platform for their work. Examples of these were Georg Baselitz (1995 and 1996), Dennis Hopper (2001), Olafur Eliasson (2005), Josephine Meckseper (2007), Jeff Koons (2012) and Konstantin Grcic (2014). Moreover, HUGO BOSS has initiated two independent awards to support extraordinary talents and to emphasize their contributions to the arts. Founded in 1996 and in cooperation with the Solomon R. Guggenheim Foundation and Museum in New Yo rk, the HUGO BOSS PRIZE has become one of the world's most renowned accolades for visionary contributions to contemporary art. The HUGO BOSS ASIA ART Award, introduced in 2013 and conceived and curated by the Rockbund Art Museum, focuses on promoting young emerging contemporary artists in Asia.
Courtesy of the artists and the HUGO BOSS ASIA ART 2015.
Related posts: