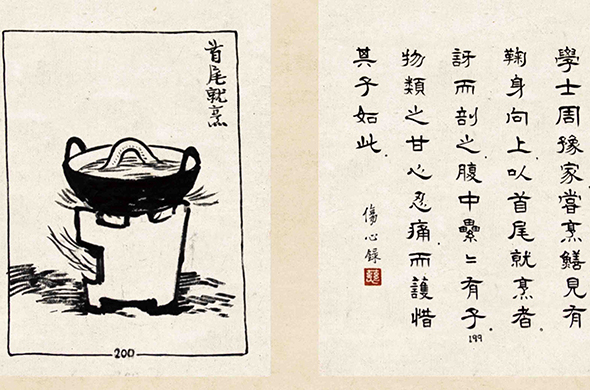 In 1925, Zheng Zhenduo published Feng Zikai's cartoons(manhua) in the "Literature Weekly" and he called it the "Zikai's Cartoons", so that the Chinese "manhua" was widely accepted and used by Chinese people and Feng Zikai played an important role in the Chinese history of manhua. In fact, in addition to being a cartoonist, Feng Zikai also achieved remarkable achievements in the fields of Chinese calligraphy, essay, translation and other fields. His articles show a vivid appearance and a special charm. They are simple and bright, continuous and tell stories pleasantly, starting from a subtle point to explore life, reflecting ways of the world. His cartoons have been highly praised and have been called "pieces of flowing flowers that embrace human feelings."
Feng Zikai was born in Tongxiang, Jiaxing, Zhejiang Province. He is a famous artist, essayist, an art educator, a music educator, a translator and a painter. On 25 October 2018, "Human Comedies—The Art of Feng Zikai" debuted at the National Art Museum of China, it brought together more than 150 pieces (sets) of works, manuscripts and objects by Feng Zikai in the collections of the National Art Museum of China, Zhejiang Museum and Feng Zikai's family, as well as the collections of private collectors. The exhibition strives to restore Feng Zikai's diverse artistic life.
As a painter, Feng Zikai promoted an idea of "transforming art into life" and "transforming life into art". The exhibition interprets his artistic thoughts with four series of cartoons, including "The New Paintings Illustrating Ancient Poetry" that show his romantic feelings; two sets of realistic painting albums "Big Trees" and "Engou" that show his earnest natural kindness and feelings of the motherland; "Paintings for the Preservation of Life" that showcases his religious humanitarianism and the story of his commitment to Master Hongyi. Through these works, the audience will fully feel Feng Zikai's simple, extensive and sincere love. Under the premise of his following of traditional poetry and painting concepts, the use of ink lines become the essence of the painting, Feng Zikai has combined Western sketches with Chinese poetic nature, so that his works hold a special interest and have created a new style of painting that is both realistic and lyrical.
"Big Trees" album was created by Feng Zikai when he was living in Yizhou, Guangxi Province, in 1939. During the War of Resistance against Japanese Aggression, Feng wrote the words of "Being a tramp is better than being a man from a conquered country" in 1937, and it started an eight-year art journey of escape. He cared about both the territory of the motherland and the poor people. Feng wrote down and drew what he saw, what he heard, and what he felt while he walked on the journey of escape, so that he created the "Big Trees". At the beginning of the album Feng wrote a poem that "Although the big tree is cut down, it still embraces extensive vitality. It will sprout and flourish once again in spring". We can see that, Feng Zikai used those paintings to portray Chinese people's self-reliance and their protection of their home and defending the country. This album is undoubtedly a monument of the works of art during the Anti-Japanese War. It is also an important part of Feng Zikai's paintings with a far-reaching significance.
"Engou" was created by Feng Zikai for his youngest son Feng Xinmei, who was also named Engou. It has both incorporated many funny stories of Engou's daily life, and the folk songs written in Tongxiang dialect. Feng Zikai preferred to use of the recordings of real life, writing interesting words, and drawing vivid paintings to teach his children and grandchildren, rather than to rigidly tell them rules. The tiny humour of life, the innocence of children, father's affection, as well as the extensive emotional tie to the family were all poured into to the little album.
In order to help the audience to have an in-depth understanding of Feng Zikai, there are specially selected original pieces from the six volumes of "Paintings for the Preservation of Life" in the collections of Zhejiang Museum, and it is the first time to showcase "Paintings for the Preservation of Life" in Beijing since it was collected by Zhejiang Museum. Feng spent 50 years finishing "Paintings for the Preservation of Life" that showcases his religious humanitarianism and the story of his commitment with Master Hongyi and his students. The warm works encourage people and persuade people to be kind, and also protect people's bodies and heart. Feng Zikai's extensive cultural accomplishments and unique strength of personality are reflected by this album.
Feng Zikai is not only a painter, but also has outstanding achievements in the fields of Chinese calligraphy, essay, translation and other fields of literature and art. From the 1920s to the 1970s, Feng Zikai had written a large amount of proses and also published many anthologies of proses, for example, "Yuanyuan House Prose", "Twelve Items of Prose", "Carriage Society", "The Frank and Sincere Anthology" and "Yuan-Yuan Tang Sui Bi ", and it created an unique style in the history of modern literature. As Yu Dafu said, "Many people know and are attracted by Feng Zikai's cartoons, but they hardly know his works of prose including a quiet and mysterious quality, which are more intelligent than his paintings." ​​Since the 1920s, Feng Zikai had been involved in the art of bookbinding, and had designed many covers, illustrations and flyleaves for books and periodicals, and he became one of the most important designers in the history of modern Chinese binding. In addition, Feng Zikai was committed to music education in his early years, and he had taught in primary and secondary schools, normal schools and universities for a long time. He had trained many artistic talents, as well as many music teachers at that time. In December 1925, he published the first music book "Music Common Sense", and compiled more than 30 books on music theories such as "Introduction to Music", "Life and Music" and "Ten Lessons of Music", which led to new music becoming more popular and improved. As a translator, Feng Zikai has translated more than 30 books in his life, involving literature, art, music, etc., in Russian, English and Japanese, a total of 14 books including Stevenson's "The Suicide Club" in English, Ivan Turgenev's "A Sportsman's Notebook" in Russian, Kuriyagawa Hakuson's "The Symbol of Depression" and Murasaki Shikibu's "The Tale of Genji" in Japanese.
As a person who spent his life in the pursuit of being a person "staying true", Feng Zikai held the faith of "teaching with love" throughout his life. He disseminated truth, goodness and beauty with love, poetry, Buddha's heart and childlike innocence, and it is the supreme realm interpreted by Feng Zikai with his cartoons. "The Art of Feng Zikai" organized by the National Art Museum of China brings together many important works including anthologies of prose, music teaching materials, manuscripts, anthologies of translations and theories of art by Feng Zikai, so that the viewers will fully understand Feng Zikai's art world and life by those works that are carefully arranged. It remains on view till 4 November.
Text edited by Yang Zhonghui, translated by Chen Peihua and edited by Sue/CAFA ART INFO
Photo courtesy of the organizer
Related posts: