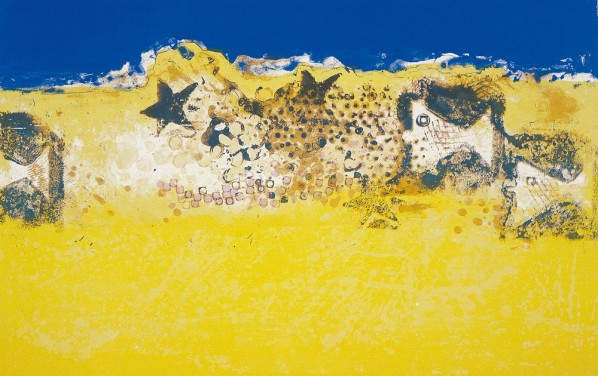 Art interprets the existence of truth with the use of an abstract body. While art is a kind of media, the truth makes artworks emerge with the help of the artist's thinking and mind, and becomes immortal with the help of the artworks themselves.
Zhang Guilin integrates the whole of his life and art, singing a song of praise with "ignorance". Open your eyes, you will see a part of the world forever, close your eyes, you will see the whole world. Reading Zhang Guilin's works, we will not see any entanglements or stubbornness, but liberating, and unconstrained.
The exhibition features a total of 10 prints, 10 ink and wash paintings. Zhang Guilin has an excellent skill of in print, to print dozens of colors in several versions. It isn't a simple work, because printing is in need of rational preparation and an arrangement to render an expected effect on the screen. Serigraphy requires a complex process including producing plates, exposure, development, printing, comparing, revising the version, etc., and especially the final color, it is difficult to control, due to the influence of every detail in the production process, these details are closely related to the condition of the dryness of air during the printing process, and the intensity in using a scraper on it.
It is necessary that the creation of serigraphy uses a long-term accumulation of technical experiences. In China, the developing history of modern serigraphy is short, as one of the pioneers of Chinese serigraphy, Zhang Guilin has engaged in the creation of serigraphy for decades of years, and his serigraphy is praiseworthy in both technical and artistic values.
Zhang Guilin's works of ink and wash is the fusion of the creative language of print, applying the form of ink and wash to sincerely show his experience and feeling. His ink and wash does not compete with technical success, but pays more attention to his own state of mind, while the inner spirit, understanding of being and life flows under his brush. As he often said: "Why do you care about it, why do you take it seriously, ignorance is bliss."
About the exhibition
Ignorance is Bliss
Artist: Zhang Guilin
Opening: at 15:00 pm on November 9, 2013
Duration: November 9 – December 9, 2013
Venue: PGG Gallery, Middle Second Street, 798 Art District, No.4 Jiuxianqiao Road, Chaoyang District, Beijing
Curator: Liu Rui
Organizer: Pure Ground Gallery (PGG)
E-mail: liurui1986514@aliyun.com
Courtesy of the artist and Pure Ground Gallery, translated by Chen Peihua and edited by Sue/CAFA ART INFO.
Related posts: