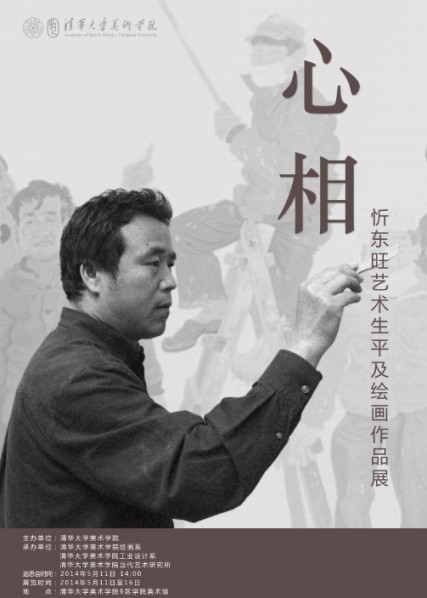 In the afternoon of May 11, 2014, the memorial service for Xin Dongwang, Professor of Tsinghua University, the artist, was held at the Art Museum of the Academy of Art & Design, Tsinghua University. The memorial service was presided over by Professor Zhang Gan, Vice President of the Academy of Art & Design, Tsinghua University. More than 300 people, including Feng Yuan, Vice Chairman of the China Federation of Literary and Art Circles, Deputy Director of Central Research Institute of Culture and History, Vice Chairman of China Artists Association, Honor President of Academy of Art & Design, Tsinghua University, Liu Dawei, Chairman of the China Artists Association, Yang Xiaoyang, President of China National Academy of Painting, Zhang Zuying, Vice Chairman and General Secretary of China Oil Painting Society, Yang Feiyun, Dean of Chinese Academy of Oil Painting affiliated to the China National Academy of Arts, Pan Shixun, Professor of Central Academy of Fine Arts, Zhao Xianxing, Associate Dean of the School of Plastic of the Tianjin Academy of Fine Arts, Qi Haiping, Professor Xu Weixin, former Executive Dean of School of Arts, Renmin University of China, Wang Mingzhi, Associate Director of Tsinghua University, Party Secretary Zhao Meng, art theorist Jia Fangzhou, artist Chen Danqing, as well as teachers and students from Tsinghua University, art circles, media and the relatives and friends of Professor Xin Dongwang attended the memorial service.
At the same time, "Images of Heart – Professor Xin Dongwang's Art Life and Painting Exhibition" was held at the Art Museum of Academy of Art & Design, Tsinghua University from May 11 to May 16. The exhibition presented the life and art history of Xin Dongwang in the form of a combination of pictures and text, to showcase 32 paintings created in different periods, including early watercolor paintings "Mountain Village", "Ring", as well as the recent oil painting "The Antique Hall", and so on.
Xin Dongwang was born in Xinjiafang Village of Kangbao County in Hebei Province on April 19, 1963, and died in Beijing at the age of 50 on January 11, 2014, due to illness. In the memorial service, experts and scholars from art circles, representatives of the teachers and students of Tsinghua University addressed the audience to express their remembrances of Xin Dongwang and his art life.
Feng Yuan highly praised the works and the painting style of Xin Dongwang in his speech. Xin's paintings of portraits did not only focus on peasants, and migrant workers, but also is a reflection on contemporary Chinese society. When Yang Xiaoyang talked about Xin Dongwang's painting, he said his art was both realistic and freehand, while the freehand was the expression of the current living status, thus from this perspective, Xin Dongwang's art is very contemporary. Artist Chen Danqing thought Xin Dongwang portrayed the farmers who were realistic, distorted and dramatic.
In an artistic expression, Xin Dongwang absorbed artistic nourishment from the pottery sculptures of the Han and Tang Dynasties, painted sculptures of Song Dynasty as well as mural paintings of the grotto and temples of all previous dynasties, deeply studying the image expressing the way of traditional Chinese art, creatively developed performing concepts and the methods of contemporary realistic painting. His art has irreplaceable and became an unique example of contemporary realistic painting.
Due to the deep humanistic concern in reality, and blending Eastern image performance into realistic oil painting creation, Xin's painting is highly praised by the art circles. Well-known painter Jin Shangyi valued Xin's painting both contemporary and classical, combining classical shaping methods and the spirit of the contemporary, combining the traditional Chinese artistic concepts and oil painting art, to form his own style. Zhan Jianjun, Honorary Chairman of China Oil Painting Society affirmed that, Xin Dongwang "has successfully explored a road for the development of Chinese oil painting, and achieved a level which provides an important reference interms of artistic pursuit for our oil painting.
Xin Dongwang was not only an accomplished artist, but also a noble teacher, respected and loved by the students. He focused on being scholarly, teaching students using his personal examples as well as verbal instructions, emphasizing on the cultivation of students' sensibilities. He advocated that in addition to the study of painting speciality, we should also accumulate rich experiences and historical perceptions, "without the perceptive ability to life, it is impossible to have the creative passion, without the perceptive ability to life, it is impossible to establish the perception of cultural consciousness."
Wang Mingzhi said at the memorial service: "Xi Dongwang was an artist and teacher with a strong sense of social responsibility, his noble personality and the unyieldingly, persistently exploring spirit motivates students to be enterprising, using his own practical action to push the innovation and development of Chinese culture."
Xin Dongwang loved painting during his lifetime, diligently working, in his distinctive creative style he became one of the most accomplished painters in contemporary China. His painting is full of humanistic care, with a national temperament, responsibility of the era. Xin was an outstanding artist born into an ordinary peasant family, so that he deeply understood the feelings of life and desires of migrant workers from rural to urban, and warmly expressed their real life situation and feelings. He emphasized the use of different angles of the farmers, and his portrait art focuses on human nature and the social culture, to describe the spirit and psychology of the group. He painted "the almost forgotten farmers, who have nothing to do with fashion, have nothing to do with novelty, have nothing to do with internationalization. But they are associated with the changes in China, the national suffering, and the social conscience." He painted vivid portraits one after another, becoming timely images of the developments and transformations of Chinese society; he strived to make his paintings echo with the pulse of the times and to be integrated into the national cultural blood.
Translated by Chen Peihua and edited by Sue/CAFA ART INFO
Related posts: