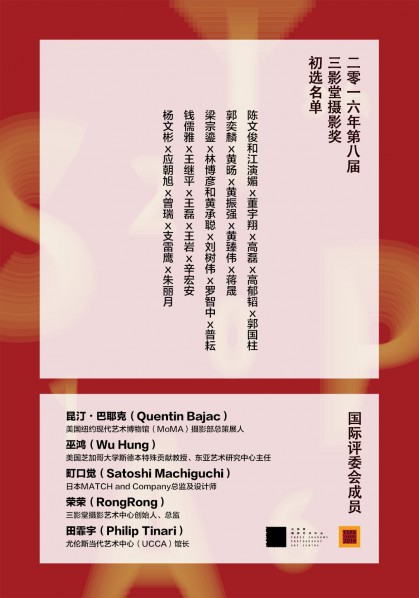 Finalists Announcement of 2016 the 8th Three Shadows Photography Award
After intense deliberation by the selection committee, 25 finalists have been selected out of the 471 candidates to participate in the Seventh Three Shadows Photography Award (TSPA) exhibition. Photography Award Exhibition will be held on April 9, 2016 at theThree Shadows Photography Art Centre.
2016 Photography Award finalists are, alphabetically, Chen Wenjun & Jiang Yanmei, Dong Yuxiang, Gao Lei, Gao Yutao, Guo Yilin, Huang Yang, Huang Zhenqiang (Dennis Wong), Huang Zhenwei, Jiang Sheng, Leong Chonglao, Lin Boyan & Huang Chengcong, Liu Shuwei, Luo Zhizhong, Pu Yun, Qian Ruya, Wang Jiping, Wang Lei, Wang Yan, Xin Hong'an, Yang Wenbin,Ying Chaoxu, Zeng Rui, Zhi Leiying, Zhu Liyue.
2016 Three Shadows Photography Award International Jury includes Quentin Bajac, Chief Curator of Photography Department, the Museum of Modern Art (MoMA); Wu Hung, Harrie A. Vanderstappen Distinguished Service Professor and Director of Center for the Art of East Asia, the Univ. of Chicago; Satoshi Machiguchi, Director and Designer of MATCH and Company; RongRong, Founder and Director of Three Shadows Photography Art Centre; Philip Tinari, Director of the Ullens Center for Contemporary Art (UCCA).
This year's Photography Award includes the Three Shadows Photography Award and the Shiseido Photographer Prize.The final results of the competition will be announced at the opening ceremony, after the international jury has made its decisions.
About the exhibition
Host: Three Shadows photography Art Centre
Opening and Announcement: 3pm, April 9, 2016
Duration: 10am – 6pm, April 9 Sat. – June 3 Fri, 2016 (Closed on Mondays)
Venue: Three Shadows Photography Art Centre
Address: Caochangdi 155A, Chaoyang District, Beijing, China
Tel: 86-10-64322663
Website: en.threeshadows.cn
Exhibition Directors: RongRong&inri
Curator: SHEN Chen
Courtesy of the artists and Three Shadows photography Art Centre, for further information please visit www.threeshadows.cn.
Related posts: