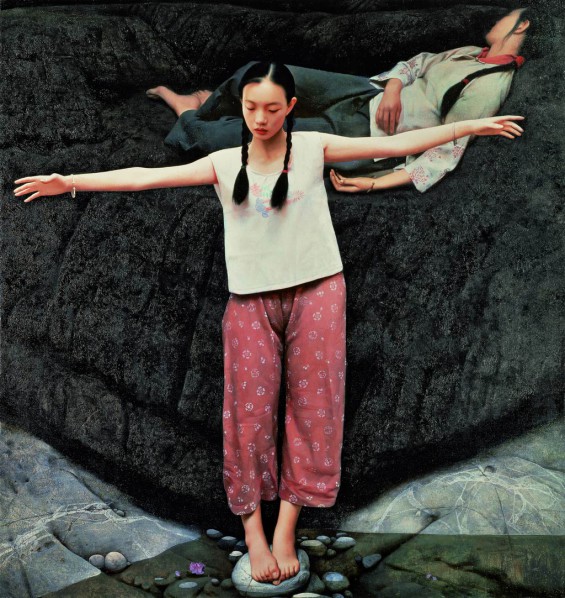 "Implication for China– Chinese Contemporary Touring Oil Painting Exhibition and Retrospective of A Hundred Years of Chinese Oil Painting" has a grand opening in Guangdong Museum of Art on January 25, 2014. It is a large scale domestic touring exhibition that has cooperated with the initial ceremony of the large scale documentary "A Hundred Years of Chinese Oil Painting", which is jointly filmed by Chinese Academy of Oil Painting Affiliated to the China National Academy of Arts and CCTV. Being the organizer of the exhibition, Guangdong Museum of Art will host the first show of the touring exhibition.
Oil painting has developed in China over one hundred years, while the contemporary Chinese oil painting collectively embodies the development over the century, it is an academic achievement that has been gained from the exploration of several generations of Chinese oil painters.
From the form of language or ideas and thoughts, Chinese oil painting reflects the creative pattern of co-existence, rich and variety of Chinese oil painting. Realism, expressionism, imaginary and abstract that is freely rendered, clearly showcasing the profound change in Chinese social cultural thought.
The majority of over 60 artists come from the Chinese Academy of Oil Painting Affiliated to the China National Academy of Arts, as well as part of the outstanding domestic oil painters, while the collection is on the basis of the classic and exploratory principles. About 160 works are on display. Meanwhile it applies the narrative form of memorabilia, combining texts and images to look back over last century into the developing history of Chinese painting, allowing more public and oil painting lovers to stay close to the historical pulse, so as to sense the historical truth, understand the ups and downs over the last century of Chinese oil painting. Hopefully they can ponder and be enlightened, thus the audience can deeply understand the abundant spiritual connotation of contemporary Chinese oil painting. It is also an opportunity for oil painters to mutually communicate with each other, learning advantages from each other, going together and unremittingly exploring painting to further enhance the academic level of Chinese oil painting.
About the exhibition
Duration: January 25 – February 22, 2014
Venue: Hall 1, 2, 3, 4, 10, 11, 12 at Guangdong Museum of Art
Courtesy of the artists and Guangdong Museum of Art.
Translated by Chen Peihua and edited by Sue/CAFA ART INFO.
Related posts: