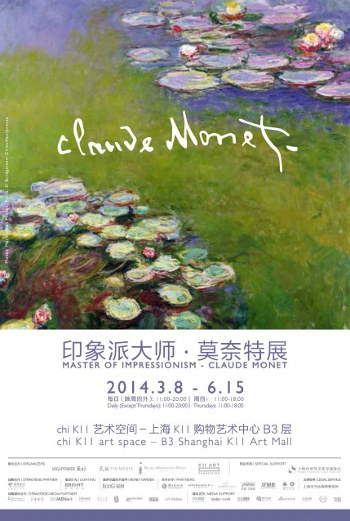 Co-sponsored by Musée Marmottan Monet in Paris, Shanghai Tix-Media and K11 Art Foundation, Impressionist Master · Monet Exhibition will be presented at the Chi K11 Art Space of Floor 3 of Shanghai K11 shopping center on Huaihai Road. The exhibition is one of the important activities being set up to celebrate the 50th anniversary of Sino-French diplomatic relations, as well as being the first special exhibition of Monet on the Chinese mainland. It is about to exhibit 52 original works by impressionists, with 40 works by Monet which will go on display, along with 12 works from other impressionists from Monet's collections, such as Renoir, as well as three items from Monet's daily life.
This exhibition will showcase several representatives of the important periods during his artistic career, including rare and valuable treasures. It is a great chance to closely view original masterpieces, and is also an Impressionist art feast sweeping through China. French painter Claude Monet was a pioneer of the impressionist, and he was a noted ironic cartoonist in his teenage years. In the later period, Monet spent 40 years living and creating work in the Giverny Garden, and depicting water lilies, African lilies, weeping willows and Japanese bridges, creating a series of legendary works, respected by people across the world.
The exhibition goes on display in 5 sections with individual themes, along the rare Monet's childhood ironic cartoons, and a handful of representative series by Monet are on display. It is rare that several large oil paintings initially head to mainland China, such as 3-meter long "Wisteria", 2-meter high "Water Lily", etc. The 55 pieces are from Musée Marmottan Monet in Paris, France, which is one of the museums with the largest collections of Monet's works in the world. The treasure of the museum is the world famous masterpiece "Sunrise·Impression" by Monet, which is classified as a French national treasure so that it is forbidden to loan out. As its collections of Monet were totally donated by Monet's son Michael Monet, the source is reliable.
Courtesy of K11 Art Foundation, translated by Chen Peihua and edited by Sue/CAFA ART INFO.
Related posts: