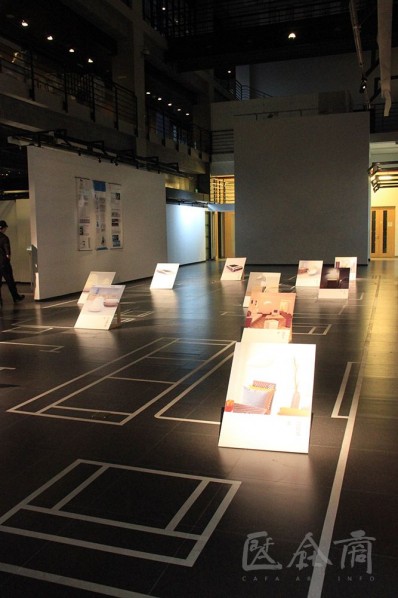 September 26th, "In Home-Industrial Design Exhibition" of the "Holding Solo Exhibition for My Schoolmates" opened in the gallery on the fourth floor at Building 7, CAFA. Kang Taisheng, President of Fu Jen University, Taiwan, Xu Ping, Dean of the Postgraduate Department, CAFA, Shi Wenjie, Secretary of Youth League Committee, CAFA, Wang Min, Dean of the School of Design, CAFA and Jin Rilong, Wang Chuan, Assistant Dean of the School of Design, CAFA were present at the opening ceremony.
Taking "In Home" as its theme, the exhibition run from September 26 through to October 8, 2012, presenting the works by the junior students majoring in Industrial Design. It has redefined the concepts of "home" and "life" in nowadays modern life, exhibiting the attempts in new products and new living methods. The theme was derived from the subject of the just-concluded course "Design Procedures and Methods" at the School of Design and its significance lies in how products in the home can bring more comfortable, colorful and warm feelings to human lives.
The exhibition was mainly divided into two parts: "Fetish" and "Fantasy", with "Fetish" exhibiting material objects of the accumulated works by junior majors in Industrial Design over long time. These works are mainly in porcelain which can make people feel warm and also fit the theme of the exhibition. The "Fantasy" part was lead by Li Wei and Hai Jun and cooperated with the He Shuo Company, under the direct guidance of three senior designers, six groups of students brainstormed on design during which the requirements and problems that needed to be solved were the most critical words.
Co-organized by the Industrial Design Teaching and Research Section and the Students Union of School of Design, CAFA, the exhibition was the fourth exhibition of the "Holding Solo Exhibition for My Schoolmates" series curated and held by the Students Union of School of Design, CAFA. This activity aims to give full play to the excellent artistic talent and ingenuity of the students from the School of Design on the platform of exhibition. (Reporting and Photo by Sun Zheng, translated by Liu Le/CAFA ART INFO)
Related posts: