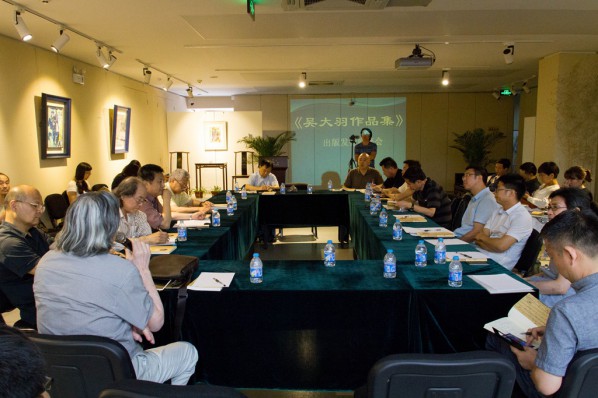 "Wu Dayu Works Portfolio" (People's Fine Arts Publishing House, published in March, 2015), is a large-scale painting portfolio containing 800 octavo pages, with a collection of 149 oil paintings and more than 750 pastel paintings, watercolor paintings, ink paintings, comic illustartions, pen drawings, pencil drawings, Chinese calligraphy and so on, as well as more than 40 letters and literature of the artist and his colleagues and students. It is the most comprehensive portfolio of Wu Dayu so far and the most comprehensive and real publication to understand and research Wu Dayu.
At 3:00 pm on June 21, 2015, the "Wu Dayu Works Portfolio" publishing conference was held at the Hanfen Building bookstore in Beijing Commercial Press. The conference was hosted by Wang Jiaming, President of People's Fine Arts Publishing House, more than 40 honored guests including Li Wenru, former Deputy Director of the Palace Museum, Yan Zhenduo, First-class painter of Beijing Fine Art Academy, Art critic Jia Fangzhou, Zhang Zuying, a researcher of the China National Academy of Arts, Wang Luxiang and Mei Mosheng, researchers of China National Academy of Painting, scholar and writer Yang Kui, Shu Cai, a poet and researcher of Chinese Academy of Social Sciences, curator Fang Zhenning, Wang Wenzhong, Deputy Dean of the School of Art and Design, Quanzhou Normal University, Fujian, Zhou Changjiang, Dean of Art School of East China Normal University, Editor-in-Chief of "Wu Dayu Works Portfolio", Xu Renjie, Art Director of Fu Ren Shu Yuan, Li Dajun, Academic Director of Fu Ren Shu Yuan, Executive Editor-in-Chief of "Wu Dayu Works Portfolio", as well as journalists from Beijing news and publishing world attended the conference, and successively gave a speech, all who spoke highly of Wu Dayu's art and the significance in art history.
Wu Dayu: A Pioneer of the Chinese Abstract Art
Wu Dayu was born in a Confucian family in Yixing, Jiangsu province in 1903, had a solid foundation in classical literature and Chinese calligraphy and later studied abroad in the studios of Braque and Bourdelle in France, so he was familiar with the Oriental and Western aesthetic essences, he had a solid foundation in the aspect of brush and ink, artistic skills and art history, formed his own unique artistic concept and philosophical thinking, using his own artistic creation to discover the nature of the world where we live, from the perspectives of emotion and aesthetic.
When various cultures were blended, society constantly changed, Wu Dayu clung to the creation of abstract painting. Many people who had studied in the West, went back to the creation of ink painting after returning to Chinabut Wu Dayu adhered to the creation of oil painting all his life and clearly made cultural choices. Located in the cultural situation at that time, Wu Dayu faced four traditional confusions: the tradition of Chinese traditional literati painting, the tradition of Chinese academy form, the tradition of the Western classicism and the tradition of modern Western abstract art. In such an intersection, Wu Dayu offered an high evaluation of traditional Chinese art, especially Chinese calligraphy, at the same time, it was necessary to beware of the decayed thing that was called the "stupid capitalism" in Western art. Wu Dayu also thought that real art had nothing to do with various political doctrines and he once bravely said: "The art is not the politics and art has its own way" in the particular social environment in 1963, he thought Cezanne's "Apples" and David's "The Coronation of Napoleon" both had a content, socialist art could also learn from abstract art and we could learn from Picasso.
When talking about the world of Chinese painting, Wu Guanzhong, Zao Wou-Ki and Chu Teh-Chun are the figures that are unable to ignore, while Wu Dayu was the real teacher of the three great artists who had been under the guidance of Wu Dayu. Fang Zhenning evaluated the teacher and his students as follows: "They learned from the teacher, but were never better than the teacher, Wu Dayu's art is not sweet, not tacky, not fashion, and he is higher than the three disciples in artistic attainment." Combing through the development of the history of Chinese abstract art, we find that Wu Dayu can't be ignored, it is impossible to connect Wu Guanzhong, Zao Wou-Ki, Chu Teh-Chun and the later clues, if Wu Dayu is omitted.
Wu Dayu is an artist and poet. Although he is one of the pioneers and founders of modern Chinese painting, the master of Chinese abstract art, he also trained a large number of excellent talent for the modern Chinese art circle, Wu Dayu has been absent in the vision of Chinese art, he is a buried star. The successfully publishing of "Wu Dayu Works Portfolio" makes up for a gap in the literature and research of Wu Dayu, as for his artistic achievements, Wu Dayu is still a star waiting for discovery, he was a practitioner with the highest ideal of all Chinese intellectuals since the May 4th Movement, committed to the transformation of modern Chinese culture and Wu Dayu is a key figure who could not be forgotten in Chinese art education and art development of the 20th century.
Text and photo by Zhang Wenzhi/CAFA ART INFO
Translated by Chen Peihua and edited by Sue/CAFA ART INFO
Related posts: