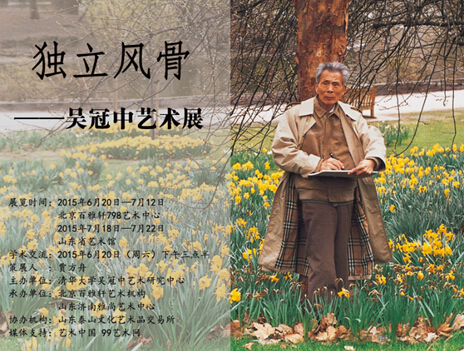 Wu Guanzhong died five years ago, during this period numerous folk and official memorials to the artist have been held, to express the admiration and also to cherish the memories of the late art master. On the occasion of the 5th anniversary of Wu Guanzhong's death, Beijing Baiyaxuan specially launched a memorial exhibition for Mr. Wu Guanzhong at Beijing Baiyaxuan 798 Art Center on June 20, going through to July 12, 2015. It was hosted by Wu Guanzhong Art Institute at Tsinghua University, organized by Beijing Baiyaxuan Art Organization and Jinan Yashang Art Center in Shandong, and it is about to be shown at Shangdong Provincial Art Museum from July 18 to July 22.
The exhibition presents a total of 29 works in ink and wash, 3 oil paintings, 2 watercolor paintings, by Wu Guanzhong, 30 signed silkscreen prints, as well as some of the painting tools which were used by the artist, the exhibition comprehensively and systematically showcases Mr. Wu Guanzhong's tortuous and colorful artistic experiences and numerous featured and represented works.
The well-known painter and critic Jia Fangzhou, who once published the book "Wu Guanzhong" serves as the curator of the exhibition, and specially wrote the preface for the exhibition, in which he finally wrote that, "In modern Chinese art history, No one can replace the status and value of Wu Guanzhong, he is one of the pioneers of modern Chinese art, following his teacher Lin Fengmian", Mr. Wu's death is a loss to the global art world and art history.
In the exhibited works, "Zhu Biqin's Portrait" is one of the rare figure paintings created by Wu Guanzhong, who had painted three portraits of his wife Zhu Biqin and it was created in 1962, earlier than the others. Wu Guanzhong once said: "These are the three most important persons in my life: Lu Xun, Vincent van Gogh and my wife. Lu Xun gives me directions and spirit, Vincent van Gogh gives me a unique personality and my wife fulfills the dream of my life, she is ordinary, kind and beautiful."
The work entitled "The Pearls in the Wild Rattans" showcases that Mr. Wu Guanzhong made a new exploration in the expressive force of dots and lines, created a new representative work in ink painting language. The name of the work came from the masterpiece entitled "Ink Grape Figure", by the famous artist Xu Wei in the Ming Dynasty, "Half of my life is complete and I have already become an old man, lonely staying in the den to spend my old age. The pearls under my brush have never been bought, so I can do nothing but throw them into the wild rattans." Wu Guanzhong and Xu Wei were both pioneers of Chinese ink painting, they both felt lonely and bitter on the road to artistic innovation, both works are a reflection of their lives, presenting vigorous ink and brush art and foresight.
"Memory of Childhood with a Hoary Head" used a black-and-white contrast, to make the painting pure, centering on this it added a few colors, so the painting became more fresh and clever. It showcases the white walls and back tiles, stone paths and small alleys in the Jiangnan hometown of Wu Guanzhong, to evoke the inner memories of the quiet, peaceful and sweet life of a village during childhood. Wu Guanzhong often used black and white in the paintings, two kinds of extreme and eternal color, they have always been inseparably interconnected and existing in his work.
Courtesy of the artist, translated by Chen Peihua and edited by Sue/CAFA ART INFO
Related posts: