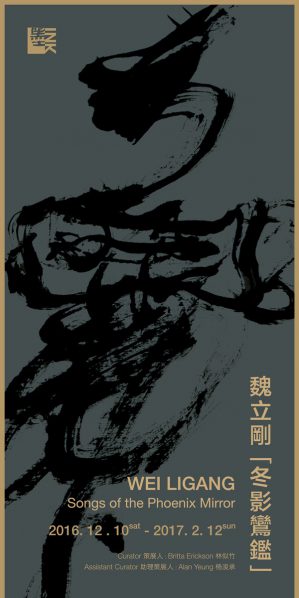 INK studio is proud to present Songs of the Phoenix Mirror, the first exhibition to explore the full range and cultural significance of internationally renowned artist Wei Ligang's current calligraphic practice. Through documents and archival footage, the exhibition reviews Wei's artistic and intellectual development from the late 1980's. It surveys his major calligraphic styles: his signature "magic squares"; his monumental continuous cursive script inspired by Fu Shan (1607-1684) and other 17th-century masters; and his cursive renditions of the engraved lines of ancient seals, steles, and Oracle bones. These idiosyncratic deconstructions and reconstructions of traditional calligraphy trace the history of human writing—Chinese and otherwise—to its pictographic and pictorial beginnings. They also point to the possibilities for Chinese calligraphy to serve as the foundation of a universal abstract art.
The centerpiece of the exhibition is Phoenixes and Dragons, a 45-meter scroll on paper displayed in its entirety in a purpose-built spiral installation. Here Wei Ligang repeats as leitmotifs several imagistic couplets and excerpts of classical poetry, cycling rapidly through a dozen script types. The viewer goes on a transcendental journey following the dramatic variations in the mood and effect of the lines—by turns explosive, attenuated, fluid, abrasive, and ponderous—leaping across millennia of history from stroke to stroke, from instant to instant. Summoning the titular mythical animals semantically, visually, and somatically, Wei harks back to the zoomorphic origins of Chinese aesthetics and becomes a shamanistic medium for both nature and culture.
Wei Ligang (b. 1964) was born and raised in Datong, Shanxi, the first capital of the Northern Wei Dynasty (386-535) and home to the famous Yungang Grottos, which instilled in him a fondness for the grandeur of Han-and Tang-dynasty art. A precocious calligrapher since his childhood, he graduated with a degree in mathematics at age 21 from Nankai University in Tianjin, where he rose to prominence in the local calligraphy circle and came under the tutelage of the traditional masters Li Henian (1912-2000), Wang Xuezhong (1925-2013), and Sun Boxiang (1934-). Over the next decade, while teaching at a high school in Taiyuan, he continued to refine his art and immersed himself in the legacy of Fu Shan, a fellow Shanxi native best known for his dashing, large-scale cursive script but also a forerunner of the Epigraphic turn in calligraphy—towards rigorous philological research and stylistic inspiration in pre-Tang engraved seals and steles.
In 1995, Wei Ligang relocated to the Old Summer Palace in Beijing as a professional artist. Since then he has increasingly exposed himself to international contemporary art and cultural traditions, and sought a universal language of abstraction based in the sophistication of linear and spatial composition in Chinese calligraphy—to construct pure structure itself. This language will be capable of embodying the complexity and expansiveness of contemporary human knowledge and existence, encompassing the invisible worlds of astronomy, digital computing, and quantum physics. A committed educator and the founder of the International Shuxiang Society, he believes that Chinese calligraphy will reach an unprecedented golden age within this generation. Like Kang Youwei (1858-1927) and other evidential scholars before him, Wei Ligang conducts an archaeology of culture and finds in its fragmentary ruins the promise a utopian future.
Songs of the Phoenix Mirror opens at 2:30pm on Saturday, December 10, 2016 and will remain on view through Sunday, February 12, 2017. It is curated by INK studio Artistic Director Britta Erickson, PhD, with the assistance of Chief Editor Alan Yeung.
Courtesy of the artist and INK studio, for further information please visit www.inkstudio.com.cn.
Related posts: