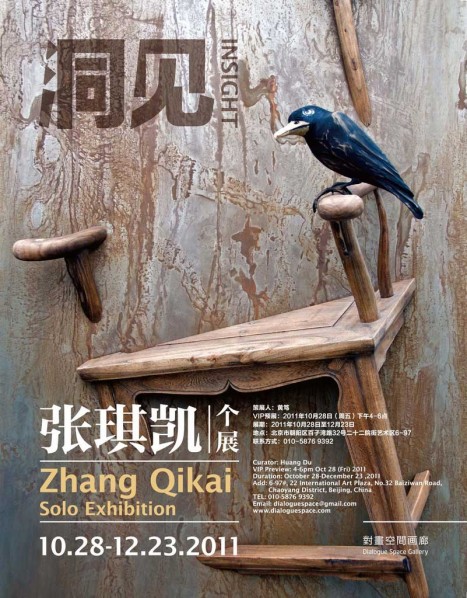 Taking "Insight" as its main theme, a solo exhibition of Zhang Qikai which displays his recently created works will be opened on October 28th at Dialogue Space gallery in Beijing. Curated by renowned curator Huang Du, "Insight: Zhang Qikai Solo Exhibition" is an extension of the artist new perspective about the observation, interpretation and expression of reality and life and history, by means of new concepts, language and form.
In this solo exhibition, Zhang Qikai focuses on the issues of politics, destiny and time. That is because he is able to see and experience the strength of artistic expression drawn from these complex topics, and also because it fits his own character and temperament. Even though Zhang Qikai's method share similar characteristics with "Arte Povera", when he is thinking about choosing daily things as material he dumps the old model of leaning upon things Chinese, and he reexamines the contradictions and conflicts between the inner self and the otherness, the inside and the outside, the center and the periphery:through his analysis of history and reality, of ordinariness and extraordinariness, of power and freedom, he converts them into a unique visual language. He breaks down and reconstructs objectively the original and rustic materials, in order to explore further the social responsibility of art and its aesthetic value.
He sees politics as an omnipresent thing, which means that today politics present the particularity of putting ideology everywhere: big politics in the governance of State affairs, politics in the game among States, as well as small politics at the family level,in individual relation, in conflicts arising from the coexistence among various ethnic groups, religions, etc. Zhang Qikai may look at details very thoroughly, yet he never looses sight of the big picture. It is worth to note that while he follows the method of observation dear to realism, he does not uses realistic means of expression, on the contrary he starts from an artistic conception to observe in detail the real world and analyse it before painting it. He observes power, order and life from a microscopic point of view, and deftly uses his personal visual language to express their quality and indications, and he does not pursue a reality-based literary narrative, he rather conveys and expresses the artistic content by concretely going through those relatively abstract insinuations and suggestions, thus making a step further towards the possibilities of extension of art. As he puts it himself, the idea of art is to "to make breakthroughs through model reconstruction, to reconstruct using the destruction of models, to make oneself heard while resorting to an unaffected attitude."
In this exhibition only a few works have been chosen, for the simplification of its over rich contents, and the mutation and generation of new concepts with refined materials, with a view to highlight the conflicting relations among the materials between soft and hard, natural and artificial, traditional and modern, and at the same time hinting that this kind of conflicts and contradictions also extend to different cultures, and as a result to the relations between humanity and violence, power and order. In "Forced Landing", the aircraft that the artist is showing is a metaphor of the intrinsic link between war and death, and at the same time it suggests the turmoil caused by power politics. Similarly, the work "The Survivor" consists of a causal relationship of the escalating conflict between Western Christian and Islamic civilizations, leading to a heated confrontation between terrorism and political power.
In "Ink Bird", he puts an old Ming-style chair, half concealed, on an old rusted steel board where its presence is strikingly obvious, and a bird not unlike the bird in the Bada Shanren's works, standing on the armchair, eye whites showing, seems to be wondering or even doubting, underlining the sharp contrast between the traditional piece of furniture and the product of modern industry. The work "The Pendulum" inspires the same questions: "What do we have? What do we lack?" That painting is trying to explore the relation between the living and passing away, six masks cruelly fading away with six pendulums continuously swinging, seemingly describing the past, the present and the future, and saying that behind "we have everything" lies a "we have nothing at all". On the contrary, in the painting "The Axe Man", the artist uses an axe stuck into a piece of wood, with a crystal-clear language and a profound meaning, depicting with a light humour the human nature of desire and violence, and the message that that painting is transmitting is worthwhile thinking about: "What remains after violence?"
In these new works, Zhang Qikai attach importance to the malleability and extendibility of everyday substances, and when they are mixed by the artist into society, history, politics, reality and life to establish a new relationship, their physical proprieties are deconstructed, they take up a whole new significance, making them the vector of concepts and forms: even though they may be seen as an exaggerated medium, they still have a correlation with other things, and a relation with remembrance, reality and experience. In his works Zhang Qikai not only redefines the physical properties of the substances he uses, he also endows them anew with an anthropological significance. In other words, he uses the transformation of daily materials to stir up the viewer's emotions and memories, and give them a new metaphorical and symbolic significance. But apart from that, he attaches even more importance to the mental associations between conditions, reality, life, customs, history and politics drawn from the manifold relations between his materials. We can see from Zhang Qikai's new works that he stands firmly on his position, that he keeps his independence of mind and spirit. He is one of the rare contemporary Chinese artists who don't bow to worldly mundane things.
Zhang Qikai was born in Beijing in 1967. He graduated from the Oil Painting Department of the Chinese National Fine Arts Institute in 1992. In the nineties he won a scholarship and went to study in Milan, Italy, at the Brera Academy of Fine Arts, where he got a Masters degree. He has taken part in many important exhibitions in China and abroad. He lives and works in Beijing and Milan.
Insight – 2011 Zhang Qikai New Works Exhibition
Venue: Dialogue Space Gallery
Curator: Huang Du
Duration: October 29-December 23 ,2011
Opening Ceremony: 4-6pm Oct 28(Fri) 2011
Add: 6-97#, 22 International Art Plaza, No.32 Baiziwan Road, Chaoyang District, Beijing, China
Courtesy of Zhang Qikai and Dialogue Space Gallery
For more information, please visit www.dialoguespace.com
Related posts: