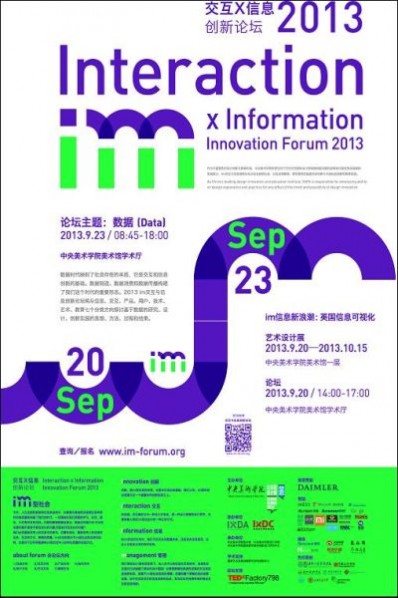 At 9:00 am on September 23, 2013, Interaction X Information Innovation Forum 2013 was held at CAFAM. The theme of the year: "Data" – the essence of social existence is reflected in the digital era, which is the foundation of interaction and information innovation. Production, consumption and dissemination of data construct an important form for our era. Interaction X Information Innovation Forum 2013 discussed the thought, method, process and result of the study, design, innovation practice which was on the basis of data from seven directions including information, interaction, product, users, technology, art, and education.
The forum was hosted by CAFA and Beijing International Design Week, in cooperation with IxDA (Interaction and Design Association), IxDC (Interaction and Design Committee), organized by CAFA Art Museum, School of Design, CAFA, Center for National Digital Media Innovation Design Research, CAFA, and National Art Developing Strategy Research in collaboration with the Innovation Center which served as academic support. The Im forum is intended to start with social trends, participating in social innovation and educational practice as a social observer, researcher and practitioner. In the future, the innovation forum will become a new representative of the global interaction and information innovation idea, serving as not only an observer and platform for social trends, but also a participant, practitioner and promoter for social innovation.
Ahead of the official beginning, Wang Min, Head of School of Design, CAFA initially gave a speech: As China's leading art academy, CAFA has always focused on the great social changes produced by new technology and new things, in the process of vigorously developing design education. He hoped that design would drive the innovation of life, and became a tool for new social development. Therefore, the forum was of a very important significance.
The forum was divided into seven sections: information, interaction, product, users, technology, art, education. Each section invited four speakers to make a group. In the one-hour speech, every speaker presented 10 pictures and each picture played for 1 minute, and then 20mins discussion with each other, and communicated with the audiences on the theme. Information section: Kevin Walker, Director of the Department of Information Experience, Royal Academy of Art, UK, Karin von Ompteda, leader of the Workshop for Information Design at the Royal Academy of Art, UK, Zhan Binghong, Dean of the School of Art and Design, Beijing Institute of Fashion Technology, Guo Yu, founder of Jiayi.com, interaction section: Professor Michael Bielicky, from the Department of Digital Media Art, Carr University of Art and Design in Germany, Philip Ross, Professor of the Eindhoven University of Technology, CEO of Fonckel, Zhang Wenxin, founder of Ark Design, Tang Mu, Director of User's Experience at Xiaomi Technology; product section: Qiu Fengshun, founder of Ideadao, Xiao Juntao, founder of I health I health, Li Fenglang, Director of Lenovo Innovation Design Center, Jia Wei, founder of LKK; technology section: Xue Wei, Senior Engineer of R & D Department for Benz China at Daimler Greater China Ltd., Zhao Yong, founder of Deep Glint, Xia Peng, Director of Technical Consultant of Microsoft, David Li, founder of New Workshop; users section: Li Zhihao, Manager of Center for User's Interface Design at Siemens research Institute in China, Jane.Ngai, Design Director of Douban, Wu Zhuohao, founder of Because Design, Xiong Zichuan, Chief Designer of Thought Works in China; art section: Ludger Brummer, Director of Music and Sound Institute of Center for Art and Media in Germany(ZKM), Wu Juehui, new media artist, teacher of the SIMA at China Academy of Art, Xu Weijing, m.f.a. of Design and Technology, New York Parsons School of Design, Benjamin Bacon, Assistant Professor of Computer and Media Design of the School of Art, Media and Technology, New York Parsons School; education section: Zhang Lin from Communication University of China, Zhang Jingsong, founder of Hangzhou Neocross, deputy director of Institute of Human-Computer Interaction, Zhejiang University of Technology, Prof. Xu Yingqing, Head of the Department of Information Art and Design at Tsinghua University. A total of 28 guests from various industries were invited to participate in the forum, respectively giving a speech and broad discussion.
At 19:00, the forum concluded one hour later than scheduled. Interaction X Information Innovation Forum 2013 successfully was unveiled at the Lecture Hall of CAFA Art Museum.
About the forum
Today, we depend largely on information. Data, as the foundation of information, a reformed society and people's daily life from a new dimension. It seems like everything becomes information led, digitised and data-based overnight. Today the key point is not whether we need information but how to achieve an information spread?
We must rethink the role of people in the trend of an information spread; we must reconsider the relationship between human and information strategy; we must rebuild the way humans interact with information in this "i m" society! Im forum is not only to reflect and criticize the Im society, but also a practical way to construct an existent quality in the Im society.
We are fully aware that the world has entered a new era and we must meet changes with a new perspective, a new thinking and a new mode. This era is both tangible and intangible. In order to better comprehend this era, we have invited some interdisciplinary experts to share their view on interaction and information from their distinctive perspectives. Our discussion of "interaction and information" focus on the key word "data".
Topic: Data
1. Data is the basis of social equity. Those who control data will have the advantage of information and therefore a louder voice.
2. Data is a means for interpersonal communication Social relations need to be built upon data. The contents of communication involves more data and mainly results in data.
3. Data is a driving force to change the world, while we often feel we are left behind because of the lack of data. Therefore we strive for data, judge our progress by data and rejoice at obtaining data. Data is the reason for changing the world, the mode of changing the world, and the result of a changing world.
4. To connect the virtual world with the real world, virtual to virtual is the most common phenomenon. A behavior occurs in the virtual environment from the beginning to the end. Users go into the virtual world mainly through digital equipment. They construct, deal with, obtain and store everything in the virtual world.
Time: September 23, 2013
Location: Lecture Hall, CAFA Art Museum
Journalist: Yu Ya, Photo: Hu Zhiheng/CAFA ART INFO
Translated by Chen Peihua and edited by Sue/CAFA ART INFO
Related posts: