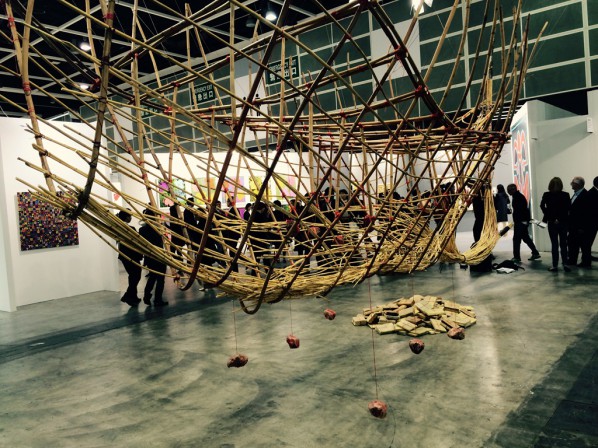 In mid-March, 2015, Hong Kong ushered in one of the most important art expos– the Art Basel |Hong Kong, meanwhile, many other colorful art activities are also continuously staged in the city. Taking 2015 Art Basel | Hong Kong and the Hong Kong Art Month as an opportunity, CAFA ART INFO has specially curated a special topic, to invite many curators and researchers based in Hong Kong with both an international perspective and multicultural identity, directors of non-profit organizations, local gallery owners and collectors to sort out the local art ecology of Hong Kong which has a special geographical and cultural background offering a retrospective development of Chinese contemporary art from the perspective of Hong and Asia.
About Tiffany Wai-Ying Beres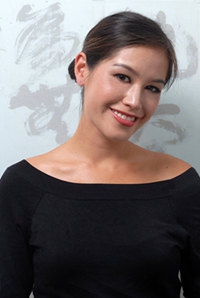 Tiffany Wai-Ying Beres 庞惠英 is an American curator who was classically trained in Asian art history and antiquities. Born in San Francisco to a bi-racial family, Ms. Beres grew up practicing ink painting and calligraphy, stimulating her interest in Chinese art. A Brown University graduate and Fulbright Scholar, she has lived and worked in China for over eight years, curating exhibitions in China, Hong Kong, the United States, Singapore and France. Previously, Ms. Beres served as the International Affairs Officer and a Chinese ink painting specialist for China Guardian, Mainland China's first auction house. Ms. Beres' is a frequent lecturer on Chinese art history and her writing on Asian contemporary art has been published in Orientations, The Asian Art Newspaper, Art AsiaPacific, and the Wall Street Journal, among others.
In mid-March 2015, Hong Kong celebrated the year's most important art event—Art Basel|Hong Kong. Ever since Art Basel emerged in Hong Kong in 2013, it has ushered in a new chapter for the Asian art market. This is the first exposition strictly fixed in accordance with world-class fairs in Asia. In addition to the unique geographical and cultural background of Hong Kong, why do you think Art Basel chose Hong Kong as the art center of the Asia-Pacific region? And what opportunities and challenges will this bring to the development both inside and outside for the arts in Hong Kong, Taiwan and mainland China?
Tiffany Wai-Ying Beres: I think that Hong Kong has a unique position in the region of Asia due to it's geo-political history. Hong Kong was a British territory from the mid-1800s until 1997, during which time the region benefitted greatly from a Western infrastructure, investment and foreign exposure. English was and continues to be widely spoken in Hong Kong, and the local culture came to adopt certain western customs, so this region became known as the "gateway to the East." Today, even though Hong Kong has become a special administrative region of China, there are certainly many features that distinguish it as an art center–in particular, the international and multilingual service and transportation infrastructure for art, as well as the global and educated population of Hong Kong. It is also a huge asset for the region to offer non-restrictive import and export conditions in art, and the lack of luxury tax on art sales. In other words, as a free trading port, Hong Kong bypasses many of the restrictions of other art centers in the world so that art can be enjoyed and collected without tax or the fear of not being able to move it to another place once it is purchased.
As we are familiar with the fact that Art Basel is based on showcasing and the selling of contemporary art works, except for its commercial purposes and function as a "barometer" for the global art market, does it also offer enlightenment for the creations of contemporary artists? Is it necessary for artists to pay special attention to the art fairs or the "future trends" as reflected in the art market?
Tiffany Wai-Ying Beres: I suppose an art fair could be called a "barometer" of the current contemporary art world and global art market, but I don't necessarily agree that art fairs are a good influence on the artists themselves. So much art produced today is derivative. As a curator, I would hope that artists practice and create not to satisfy trends or to satisfy the market, but out of a greater passion or desire to explore, communicate, and reveal themselves–inspirations which have nothing to do with witnessing the latest art market favorites at an art fair.
As an important complement of Art Basel in Switzerland and Art Basel|Miami Beach, Art Basel |Hong Kong has carried different ideals into the Asia-Pacific region from the former two in Europe and America. Therefore, Art Basel in Hong Kong has always put great emphasis on the "Insights" of Asia, which is one of the core sectors of Art Basel |Hong Kong, in addition, they prefer to choose galleries in Asia. What kind of strategy do you think is more effective to reflect "Insights"? In addition to the concern about the meaning on the surface, what does "insights" mean according to your understanding?
Tiffany Wai-Ying Beres: It is true that Art Basel Hong Kong has the distinction of being the most well-known and thereby important fair in the Asia Pacific region. However, I do not see this "Asian Insights" focus you mention as being one of desire, but rather out of necessity. So many international art fairs involve the same global players: so much so that you often see the same art being represented in New York, London, Basel, Miami, Dubai, Paris, San Paulo or Hong Kong. I think collectors, people in the art world, and spectators demand a "local" focus from international art fairs because they want to understand how art produced in their region is significant within the greater art-world context. Since locally made art is more familiar somehow, promoting art and artists from the region is also an obvious bridge between the local and more international art platforms.
In addition to Art Basel | Hong Kong, there are going to be a series of art activities held in Hong Kong. Would you please recommend some art exhibitions, lectures and seminars or some art events you think are very important? Also, as a curator, would you curate any event?
Tiffany Wai-Ying Beres: When it is art fair week in Hong Kong, there are always so many peripheral events going on that it is impossible to do and see everything! When this period arrives, I love the opportunity to interface with many of my colleagues who live outside of China, and to meet and learn about artists outside of my China-focus. I will also try to visit some of the Hong Kong artists' studios and see as many gallery shows as possible.
Of course as an independent curator, there is also a lot of work to do during this period as well. In the lead up, I did some consulting work for international galleries presenting during this period. I am also involved with the new satellite art fair, Art Central, during which, as part of their Asia focus, I will be giving a series of guided art tours related to my specialty—ink art. The Hong Kong Asia Society has also asked me to moderate a presentation on emerging artists and their connection to the traditional Chinese ink painting tradition.
Art Basel Hong Kong attracted 65,000 visitors in 2014, in the current recycle of continuing to be born, annihilation and replacement of "art fairs", what inspiration will the success of Art Basel|Hong Kong bring to the art world? Could it be taken that there is a huge potential for the Asian art market?
Tiffany Wai-Ying Beres: The high numbers you mention certainly reveal the broad interest in contemporary art from within the region. On some level, these numbers must also indicate the market potential, but the economics of art are perhaps better left explained by market pundits. For me, I see this sweeping wave of interest in art during Hong Kong's "art month" as an indication that the general public is curious and interested in art, perhaps more so than ever. However, since Art fairs are so overtly commercial and fleeting, they are not necessarily the best place to appreciate art. It is like walking into a candy shop with so many temptations that one can never truly savor the flavor of what is right within reach.
In early 2012, TEFAF European Art Foundation announced its annual report "2011 International Art Market: 25 Years of Observation on Art Dealing," which revealed a historic turning point—in 2011, China had accounted for 30 percent of the total sales of global art in auctions and sales, for the first time it surpassed the U.S. and it became the world's largest art market of art and antiques, among which the modern and contemporary art reached nearly 70 percent of the total turnover of art markets. The rapid development of the Chinese art market has exceeded the uprising tendency of the most prosperous period between 2007 and 2008. What are the problems behind it? Will the prosperity of the Chinese art market promote the development of Chinese art, and will it bring a positive or negative impact on art?
Tiffany Wai-Ying Beres: Having lived in China since 2006, I have witnessed the developments in the Chinese market for the better part of a decade. There are so many forces that impact on the contemporary art market in China, and I think that speculation plays a significant role. In China, I find that the commodification of art is such a widespread and normative practice that it is almost impossible NOT to think about art outside of the market context. Isn't this why you are asking me questions like this? The Chinese art market has developed so quickly based on economic factors, that I am concerned that local artists become too concerned with their market outlook, and the public often forgets to appreciate art simply for arts sake. One can hope, reservedly, that with the increase of art exhibitions and cultural events in the area, that the general audience's emphasis can begin shifting more towards connoisseurship, and less about the shopfront.
You have been devoted to researching Chinese crafts and Asian cultures, and you have contributed a lot to curating exhibitions. The special identity between Chin and the west has brought you a richer perspective, would you give a brief overview of the cultural and art ecology in Hong Kong, as well as the situation that supports the creation of the representatives of Hong Kong artists?
Tiffany Wai-Ying Beres: My family roots are in Hong Kong and I have always felt a strong connection to this region and its local culture. To be an artist working in Hong Kong is obviously very different from in Mainland China–the general cultural and environmental milieu is different, the educational academy system is different, and the price of living and studio space is very different. In and around 2007-8, there was, for a period, a greater interest in art coming from Mainland China than from Hong Kong, so much so that many local artists felt like they were being ignored in their own home. That is why I have a great admiration for galleries like Grotto Fine Art, who have helped to educate and carve out a market for Hong Kong art on an international level. Within the world of ink painting, today, fortunately, Hong Kong artists like Lui Shou Kwan, TC Lai, Fang Zhaoling, Wucius Wong, Fung Ming Chip, and Wilson Shieh are recognized, celebrated and have been given a place in the history books for their innovations and achievements.
Do you think the current planning in the field of culture, art and museums in Hong Kong will affect the developing progress of Chinese contemporary art? What's the correlation between them?
Tiffany Wai-Ying Beres: This is a good question and one that I don't have all the answers too. I suspect that because of Hong Kong's favorable art market and infrastructure conditions that I mentioned earlier, Mainland China's art world development is very dependent on Hong Kong as a beacon and link to the international contemporary art world.
It seems that you personally really like Chinese ink painting very much, and have been specially studying ink and wash paintings, most of the exhibitions you curated were related to ink and wash paintings. Why did you fall in love with Chinese contemporary ink and wash? What do you think of the special meaning of ink and wash painting in the context of contemporary art? What do you think of the development of ink and wash art in the present?
As a child growing up bi-racial (half Chinese and half Caucasian) in America, practicing ink painting and calligraphy became my way of learning about my Asian heritage. For this reason, I have always felt a deep connection to this art form, not only from the expressive perspective of maker and artist, but also culturally as a bridge with which to appreciate the aesthetics and refinement of the Chinese culture. Today, now having lived and worked in China for so many years as an independent art researcher and curator, I have witnessed "ink art" evolve, become more mainstream, and find resonance within the international contemporary art discourse. I feel very fortunate to have an increasing amount of opportunities to share my research and artistic discoveries on platforms around the world. Still, "ink art" is still quite difficult to concretely define, especially for Westerners who may be unfamiliar with the medium and its various manifestations. For me, I think what defines this field is the creation of art that is meant to engage the Chinese historical art tradition, or as one artist, Peng Wei, recently put it: "in the West artists are constantly striving to be distinctive and innovative, but in the Eastern ink tradition, we are trying to have a conversation with our predecessors as well as future generations. To me the best art, regardless of medium, is art that is timeless."
Courtesy of Tiffany Wai-Ying Beres, photo and edited by Sue/CAFA ART INFO
Related posts: