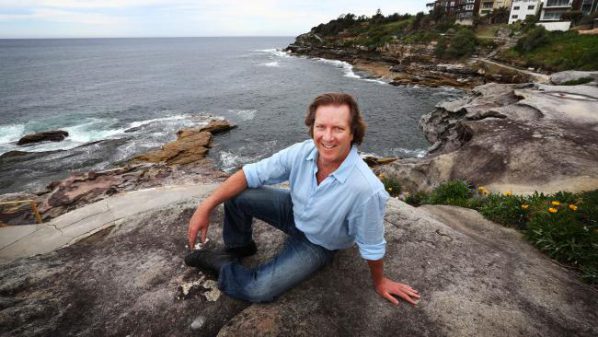 Staged on the spectacular Bondi to Tamarama coastal walk, Sculpture by the Sea, Bondi is one of Sydney's most popular events, with 520,000 visitors viewing over 100 sculptures by artists from around the world. Held since 1997, this free to the public exhibition captures the imagination of Sydney and its visitors for three weeks each spring and is the largest annual sculpture exhibition in the world. The exhibition generates an almost unprecedented level of goodwill among the public as they enjoy one of the most unique events in the world.
David Handley AM, Founding Director of Sculpture by Sea
BA, LLB (Sydney) and LLM (Kings College, London). Founded SxS Bondi in 1997; Cottesloe in 2005; Aarhus, Denmark in 2009 with royal patronage. Produced 5 SxS exhibitions for Sydney Olympic Arts Festival, 2000. Set up the incorporated association to run SxS in Australia in 2003. Trustee Australian Museum (2002-2010). Sculpture by the Sea board member since 2003.
Interview Time: June 23, 2017
Interview Location: NUO Hotel
Interviewee: David Handley
Interviewer and Editor: Sue Wang
Transcript by Li Sherling
Photo Courtesy of Sculpture by the Sea
CAFA ART INFO: First of all, after you have given a lecture at the CAFA Art Museum and you have visited the Department of Sculpture at the Central Academy of Fine Arts yesterday, what is your impression of CAFA or the sculptural development in China?
David Handley: It was wonderful to be at CAFA yesterday. The department is very friendly, very professional. And even though it was already the summer holidays and raining so much, there were more than 100 people at the talk, which showed just how vibrant that the department is. I love the sculptures in the grounds of the department as well, which showed a real vibrancy.
CAFA ART INFO: What has inspired you to visit here and talk about Sculpture by the Sea with Chinese audience?
David Handley: I am fascinated by China. It is actually my third time to China but I haven't been here for ten years. Much happens in the world in ten years so it was very necessary for me to come back. We've had some wonderful Chinese sculptors in Sculpture by the Sea. So far, already 13 Chinese sculptors. They together have exhibited some good sculptures through to some truly great sculptures. And it was a mark of respect for the quality of their artwork and that they participated in our exhibitions in Australia and Denmark that I've come here to see some of their studios, to visit CAFA and to just speak at CAFA. We also have some plans that we have to work more closely with CAFA and its graduates in the near future. During my time in Beijing, Professor Lv and I had some very cooperative talks. We look forward to hopefully telling you more in the near future.
CAFA ART INFO: Sculpture by the Sea is an outdoor art exhibition with the largest scale in the world, as its Founding Director; would you introduce its origin and intention when it's established in 1997? How does it develop now and what's the future plan of Sculpture by the Sea?
David Handley: The idea of doing Sculpture by the Sea in the very first place was that I thought the world needed more free things and that the world was too commercial so I wanted to put on a big free community cultural event that would make people feel better about themselves, to add the sense of community spirit and excitement by people in their own lives. At the same time, I wanted to help artists facilitate their dreams as artists and to have the opportunity to exhibit in the extraordinary landscapes where we have Sculpture by the Sea. I also wanted to project Australia internationally to the world in a slightly more sophisticated and cultural way. Maybe we are known for this after the Sydney Olympics, however before the Sydney Olympics, people didn't necessarily think Australia as a sophisticated country yet we have many very good artists.
CAFA ART INFO: Have you come across any difficulties in communication for the exhibition? What's the biggest challenge for you to curate this exhibition and for its future development?
David Handley: For an exhibition of this scale the biggest difficulty is always finding the money. Of course, there are challenges on many different levels but finding the funding for the exhibition is the main challenge especially when it has become so large. The artists expect that we will have almost unlimited resources and that's not the case. We are still not able to afford to pay the freight for the artists in the exhibition. We are only able to pay the freight for the invited artists from China, artists like Sui Jianguo, Chen Weiling, Wang Shugang. For the younger Chinese artists, we are not able to do this just like we are not able to do this for the other artists from around the world. But happily, some of the younger Chinese artists have success with sales from our exhibition. Most recently, Song Jianshu sold his sculpture to a major collector in New Zealand. It is the next goal for our fundraising to secure funds for the freight. Many people forget I began the exhibition working with volunteers from my lounge room so we have come a long way.
CAFA ART INFO: During the period of over 20 years that Sculpture by the Sea has held, many sculptors have become mature or renowned through this platform. Then what's the requirement for your committee to select sculptures or sculptors for the exhibition?
David Handley: Good question. There are no criteria except for quality. Each exhibition we have a different curatorial panel and they look at all the submissions by artists from around the world. The Sydney exhibition receives about 500 submissions each year and the curatorial panel selects for something one hundred and there are about half a dozen artists who are invited. This is the curatorial panel for the Sydney exhibition at Bondi, included Professor Sui Jianguo. Our Perth exhibition in Western Australia receives 300 artist submissions for Sculpture by the Sea, Cottesloe. Applications for our March 2018 Cottesloe Beach exhibition in Perth are now open. Artists can apply by emailing info@sculpturebythesea.com In March this year we had four Chinese sculptors in the Cottesloe Beach exhibition.
CAFA ART INFO: How did you decide the curatorial panel for this exhibition?
David Handley: We have a mixture of sculptors, academics and curators. It's very important that they don't have a narrow interest in sculpture. Many people in the visual arts have just a very narrow area of focus, interest and expertise. Some people just like figurative sculpture. Other people just like political sculpture, or abstract or Pop or installations, video, sound… And we want all types of sculpture in Sculpture by the Sea. It's very important for the curatorial panel to understand this because our aim is for the exhibition to reflect the history and the development of sculpture as an art form not just one particular genre of sculpture. It's also important that they have significant reputations both in their home city and internationally in other countries. Professor Sui Jianguo was an excellent addition to our Curatorial Panel for this year's Bondi exhibition. The international member of our next Cottesloe exhibition is Professor Gavin Younge a sculptor from Cape Town in South Africa.
CAFA ART INFO: Would you like to talk about the Chinese artists who have been involved in this exhibition?
David Handley: It has been wonderful to have Chinese sculptors in Sculpture by the Sea. They were initially produced by Anni Ma, who has been our Chinese Curatorial Adviser since 2004. It's a little bit funny when we first invited Sui Jianguo. On the one hand, we were saying that Sculpture by the Sea was the biggest annual sculpture exhibition in the world yet we never had exhibited an artist from China or India, half the world's population, so it felt a little bit hollow saying this. It is very important in my mind, going back to the original idea of reaching out to the world through Sculpture by the Sea, to reach out to China and then subsequently to India and that's been a wonderful journey for us.
We have already had 33 sculptures by artists from China in Sculpture by the Sea and growing every year. Sui Jianguo has become a very close, professional friend. Just yesterday I went to his studio. He has now been to Australia three or four times with Sculpture by the Sea and he understands what we are trying to achieve with the exhibition. Sometimes very senior sculptors just like Sui Jianguo would not wish to be in a group exhibition. Artists get to a certain level and might ask, 'Why would I be in a group exhibition?' Sui Jianguo has just had large an exhibition just held at Pace Gallery in Beijing and was in an important group exhibition at the Rodin Museum in Paris. Does this sound the same as exhibiting on a beach in Australia? Not at first but from the very first year in 1997 Sculpture by the Sea had major sculptors including Ron Robertson-Swann OAM who worked with Henry Moore and became one of Australia's leading artists. In this way we created our prestigious exhibitions with senior international artists through to emerging local artists and emerging international artists. Already we have exhibited Sui Jianguo, Chen Wenling, Wang Shugang, Sir Tony Cragg, Sir Anthony Caro and Philip King from England, Kozo Nishino and Keizo Ushio from Japan, Jorg Plickat from Germany, Peter Lundberg and Fletcher Benton from the United States and Zadok Ben-David from Israel That is a prestigious list of artists
CAFA ART INFO: What would you like to know more about Chinese artists and their works during your stay in Beijing?
David Handley: I would like to discover for myself some new sculptors. I would like to extend the relationship, the friendship with those sculptors I met before. Australia has a dynamic and interesting relationship with China and it's important for Australia to extend its relationship with China. I feel as though we've done a little bit with Sculpture by the Sea and I want to do a lot more.
CAFA ART INFO: As far as we know Sculpture by the Sea has successfully attracted numerous visitors from the world and it was held from Bondi Beach to Tamarama coastal. Would you like to talk about its future, things like your plan or your expectation to Sculpture by the Sea?
David Handley: To create Sculpture by the Sea is very special every location. In 2005 we had an exhibition on Cottesloe Beach for the first time and we've had that every year for 13 years. From 2009 to 2015, every two years we had an exhibition in the city Aarhus in Denmark under the Patronage of the Crown Prince and the Crown Princess of Denmark who wished to see the exhibition held in Denmark. Every two weeks we are approached to do Sculpture by the Sea somewhere else in the world. Just this week we have had four approaches from China. Maybe they are serious and professional approaches, maybe they are naive idealistic approaches, I don't know. I have put high hopes that in the next one or two years there will be another Sculpture by the Sea somewhere else in the world and we are working on these now but we're not yet in a position to announce them. There are still many steps to go. The challenge is finding the right site, partners who understand the motivation and the money to stage a free to the public exhibition. When we stage an exhibition it succeeds in attracting many visitors: 500,000 people visit in Sydney and 400,000 people in Denmark and 220,000 people in Perth. There are some very important elements that are required for the exhibition to make it work on that scale. Since Sculpture by the Sea began, there are apparently one hundred small copy exhibitions in Australia but you haven't heard of them in China. Yesterday, at the question time, one of the people in the audience asked Sui Jianguo, 'We have exhibitions outdoors with sculptures in China. What's the difference with Sculpture by the Sea?' And Sui Jianguo answered that it's the way that the exhibition engages the public, it's the way the exhibition engages with the location. And all of that together creates, I suppose, a little bit of magic. Almost nowhere in the world is a suitable location. But when you find the locations, it's fantastic.
CAFA ART INFO: Would you like to talk about the new exhibition this year?
David Handley: So this is our 21st anniversary for Sculpture by the Sea in Sydney on the Bondi to Tamarama coastal. The exhibition will have over one hundred sculptures by artists from 20 countries from around the world. And as you can see from these photos we have a lot of different environments in this two kilometres in which the artists can exhibit. I like to describe it that we set the stage for the artist to play a part. It's an intentionally theatrical or dramatic way of viewing sculpture. And this is one of the keys to its success. As you go around our exhibitions, you go on a journey of discovery. Each year, we have at least 25 percent new artists in the exhibition and many quickly start to develop a relationship with us such as Song Jianshu. He's in the exhibition two years in a row. I think Chen Wenling is the only other Chinese artist to exhibit with us two years in a row. Song has a very ambitious sculpture this yea We are excited he is in the exhibition.
CAFA ART INFO: Do you think these sculptures have been interactive with the visitors?
David Handley: Some of the sculptures are interactive and the visitors can engage with them and interact with them in a physical way, which of course becomes very confusing for some of the visitors especially the little children. Their minds must question why cam I climb on that one! But I'm not allowed to climb on that sculpture!' 'I cannot read the signs. My parents won't tell me what the sign says.' So our staff are always pulling off children from sculptures.
CAFA ART INFO: What do you think is the most important feature of Sculpture by the Sea?
David Handley: There are three equally important features. One is that it's free to the public. Spectacular sites and the opportunities given to the sculptors. Without these features there would be no Sculpture by the Sea. With all of these there is a dynamic relationship between art, nature and the visitor.
CAFA ART INFO: It there a relationship between these sculptures with the beach?
David Handley: A number of sculptures in the show get inspired by particular locations. It's like this artist created this sculpture just for this location. With these three sculptures, we talked with the artist about where the sculpture would go. [They produced the works especially for Sculpture by the Sea.] And that's again another advantage of our exhibition sites. There are sites, specific locations that suit site-specific sculptures and there are locations which just have beautiful places where we can put the sculptures. Those sculptures could have been put in many different locations on the exhibition sites but we chose these locations because we thought that they were good for the sculptures but also how that sculpture fits comfortably to that sculpture. That's going to be. For example, this sculpture I've been talking about by Song Jianshu. It's a nice platform, above the path, with the long horizon cross the Indian Ocean behind it. But also here you can look down onto the sculpture from above. It's almost like a dresser in the theatre. But what's also interesting is this one in the sea. So there's a relationship between these two sculptures and these two objects.
CAFA ART INFO: We have updated news on your lecture at CAFA ART INFO and it has attracted so many young artists and students. They left their comments through Wechat and here's something they are concerned with: would you like to provide any more opportunities for young artists?
David Handley: Any artists in the world can apply to be in Sculpture by the Sea. In the next few days, maybe even today, we work for our next exhibition on Cottesloe Beach. Any artists from around the world, including any artists from China, can apply for this exhibition. Of course, there's challenge of the freight but there will probably be some other sculptures from China so there's an opportunity to consolidate the freight and bring them together.
Related posts: