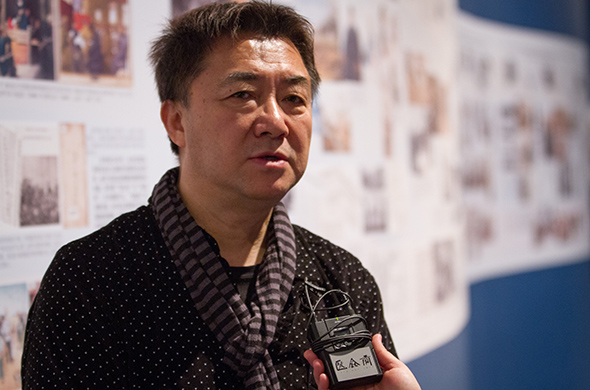 Jointly organized by Today Art Museum, the Sino-US Relations Center of Asia Society, and the Central Academy of Fine Arts, solo exhibition "Dispersion and Generation" of Pan Gongkai was grandly inaugurated at the Today Art Museum on the afternoon of March 9, 2013. The exhibition aimed to research and raise questions, under two key concepts of "dispersion and generation", with the use of the core of the problem awareness, to stimulate discussion, criticism and debate, to promote the academic atmosphere in the present cultural context. CAFA ART INFO took this opportunity to interview Fang Zhenning, the chief curator of this exhibition.
In the curatorial team, you mainly directed the related work in the architecture section. Is there any difference with your previous curatorial experiences? Could you please introduce the curatorial content of this exhibition?
Yes, it's the first time that I have served on the curatorial team. As an independent curator, I have planned a lot of overseas exhibitions for Chinese artists, assisted by other auxiliary curators, as the main curator, I am the one responsible for the final decision. However, Pan Gongkai's exhibition is so complicated and I describe it as "the art aircraft carrier". At the beginning, I wondered why there were so many people participating in the curatorial team? In fact, Pan played a main role in it. Such a big exhibition, in addition to the concept, it also required a lot of funding, staff coordination, exhibit planning, etc., thus it was a huge engineering plan. At the final stage of the exhibit, there were more than one hundred staff present, including staff exhibiting using the multimedia technologies, the staff in charge of the construction of walls and shelves, lighting, as well as the publicity, etc.
I directed the section of the catalogue and the visual aspect of the exhibition, the poster, which I offered my professional advice on. As for the catalogue, the most important thing was how to make the four sections fuse. Any exhibition I curate is a unit, and I personally design the catalogue and check all the details. I paid more attention to the catalogue, instead of the exhibition itself, because an exhibition is of a limited schedule, while a catalogue lasts longer than the life of the artist, and it has been proved that a fine catalogue of a fine exhibition is the stepping stone of the next exhibition. I made a lot of effort in forming the catalogue into four sections, all of which had a white background, consistent with the taste of the artist's works. On the basis of the world of ink and wash painting, his works attain the essence of design aesthetics, ethereal and fresh. In the process of editing the catalogue, Pan desired that the text was in excellent characters, I've never seen anyone proofread his personal catalogue as meticulously as him. This exhibition is described as the "art aircraft carrier", meaning that it is a complex, inevitably unable to build without high-tech resources and funding, etc. Aircraft carrier represents the comprehensive powers of a country, right now it is a metaphor for art, therefore, this exhibition represents the comprehensive powers of his art. One will be surprised by his exuberant energy, despite his statue and achievements, when he knows what Pan has done. His graduate students and the curator Xie Suzhen, who are familiar with him, know he is a superman, and I agree, as a freshman in his aircraft carrier. For example, he and his assistants examined the album in my studio until half past one in the early hours of the morning. Thus I believe that nobody is capability of being side by side with him when this exhibition came out.
Generally speaking, an artist rarely has such energy and grand design, and the momentum of an exhibition depends on the consistency of the patterns of the artist and curator. Were it a simple curatorial job, I would start by drawing a plan, but in this exhibition, the curved surface of the walls confused me, I had no idea of what to do, such as how to position it, to hang it, to arrange the lighting, and so on, while many details in this process were gradually finalized.
Could you tell us your idea about the connection between his "modernist architecture practice" and the ink and wash painting, as well as the study of art history?
First of all, he is not a professional architect, but he has a secret admiration for architectural design. He has been a practitioner for 15 years, as he loves it. Essentially, architecture is an art of space, and he is very particular about the space. It is rare that a person who majored in flat painting, has a knowledge of space, and will engage in sculpture, industrial design, and architecture, etc., if he has this quality. I believe that he has the ability to control the space. In fact, I also like architecture, although I majored in printmaking. It is certain that Pan has a good job, graduating from a specialized secondary school, he encountered the Cultural Revolution, thus he was used to self-study, and he is a PhD supervisor. Therefore, the knowledge of a person completely depends on his/her own enthusiasm.
It is very critical that he initially liked the architecture of Le Corbusier, later he engages in his own personal architecture. In fact, he completed a lot of designs, but never publicized them, they are just for self interest. The design of the National Art Museum of China was drafted and finished by him, so he was designing architecture as an artist. He wanted to improve the grade of the publications so he invited me to deal with it.
To a large extent, Pan Gongkai' architectural design is associated with his accomplishments and practices of ink and wash, and can be said to be a paradigm of contemporary architecture. As a critic of architecture, could you introduce some other methods of the generation of architecture?
Pan Gongkai's exhibition is a unique case, for example, it was the first one to have a performance of exhibits and architecture. Because he is an ink and wash painter, his models are very long. Few people would think it significant but funny, except for a critic, in fact, it is a new form. The scroll form is an essential part of ancient Chinese aesthetics, that is, the extension of time and space. This is consistent with our real lives, such as morning and night, the sun and the moon, year and decade of days, century, etc., a variety of concepts of time, "where" we live and work, are spaces. Pan is the first one to create a scroll-style architecture with a combination of time and space, a unique case. I believe that, it will be a breakthrough in realizing his designs. But it is not really achieved, because the architectural industry in China will not accept an amateur's design, if it costs them billions of dollars, they would never trust an artist's idea.
As a concept, this design originated from the idea of ​​the traditional Chinese garden. When you enter today's architecture, such as the Water Cube (National Aquatics Center), Bird's Nest (National Stadium), you will not find any intimacy, instead, traditional Chinese architecture is different, and accounts for a large area but not a grand space, rather than out of proportion or a lot of wastage, you will feel the compact and flow of the building, which is the reason why a 3D video was produced, in the video, a person dug into the architecture, like a bird with wings. I think this concept can be gradually understood.
As you said Pan's cross-border is a "return", giving attention and reproduction of the traditional wisdom and technology, could you tell us how to combine the performance of modern art with the traditional art crafts?
To begin, someone asked curator Xie Suzhen why the Today Art Museum built an ink and wash pavilion, she said, her love of ink and wash was diverted from Pan Gongkai, and when she grew up, she had increasing emotions for ancient things.
I agree, for example, I went to the Forest of Steles in Shaanxi Province as a freshman in the academy, initially I came in contact with traditional Chinese art. The memory of the Forest of Steles is the only thing I have after traveling. After thirty years, I returned to the place, and closed myself in there for a day, and seeing all the details, word by word, made a discovery that one world's is in a word. I previously only recognized the words, without knowledge that a space was in a word, and a word was a layout of the city when laid flat.
Take my design for example, the hollow words I used were enlightened by two things, firstly, the huge and reminiscent characters in the Yuelu Shuyuan in Hunan Province, secondly the Zhuanti calligraphy of Zhao Zhiqian and Deng Shiru of the Qing Dynasty, my characters of "Dispersion and Generation" in the exhibition were diverted from their hollow characters, which are called "double lines" in Chinese calligraphy. Traditional Chinese art forms were applied to my design, and it is worthy of our thinking on how to transform the traditional elements into contemporary language.
Take Pan's works "Fusion" for example, he initially wanted a snowing scene, because he is from Hangzhou, he has knowledge of the complex images of the Winter's poetic West Lake reflecting in these works, following this he also used multimedia technology, turning the snow into English characters and letters, I think that it is a fine combination of tradition and multimedia, which certainly goes down well in the history of art. Modern Chinese contemporary art practice is seriously impacted on by Western art, thus we should think again how to explore a new art road. I think the biggest success of this exhibition is that it is not concerned with the market, and I am disgusted with the so-called ranking in today's Chinese art world, which is superficial.
Could you introduce the upcoming activities?
There are two main discussions that directors, critics, and curators from the renowned art museums are invited to participate in. In addition, there is a forum for architects to initially discuss the issues of Pan's architecture. It also organizes some activities for students from academies to visit it and exchange thoughts. Anyone can participate in the activities according to his/her personal choice. We should regard this exhibition as an "aircraft carrier", you will learn a lot of things if you are curious.
Journalist: Ju Li, Transcripts: Sun Tianyi
Proofreading: Fang Zhenning, Translation: Chen Peihua
Related posts: