Curated by Dr. Tang Xiaobing , Helmut F. Stern Professor of Modern Chinese Studies at the University of Michigan and organized by UMMA with the assistance and cooperation of the China Academy of Art in Hangzhou, China, Multiple Impressions: Contemporary Chinese Woodblock Prints-the largest examination of contemporary Chinese prints in the US since 2000- provides an important framework for understanding both contemporary art from China and contemporary Chinese society. The exhibition is on view until October 23rd, 2011.
Dr. Tang Xiaobing is the Helmut F Stern Professor of Modern Chinese Studies and Professor of Comparative Literature at the University of Michigan. His work focuses on 20th century Chinese literature and engages a wide range of genres, periods, and theories. In 2005 he was the recipient of a New Directions Fellowship from the Mellon Foundation, which has enabled him to pursue training in art historical studies. The fellowship also supported his studying of printmaking at the China Academy of Art in Hangzhou. Tang's latest book is Origins of the Chinese Avant-Garde: The Modern Woodcut Movement. In this first comprehensive account of the Chinese woodcut movement available in English, Tang explains the aesthetic, intellectual and social appeal of this revolutionary art form and argues that by pursuing the woodcut, young printmakers heralded the arrival of both artistic and political modernity, significantly altering Chinese graphic arts and visual culture. As the guest curator of Multiple Impressions: Contemporary Chinese Woodblock Prints, the first large-scale exhibition in the United States of Chinese prints made in the 21st century, he accepted a special interview by Chen Tianchan, intern reporter of CAFA ART INFO.
Chen Tianchan: You are a professor in modern Chinese studies and a professor of comparative literature at the University of Michigan. What made you undertake the project of curating an exhibition of contemporary Chinese woodblock prints?
Dr. Tang Xiaobing: Indeed, I was trained as a literary scholar and most of my writings have been on literary and cultural studies. In 2008, however, I published a book in English on the modern woodcut movement. Its title is Origins of the Chinese Avant-Garde: The Modern Woodcut Movement.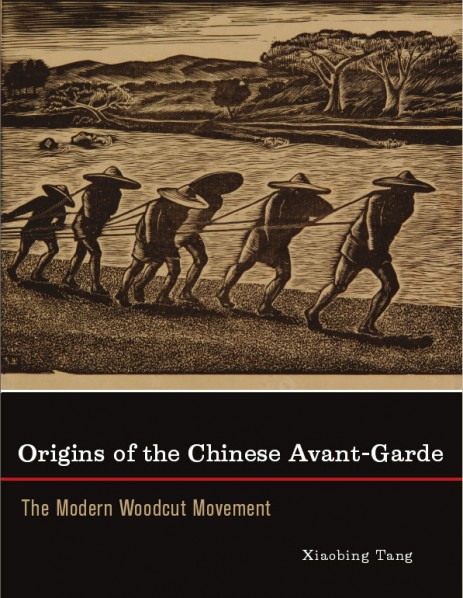 The study is the result of about eight years' worth of research and writing. It is the first comprehensive study in English of the new woodcut movement in China during its first stages of development. My central thesis is that the movement radically changed the course of art history in twentieth-century China and on many levels, it was a truly avant-garde movement.
After the publication of that book, I went to the China Academy of Art in Hangzhou in 2008 and spent two months there studying different methods of printmaking. My study was supported by a generous grant from the Mellon Foundation based in New York. During my stay in Hangzhou, I made many friends and got to see many fantastic works. I then determined that I had to do everything I could to bring some of the works to the United States and introduce them to the American public. The rest, as they say, is history. But it did take three years for the exhibition to come to fruition and it also took many institutions and individuals to make it possible.
Chen Tianchan: As curator, what was your conceptual framework for the exhibition? What was your objective?
Dr. Tang Xiaobing: One basic idea behind this project is that I should show as much as possible the tremendous talent and diversity in contemporary printmaking. By diversity I mean not only the many methods and techniques that have proliferated over the past twenty years or so, but also, perhaps more importantly, the different visions and approaches that each artist seeks to express.
I was fully aware of the fact that I would not be able to handle the field of printmaking as a whole. Nor did I intend my exhibition to duplicate the structure or purpose of the national print exhibitions, which takes place about every four years in China. From early on, I decided that I would focus on woodblock prints only, and that the period to be covered would be the first decade of the twenty-first century.
It took me about a year to come to the three sections that would constitute the exhibition. Namely, landscapes old and new, fellow beings, and layered abstractions. To me, these three parts are inclusive and flexible enough to allow many different types of works to be represented in the show. They also reflect my understanding of the history of printmaking, or more precisely, the history of the modern woodcut movement in the twentieth century. I think these three categories both acknowledge continuity and at the same time throw new developments into sharp relief.
The introduction that I wrote to the exhibition catalogue is on "continual experimentation in modern Chinese printmaking." By experimentation I mean more than technical innovations. It also includes conceptual breakthroughs, such as experiments in new roles for art or artist's self-definition. I think the exhibition in the end reflects my interest in the cultural history of the medium. I would like to see it not as a narrowly conceived art exhibition.
Another important element to my thinking is my belief that the American public's view of contemporary art from China, or more generally art from contemporary China, has been limited or skewed. Works presented here or receiving media attention often fit into certain categories. It seems to me unless a work of art can be translated directly into a political statement, many Americans will not know how to react to it. This political statement of course has to be about certain matters and has to appeal to certain standards. The prevailing view in American mainstream media is still that there is no artistic freedom in China and that whatever is good is suppressed and therefore needs to be supported from outside. This is a reductionist view that is as blind as it is self-righteous. The story of art in contemporary China, as we know, is far more complex and exciting.
So, for instance, when it came to the design of the exhibition catalogue and installation, I made it clear that this exhibition should present a refreshing color palette. It will not feature a red background with yellow letters, or worse, a star, which you see too often in mainstream media graphics about China and in China-related art events and catalogues. Instead the catalogue for Multiple Impressions will derive the key colors from the works in the show.
Chen Tianchan: So how did you go about selecting the works?
Dr. Tang Xiaobing: Once I established the basic parameters for the project, I did my best to see as many works as possible, and to meet as many printmakers as possible. We know as a matter of fact that well over 2000 printmakers submit their work for consideration to the national print exhibition in China. And only about 200 artists, each represented by one work, will end up in the national exhibition. My project was much more modest, and my primary interest was in making the exhibition a rich, accessible, and provocative art event in America.
In other words, it is important to keep in mind the cultural context in which an art show takes place. An art exhibition such as Multiple Impressions is a cross-cultural event, which means its impact is a complex one and I as curator need to be aware of the many dimensions of this event. My experience of observing American culture and society over the past 25 years certainly helps me gain a good grasp of the situation. I think a show organized by someone or some institution that does not have this experience would be very different.
As you can see, the vast majority of the forty-one printmakers in the exhibition are well-recognized, prize-winning artists. There are many more excellent printmakers that I should have or would love to have included. But given the framework of the show and its limited space, I eventually ended up with the current scale, which is already a sizable exhibition. I remember very well a piece of advice from a friend of mine. She says you should not exceed 100 pieces in a show, because if it's more than that, viewers will lose attention and the impact of the show is compromised. I think that proves to be a very insightful suggestion. There are 114 prints in Multiple Impressions, but Liu Qingyuan's work Chinese Expressions consists of 30 woodcuts. So you can say there are about 85 works.
In selecting the pieces, I wanted to make them representative. They are representative of different methods and techniques, of different interests and visions, and of different regions and schools. The works come from different kinds of printmakers as well. For instance, many are professors in fine arts academies, but there are printmakers in the exhibition who are not from the academy. Some are commercially very successful; some work in cultural organizations and are not professional artists. There is also the case of Chen Limin, who lives in France and whose work, as my colleague Endi Poskovic, an accomplished printmaker, comments, enacts a wonderful dialogue between Chinese aesthetics and Western conventions.
In May and June 2010, I traveled extensively in China to visit artists and see their works. About 90% of the works in the exhibition I reviewed during my trip, which took me to many cities. I traveled deep into Yunnan, to the city of Simao, and then went across the country to Harbin and eventually Daqing. I met many inspiring artists and made many friends. It was a most memorable two months. That is why I am grateful to the exhibition, because it let me meet so many interesting people and see so many great works of art.
For various reasons, I was not able to include some works that I would have liked to include. But I am very pleased with all the works that are in the show.
Chen Tianchan: What is the reception of the exhibition in Ann Arbor?
Dr. Tang Xiaobing: To put it simply, I am overwhelmed by the positive response that the show has generated. Many people, from ordinary viewers to docents, from university professors to students, from museum staff to local artists to journalists, have expressed their surprise and excitement at seeing the exhibition. Many of them told me that this is by far one of the best exhibitions they have seen, if not the best one, in a long while. I have had many strangers come to me and tell me how wonderful the show is. They all have different reasons for liking the show, and the fact that these are strangers really means something to me. They have no particular reason to tell me this, other than to convey their appreciation and excitement.
Mr. Joseph Rosa, director of the University of Michigan Museum of Art, described audience reaction very perceptively. He says a viewer usually begins by finding the images either striking, engaging, or pleasing. Then the viewer takes a closer look and inevitably asks the question: How does the artist do it? In other words, the initial viewing experience always leads to a question about the art of printmaking. This question then compels the viewer to take another look and responds to the image in a more complex way. Mr. Rosa thinks it is extraordinary to see a single-medium show like this to generate such widespread excitement.
Another comment by a volunteer docent at the museum is also particularly insightful. She told me that after leading several tours of the show, she realizes that everyone coming to see it, regardless of their background or interest, will find something in the show speaking to them. I think this is the best praise I can expect, and it is exactly what I wanted to achieve, but did not formulate in those words.
Her comment made me realize that the exhibition helped people see the many dimensions of printmaking. This is not an exclusive or elite art form. Rather it should speak to everyone. We do not and should not expect any one individual artist to make sense to everyone. Maybe we should not expect every art show to do the same thing either. But I think an exhibition such as Multiple Impressions succeeds when it allows different viewers to relate to it differently.
There is another funny story. A young woman told my wife that her boyfriend was so intrigued by the works on display that he went out and bought all the tools. He wants to become a printmaker. I think this is a wonderful story. I think all art events should have an effect like this.
Chen Tianchan: Why do you think the exhibition has been so successful then?
Dr. Tang Xiaobing: Because it brings a very rich experience of art, and because it presents a complex picture of China that American viewers find very different from what they hear from mainstream Western media.
Of course one art exhibition can only go so far in terms of changing people's perceptions, but if from this event some viewers begin to see a multi-faceted society and culture, I think it has made its point. "Multiple Impressions" is about seeing different things and ultimately seeing our relation to them. In our world today, we are constantly asked to see many different things at the same time. It is important that we do not try to impose uniformity or even coherence on what we see.
I should mention that there was a review published in a local newspaper. The reviewer apparently does not know much about woodblock printing, Chinese art or culture. Nor does she seem interested in learning anything. The only question that she raises is about politics. So her brief review comes down to this: Why does not the exhibition say anything about political censorship of art in China?
This is a good example of rigid reductionist thinking. The journalist is not prepared to face a living and complex phenomenon, so she turns to what gives her a sense of security, if not superiority, and refuses to open her eyes. Hers is not an isolated reaction at all, but rather quite representative of contemporary American imagination of China.
It is against this background of mainstream thinking in the US, I think, that Multiple Impressions has made its impact, because it presents a far more intriguing and multi-layered society and culture than viewers have expected to see. In my introduction to the exhibition, I refer to an observation that Xu Bing made a couple of years ago. He compared to contemporary China to a gigantic laboratory where everything is experimented with, and which is most conducive to innovations in contemporary art. I can't agree with this comparison more. Once we realize that contemporary Chinese society is most likely one of the grandest experiments that humanity has ever undertaken or seen, we will be able to put many things in perspective.
Related posts: