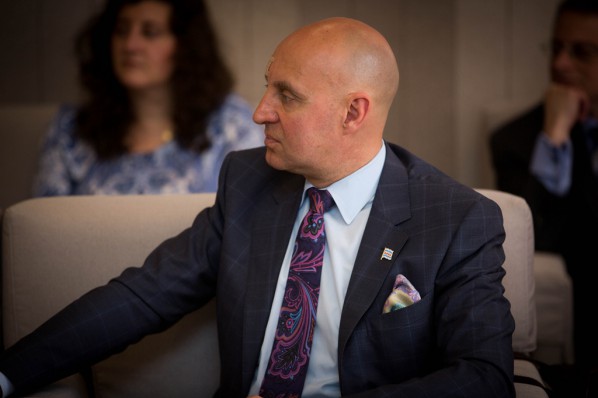 EXPO CHICAGO, the International Exposition of Contemporary & Modern Art, opens the fall art season each September at historic Navy Pier. Entering its fourth edition in 2015, EXPO CHICAGO presents artwork from 140 leading galleries, representing 15 countries and 40 cities from around the world, and includes EXPOSURE—a section that affords younger galleries the opportunity to participate in a major international art fair. The exposition provides critical opportunities for curators, collectors, and art patrons to survey the best in innovative and emerging programs.
Tony Karman, EXPO CHICAGO President and Director, has been active in the civic, business, and cultural communities of Chicago for nearly 30 years. Working with select institutions, associations, government organizations, producers of special events, and corporations, he has guided numerous projects from concept to conclusion. The Chicago Delegation of Cultural Representatives paid a visit to the Central Academy of Fine Arts on May 18th, we took this opportunity to have an interview with Tony Karman about the upcoming EXPO CHICAGO/2015.
As far as I know, this is supposed to be the 4th edition of Expo Chicago, what do you think is new and unique in this edition?
Tony Karman: You know I think we have matured in the four years, as we have built a broader vision in the international art world. This year we have some exciting programming that we will be announcing, great artists and arts professionals and curators that will be speaking at the fair. We are also moving a little bit outside, creating opportunities to place large scale sculpture and public art in the around city that will begin during the week of the fair and stay up for six months to a year.
Why do you choose Chinese contemporary art in Expo Chicago this year?
Tony Karman: I think there is no way you can be international art fair without respecting the extraordinary contemporary art work that is coming from your country. So to be an international art fair now in the world, it would be a mistake and a significant oversight if there wasn't galleries or artists represented from China. So this year the opportunities to not only work with CAEG, but the Ministry of Culture really opens the door for us to do what I think will be a long collaboration for many, many years.
May I ask if this is the first time you visit Beijing or China?
Tony Karman: It's not the first time in China. I have been to Shanghai, and I have attended the art fair in Hong Kong for several years. It's my first trip to Beijing. As I always told, when you come to Beijing, you really have a much greater sense of what China and what this county is all about. And I feel even in a short time that I have been here, I feel like I'm in China. And I think that's the most important part of this beginning of collaboration.
Another question, what do you think of Chinese contemporary art and could you name some Chinese artists that you know or you are familiar with?
Tony Karman: Yeah, I can name many but I don't want to say, as I worry to mispronounce the names. I would hate to offend by mispronouncing. There is no question many of the leading galleries in the world whether it's David Zwirner or Pace or Lisson Gallery or others they are doing in the fair, they are representing the leading contemporary artists from China, there is also extraordinary list of galleries from China that I hope to attract like Vitamin Creative Space and Long March Space gallery. These are extraordinary galleries in China, I hope their voice is seen and heard in Chicago in the future.
I also read an article about your work and you have a motto, that is, less is more, is that true?
Tony Karman: Yes, less is more is an adage for my pledge to keep the fair smaller. Sometimes I think for an art fair, more is "more is more" is also appropriate because I want to make sure that what we do with Expo Chicago is providing an opportunity for more countries, more artists and more collectors and curators in the world to come to our city.
Have you visited Art Basel in Hong Kong?
Tony Karman: yes, I have for many years.
It has attracted many Chinese contemporary artists there and what do you think Expo Chicago is different from Art Basel or other art fairs in the world?
Tony Karman: You know I think there is extraordinary tradition of the art fair in Chicago, in fact, the only art fair in the North and South America for most of the 1980s and 1990s. Now there are many many fairs in the world, but like Art Basel Hong Kong or Frieze in London, or FIAC in Paris or Art Cologne or Zona Maco in Mexico City, or The Armory Show in New York, I think that Expo Chicago stands with all of those great fairs in a very international city. In fact, Mayor Rahm Emanuel often says that Chicago is the most American of the American cities. And I think Chicago provides an extraordinary opportunity and platform for international collectors and artists and curators to really see what's going on in this world.
How is your plan and goals about cooperation with Chinese contemporary artists and the Culture Department of China?
Tony Karman: You know it's just the beginning. I'm grateful for the partnership that we have begun with CAEG as well as the Ministry of Culture to really make sure the Chinese contemporary art will be well presented in this year and in future years. So this is really just the beginning. It doesn't mean there hasn't been Chinese artists that are shown in the fair. Many of western galleries that participated surely have shown artists from China. But the most important thing for me is to now make sure that the galleries from China are actually participating and more curators and collectors from your great cities attend the fair every year.
Thank you. Thank you very much for your time.
Tony Karman: A real honor.
Photo courtesy of Tony Karman and Yin Peng, edited by Sue/CAFA ART INFO

Related posts: