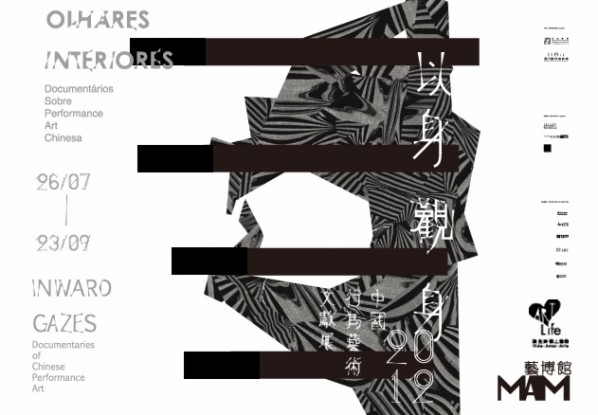 The Macao Museum of Art (MAM), under the Civil and Municipal Affairs Bureau, announced the result of an open call for entries to its 3rd edition of Chinese performance art exhibition. Four outstanding works by artists from Beijing, Chengdu, Taipei and Macao and another 52 works have been selected by renowned contemporary artists in Asia, which will be showcased at the exhibition at MAM in late July this year.
The open call to the exhibition Inward Gazes: Documentaries of Chinese Performance Art 2012 has received a total of 179 pieces, submitted by 84 Chinese artists from mainland China, Taiwan, Hong Kong, and Macao as well as from abroad. The four outstanding works according to the jury are: 'Following' by Zhou Bin from Chengdu, 'She Painted a Chair' by Dong Jinling from Beijing, 'Miss Nice-looking' by Liao Chiyu from Taipei, and, 'Blend in' by Chan Kakeong, from Macao.
The selection was carried out during April 10-15 at MAM, by a jury comprising of high-profile members like Seiji Shimoda, director of Nippon International Performance Art Festival – NIPAF, Xu Tan, renowned Chinese conceptual artist, Lu Rong-zhi, famous Taiwanese curator, and the celebrated Macao contemporary artist Mio Peng Fei.
The jury members indicated the significance of MAM's efforts in promoting the development of performance art, collecting and preserving documentaries of Chinese performance art, as well as launching a platform to encourage artists' creativity. The jury members also exchanged views on Chinese performance art development. They considered artists responding to this call that presented new ideas and new praxes of Chinese contemporary art, of which performance art constitutes an integral part.
Preface
By Chan Hou Seng, Director of Macao Museum of Art
Among the many art forms surely the performance arts have the most direct interrelation with life. Using sharpened senses in unique expressional ways, performance artists deftly examine and reveal, in a thorough manner, social issues, political systems and even morality and ethics. As these arts directly intervene with everyday reality from the perspective of arts and humanities, intense ideological conflicts are likely to appear between the performance artists and the more mundane and general mindset. These conflicts may produce uneasiness, or give rise to divergent interpretations and misunderstandings, or even make the onlooker bewildered. Yet on the other hand, it is precisely their unique ideas and the unexpected perspectives of those creative interventions that leave an audience amazed and at times overwhelmed, also causing people to reflect on and reassess one's self and the society.
These derived possibilities are exactly where the value of performance art lies. With the launch of Inward Gazes: Documentaries of Chinese Performance Art, the Macao Museum of Art aims to, through soliciting and collecting, displaying and preserving documentaries of Chinese contemporary performance art, promote the development of Chinese contemporary art and make a due contribution.
This year marks the 3rd edition of Inward Gazes-a series of open calls for entries and exhibitions of selected pieces. As usual, the latest event has received support from artists, experts and scholars from mainland China, Taiwan, Hong Kong and Macao, and around Asia.
The 2012 edition received a total of 179 entries by 84 artists from home and abroad. The works fully illustrate the development of Chinese performance art in recent years, offering viewers a glimpse into Chinese performance artists' multi-angle observations of and reflections on self, society, and Nature.
In reviewing the three editions we can see the context in which Chinese performance art evolves, as well as experience the transformation in Chinese society and the subtle changes in Chinese people's inner worlds.
In the 1990s, Chinese performance artists often tended to use extreme methods, which epitomised the inner contradictions and conflicts in the artists themselves and, in the Chinese social classes and community as a whole. Yet as the various editions of Inward Gazes manifested, arrangements in such extreme forms has substantially decreased. Instead, artists showed a clearly different approach, switching to in-depth reflections on the meaning of life and human emotions like friendship, love and care. Despite this the approaches in art are without bounds, positive information and concepts can always encourage and energise an audience and the community to grow. Through this exhibition we are witnessing heartening growth!
Chinese growing up in different cultures and social systems have different perceptions of life. As they apply their intuitions to the creative work, diverse audiences have perceptive differences as a result of varied interpretations and perspectives, and thus myriad amounts of information can be transmitted. The question may arise though-is the artwork misleading the viewer? Or, is the viewer misreading the piece? There might not be an easy answer. The fascination with performance art's creations lies exactly there. The many differences cause collisions and ignite beautiful sparks, which in turn generate diverse perceptions and experiences in viewers.
On behalf of the Macao Museum of Art I would like to take this opportunity to thank all the participants to this call-for-entries and congratulate the selected artists. Specifically, thanks goes to the four judges, namely Xu Tan (mainland China), Lu Yung-Chih (Taiwan), Seiji Shimoda (Japan) and Mio Pang Fei (Macao), for their hard work.
About the exhibition
Dates: July 26 – September 23
Venue: The Macao Museum of Art
Courtesy of the artsits and the Macao Museum of Art, for further information please visit the Macao Museum of Art.
Related posts: