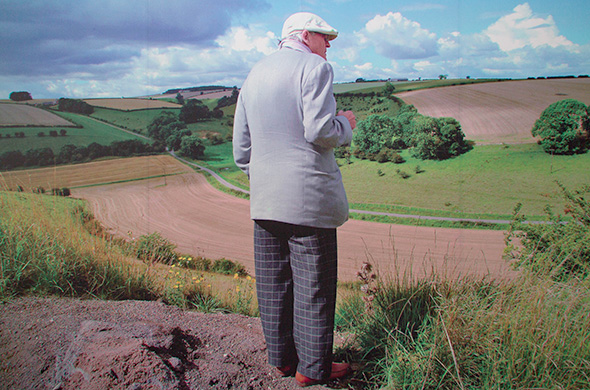 David Hockney, one of the most important and celebrated living artists in the world who is known for his bold colors and landscapes, remains a pioneer adopter of technology. He uses the Brushes app, a stylus and a digital inkjet printer that takes 20 minutes to print drawing. As he is known for drawing and painting outdoors, and the iPad has simplified his creative process. His iPad drawings and video are featured in "David Hockney: The Arrival of Spring" at Pace Beijing. The exhibition will be on view from April 18, 2015, through June 6, 2015.
The Arrival of Spring includes iPad prints, and video installations depicting the gradual change from winter to spring in Woldgate, East Yorkshire. Born and raised nearby, Hockney first became acquainted with Woldgate around the age of fifteen, while working on a farm during the summers of 1952 and 1953. After spending decades living and working in Los Angeles, the artist settled in Yorkshire once more in 1999, rekindling his interest in its landscape.
A series of iPad drawings printed on paper titled The Arrival of Spring in Woldgate, East Yorkshire in 2011 (twenty eleven) are on view. Each work depicts a specific day between January 1 and May 31, 2011, steadily revealing the progression of the seasons. In his statement, Hockney remarks, "These were drawn knowing they would be printed a certain size. The mark making is very varied for this reason."
Hockney first bought an iPad in 2010 and had been drawing on the device for six months before starting his Arrival of Spring series. The prints were introduced to the public at the Royal Academy of Art's exhibition, A Bigger Picture, in 2012, which subsequently traveled to the Guggenheim Bilbao and the Ludwig Museum, Cologne. As the first comprehensive survey of Hockney's work since 2002, A Bigger Picture was London's most attended exhibition of the year. iPad prints were recently presented in David Hockney: A Bigger Exhibition at the de Young Museum in San Francisco from October 26, 2013 to January 20, 2014.
Pace's exhibition also features the video installation Woldgate Woods, November 26th (2010), which was filmed with nine cameras attached to a moving SUV, exhibited across a multi-screen grid. Hockney's interest in video began in 2010, when he realized that multiple, smaller cameras could create a bigger, more complete picture than the conventional, single, large camera. Hockney's video works have been the subject of recent museum exhibitions worldwide. In 2013, the Whitney Museum of American Art mounted The Jugglers, June 24th 2012, the first of the artist's video installation to be exhibited in the U.S. This past year, the Los Angeles County Museum of Art mounted two of the artist's monumental, eighteen-screen video installations: Seven Yorkshire Landscape Videos, 2011 and The Jugglers, June 24th 2012.
David Hockney (b. 1937, Bradford, England) has produced some of the most vividly recognizable images of this century. His ambitious pursuits stretch across a vast range of media, from photographic collages to full-scale opera stagings and from fax drawings to an intensive art historical study of the optical devices of Old Masters. David Hockney received the gold medal for his year at London's Royal College of Art in 1962. The artist had his first one-man show in 1963 at the age of 26, and by 1970 the first of several major retrospectives was organized at Whitechapel Gallery, London, which subsequently traveled to three additional European institutions. Hockney has received a vast number of accolades throughout his career, including nine honorary degrees from institutions worldwide. In 2012, Hockney was appointed a member of the Order of Merit by Queen Elizabeth II.
Photo by Zhang Wenzhi/CAFA ART INFO, Courtesy of the artist and Pace Beijing, for further information please visit www.pacegallery.com.
Related posts: