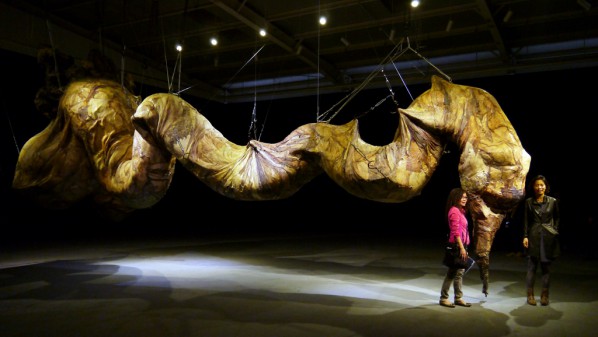 From the end of last year to the beginning of this year, Jiang Jie participated in Pujiang OCT 10 years public art project, and created the "More Than One and Half Tons". It officially explained the work as following: through landscaping and ritualizing ofthe male symbol, it attempts to have a visualized inspection of the distorted nature of the "desire" taken as symbols of physiology, myth, history and power, in thelarge and heavy shaping, the ritualized light and shadow, and the complex confrontation and symbiosis of soft materials,this investigation is shaped into a grand everyday landscape.
It triggered a widespread concern and discussion after the work was shown, some people think that it is a ritual interpretation of gender power construction from the female perspective; some people think it is a big breakthrough for Jiang Jie's creation over the years; Jiang Jie said this work was a summary, and also a new beginning.
On March 29, 2015, "More Than One and Half Tons" came back to Beijing from Shanghai, on show at the Sishang Art Museum, it attracted a large number of artists and theorists such as Xu Bing, Xi Chuan, Zhang Yanzi, Shao Yiyang, Zhai Yongming, Yu Fan, Chen Xi, Bao Pao, Xiang Jing to visit the exhibition.
In addition to a large-scale installation "More Than One and Half Tons", the solo exhibition of Jiang Jie held by Sishang Art Museum also showcases a set of manuscripts and images as well as a group of installation paintings illustrating the ( male genitals) private male parts. For a long time, Jiang Jie's work has been devoted to the performance of the fragile and fleeting, "More Than One and Half Tons" is still the continuation of the logic of language, although it looks like a huge monster that has a strong visual, oppressive sensation, together with a monumental awe, at the same time it is also an extreme lethargy and makes the self feel torn. After the show debuted at Shanghai, Jiang Jie was interviewed by CAFA ARTINFO and she talked about the theme of "desire" as it relates to the work, "no matter looking at a thing from the perspective of religion, history or others, it explicitly or recessively exists, it is a concrete and surreal way, while it also clearly expresses a lot of my discourses."Under the cultural ecology of mythology, religion, secular society, all the penises are all strong and overlook everything, Jiang Jie stared at the clear symbolic sign in the creation, it was hung in the air when it was weak and fell down, which looks like a dead insect. The sculpture is directly illuminated by strong spotlights to create a virtual "presence" of a torture trial, through her sensitive and deep effect that charges the structural relations and power mechanism. The work "More Than One and Half Tons" is not limited to the self expression of a female artist, it is an open, complex reading text which provides a possible opportunity to perceive art, society, ethics.
As for the beautiful in sculptural creation, Jiang Jie admitted that, "Whether it is beautiful or not is not important tome, but it is necessary to convey this message which is more important than elegance, perhaps it is the real meaning of "More Than One and Half Tons".
The works are on show at the Sishang Art Museum until June 1, 2015.
Text and Photo by Zhang Wenzi, translated by Chen Peihua and edited by Sue/CAFA ART INFO
Related posts: