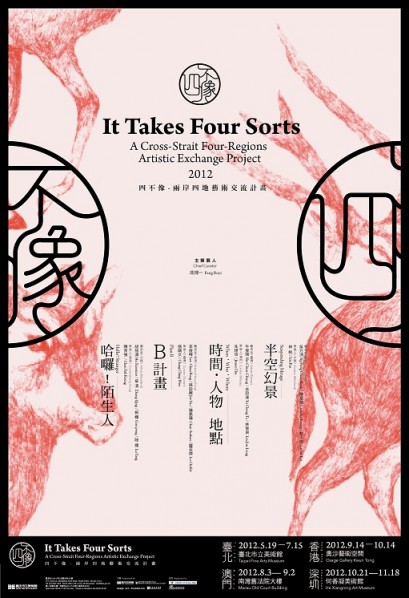 For "It Takes Four Sorts: A Cross-Strait Four-Regions Artistic Exchange Project (2012)", five curators of contemporary art from Taipei, Shenzhen, Hong Kong, and Macau have each selected three to four active young artists from a geographic region, not the curators own, to create separate exhibition units. Working from their own geographic and experiential specialities, the five curators made their selection and compromises with the concept of exchange as a starting point to create a four-unit exhibition representing the four regions that comprise of the 2012 "Cross-Strait Four Region Artistic Exchange Project". This marks the third year for the project which began in 2008 with "Departure", followed by "Butterfly Effect" in 2009, and "1+1" in 2010.
The artistic exchange project continues in 2012 with the Chinese title "Chimera" exhibition which will be held at the four art spaces. The chimera refers to Père David's Deer. Known as milu in Chinese, the beast is also known by its nickname sibuxiang– literally "unlike any of the four"— referring to milu's appearance of having the antlers of a deer but not being a deer, the face of a horse but not a horse, the tail of a donkey but not a donkey, and the hooves of a cow but not a cow. This is an apt metaphor for this exhibition of works from four regions across the China Strait, each with their own geopolitical differences as well as cultural and artistic context. The chimera becomes a concept for in-depth exchange, where five curators each observe the other in their geographical and contemporary artistic context. The understanding and friction that the exchange inevitably produces creates an opportunity for us to observe the ambiguities and differences that exist across the Strait and in the four regions.
"It Takes Four Sorts" consists of four thematic exhibitions with participants from Shenzhen, Macau, Taipei and Hong Kong.
Theme: When, Who, Where
Curator: James Chu (Macau)
Participating artists: Jun-Liang Lin, Niu Chun-Chiang, Cheng-Ta Yu
Theme: Suspending Mirage
Curator: Lin Fan (Shenzhen)
Participating artists: Chan Ka Keong, Lai Sio Kit, Ng Fong Chao Noah
Theme: Plan B
Curator: Chang Ching-Wen (Taipei)
Participating artists: Chen Sushan, Lee Chun-Fung, Lo Chi Kit, Joe Yiu
Theme: Hello! Stranger
Curator: Chan Yuk Keung (Hong Kong)
Participating artists: Guo Peng, Hu Xiaoxiao, Lu Yang, Zhang Qing
Venues:
Taipei Fine Arts Museum (2012.5.19 – 7.15)
Macau Old Court Building (2012.8.3 – 9.2)
Osage Gallery Kwan Tong (2012.9.14 – 10.14)
Shenzhen He Xiangning Art Museum (2012.10.21 – 11.18)
Photo courtesy of the organisers
Enquiry:
He Xiangning Art Museum
Shennan Road, Overseas Chinese Town
Nanshan District, Shenzhen, China
Tel: 86 755 26604540
Email: webmaster@hxnart.com
Website: www.hxnart.com
Artist/s
Junliang LIN(林俊良)
Chengta YU(余政達)
Siokit LAI(黎小傑)
Chunfung LEE(李俊峰)
Joe YIU(姚妙麗)
Peng GUO(郭鵬)
Yang LU(陸揚)
Chunchiang NIU(牛俊強)
Kakeong CHAN
Noah Fongchao NG(吳方洲)
Chikit LO(羅至傑)
Sushan CHEN(陳素珊)
Xiaoxiao HU(胡瀟筱)
Qing ZHANG(章清)
Curator/s
Boyi FENG(馮博一)
Fan LIN(林帆)
Kurt Yukkeung CHAN(陳育強)
James Cheokson CHU(朱焯信)
Chingwen CHANG(張晴文)
Organizer/s Taipei Fine Arts Museum, Shenzhen He Xiangning Art Museum, Macau Old Court Building, Osage Gallery Kwan Tong
Related posts: