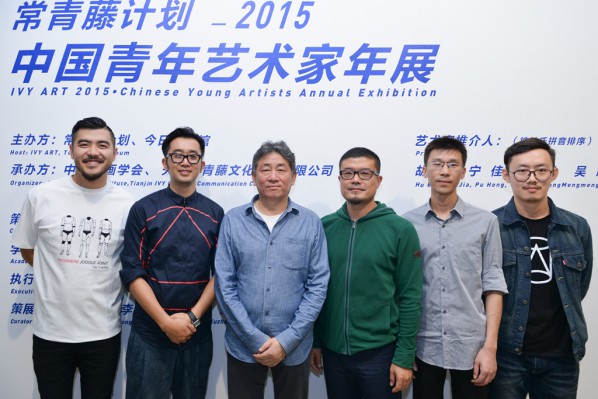 Nowadays, the Chinese young art is involved in the tide of globalization and internationalization. The trend requires that contemporary art must be influenced by international social cultures and art systems, which also shape artists' life and artistic practice. While the dual influences are not always the same especially because globalization and localization are happening at the same time. It is unaboidable that globalization happens sometime at somewhere, thus it has to incorporate the local history and context. How to combine the above dual effects is a puzzle which all artists have to face. Some artists at home turn to international style and idea while other artists would adapt globalized art to local context. This exhibition aims to summerize the above mentioned phenomenon.
"IVY ART" is a continuous art project for young artists, with its annual exhibition aiming at exploring outstanding artists and artworks, building a platform for young artists to represent themselves and communicate with each other, and promoting sound and vigorous development of Chinese young art and China contemporary art. On the base of last year's model of presenters' recommendation, this year we further allow autonomous enrollment. The new model would create more opportunities for young artists to attend the exhibition. The exhibition would present 50 to 70 young artists'100 to 150 pieces of works ranging from traditional painting, oil painting, printmaking, sculpture, installation, to new media.
About the exhibition
Curators: Kang Jianfei, Jiang Dafang
Opening time: 3pm, Sep. 12, 2015
Duration: 2015.09.12 — 2015.09.21
Location: Building No.2 & No.3, Today Art Museum
Artists:
Bao Lan, Bi Rongrong, Cai Longfei, Cai Yuanhe, Cao Xin, Chen Dongrui, Chen Heng, Chen Jing, Chen Lingyan, Chen Mingming, Chen Sihan, Chen Xuanrong, Chen Yuxi, Chen Yuanyuan, Chen Zhengqian, Cheng Weiyu, Cheng Ying, Chen Yan, Dai Xiao, Ding Ning, Fan Handong, Fang Di, Gao Fei, Gao Sihua, Gao Song, Geng Yini, Gong Yueyuan, Gong Chenyu, Gu Haitao, Guo Donglai, Guo Junjie, Guo Mengzhuang, Hao Jiantao, Hou Jianan, He Zijian, Huang Shu
Courtesy of the artists and Today Art Museum, photo by Ye Yuanfeng, for further information please visit
www.todayartmuseum.com
.
Related posts: