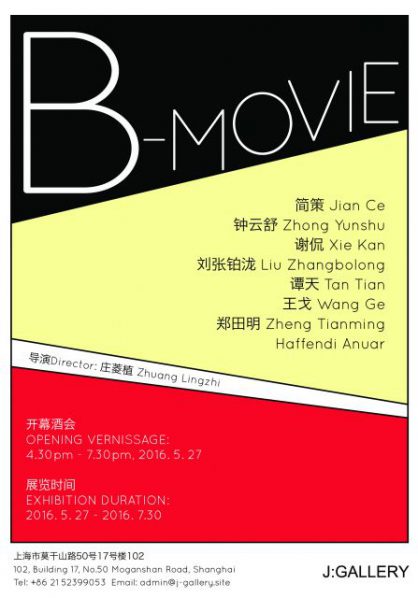 J: GALLERY is pleased to present the group exhibition "B-MOVIE" in its space in Shanghai from 27th May to 30th July, 2016. Eight young emerging artists from China and East Asia participate in the exhibition, include Jian Ce, Zhong Yunshu, Xie Kan, Liu Zhangbolong, Tan Tian, Wang Ge, Zheng Tianming and Haffendi Anuar.
The term of "B-MOVIE" is from early 20th century during the Great Depression, in order to obtain the audiences, Hollywood applied "double bill" (system of film projecting) that is low budgeting, simply made. Vulgar, straightforward, even harshness, roughness were categorized in it from most of publishes and audiences. Nevertheless, the B-MOVIEs had brought opportunities for illustrious later comers in film industry. At the peak of film prospering in 80s and 90s in Hong Kong, there were numerous B-MOVIEs people stood out and had influenced the pop culture among the growing generation. Critical awareness, visual excitement and other multi characters made up of a big fusion with imagination and randomness from the "B-MOVIE", it has shaped reputable production company like "Troma" in American and "Shaw Scope" in Hong Kong. Since then, "B-MOVIE" has been used as an adjectivization of social contexts in various fields than a single noun, such as architecture, music, literature, and arts, even 'far' to the street food we adore in the spare. The neglected "B-MOVIE" in the past critical world, it has instead been active in the present critics. At the moment of complexity, it gradually conceals its extreme degrading and praise, also representing the images of speed, blending of subculture and pop culture, exposing into immediacy of 'here' and 'now'.
The presenting artists are group of generation of 80s and 90s, they have merged themselves into both west and east culture through living and studying abroad. In such background, their concentrations tend to be apparently rebellious, reflecting the present with doubt and subtle anxiousness. With sense of alienation and rapid slipping of material world, their works are more intricate and surprising between the mainstream and the edge. The identification of 'beauty' has been obscured during their practices, rather magnifying the impact and humor. Their creatures are not afraid to be titled "B-MOVIE" collection, by the way and materials they applied, they proudly express their interests, it is indeed bold and innocent as living in such constraint regulations.
About the exhibition
Date: May 28 – July 30, 2016
Opening: May 27, 2016, 16:30
Venue: J: GALLERY
Artists: Jian Ce, Zhong Yunshu, Xie Kan, Liu Zhangbolong, Tan Tian, Wang Ge, Zheng Tianming and Haffendi Anuar
Courtesy of the artists and J: GALLERY
Related posts: